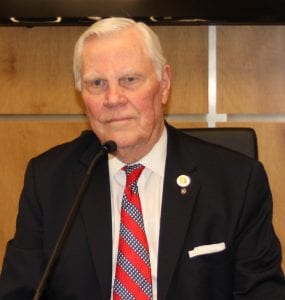 By SUE SUCHYTA
Sunday Times Newspapers

ALLEN PARK – The city's strengthening financial outlook, its work on roads, water and sewer lines and strengthening city services were highlights of Mayor William Matakas' final State of the City address.
Matakas, whose term ends in 2019, said he hoped his term as mayor helped restore residential trust in the city's administration.
He said the city is making strong financial gains, and hopes to receive an increase in its Standard & Poor's credit rating from BBB+ to at least an A rating, which is considered investment grade, which will give the city a lower interest rate on any future bonds it issues, which in turn saves the city money.
Matakas pointed out other city savings: A debt millage reduction of 1.549 mills, which will save city taxpayers $1.161 million; an LED streetlight replacement program with an annual energy cost savings of $138,000; and the installation of energy saving LED lights in the city library.
He said Allen Park's most visible and significant expenditure in the past year was the new city hall and police station, for which the land and building were an $8.1 million capital expense. He said estimates for a new facility were $12.1 million, and if they had built on the former city hall site near Southfield and I-94, infrastructure improvements of $500,000 would have been needed, and the city would have lost the $2.2 million it received when it sold the property.
Matakas said a new six-year trash collection contract with Advanced Disposal will save the city $100,000 annually, and 96-gallon trash carts and 65-gallon recycling carts for each household were included in the contract at no additional charge to residents.
Matakas said the city's purchase of $16.75 million in bonds from the Southfield lease property (from the ill-fated movie studio venture) were purchased and refinanced at a lower rate, saving the city $500,000 annually for the next 20 years.
From an infrastructure perspective, last year residents saw $3.5 million in road improvements, with $1.085 million spent on water main upgrades, $200,000 spent on sewer pipe lining and $400,000 in pump station improvements.
The installation of four water pressure reduction valves will protect city water pipes from breakage that can occur when water system pressure spikes, which happens with an increase in water demand, especially further away from the source. The water supply response necessitates an increase in water pressure, which then damages older water pipes closer to the source, which are the most susceptible to breakage from water pressure spikes.
Matakas said a mile and a half of new water lines were installed and 4,000 linear feet of sewers were replaced or lined. The Quandt sewer lift station was rebuilt, three new sanitary pumps were installed at the retention basin, and a residential cross connection inspection program was begun, which prevents backflow and contamination of the city's water supply from swimming pools, hot tubs, sprinkler systems and similar water connections.
He said the city purchased a new $675,000 fire truck and a $340,000 sewer vactor truck, which uses high pressure water or air to break up blockages and flush debris clogging pipes.
Matakas said as the city continues to recover its financial health, it is negotiating contracts with city employees, and recently ended an arbitration process with the fire department.
He said the negative impact on city property tax revenue, from the drop in taxable value to the limitations of the Headlee Amendment, leaves cities which rely heavily on residential property taxes in a bind, noting more that half of Allen Park's revenue is derived from property taxes.
Matakas said maintaining the city's budget without decreasing city services is a challenge the city must face.
He applauded the new Police Department vehicles purchased through the use of drug forfeiture funds, and in the coming year hopes to implement both in-car cameras and body-worn cameras for patrol officers.
From the business side of the city, the Building Department approved site plans for a new Chick-fil-A, a Del Taco at the former Wendy's site, the Arby's teardown and rebuild, a truck stop, the old Allen Park Bar, a small fitness center, and Time Equity's 125,000-square-foot office and warehouse.
During 2019 the Building Department will inspect the Marriott Hotel, the in-progress retail development at the old city hall property, the new Ford Motor Co. wind tunnel and battery lab, the Chick-fil-A, and the Time Equity office and warehouse projects.
Turning from business to fun, Matakas noted the new batting cage at the Community Center gym, and the increase in Community Center fitness memberships, which has risen from 60 to 1,000 in the past four years.
He said the Millward Rotary Park baseball field, which is for players age 16 and older, was fenced in, and the Allen Park Citizens Civic Fund obtained a $25,000 grant for playground equipment at Pocket Park, at White and Allen roads.
Matakas said the Historical Commission and the 1888 Backhaus House, which serves as the city historical museum, held many events to bring residents to the venue, including the Pets and Petals Flower Sale; Ghostbusters and S'Mores; a garage sale; and Christmas in the Museum, with nostalgic decorations. The Backhaus House received a new heating and cooling system and hot water tank in 2018, and in 2019 will get a new roof and porches.
Matakas praised the Downtown Development Authority's active promotion of the city's downtown with numerous events, including Pansies and Pets; a car show; the farmers market; Touch-A-Truck; the Made in Michigan Festival; the Scarecrow Fest; and Trunk or Treat, which combined drew and estimated 20,000 people to the downtown last year.
He said the DDA also replanted Pocket Park, provided bioswales – landscape elements designed to remove debris and pollutants from water runoff – along Ecorse Road, and provided five appearance-improving façade grants to city businesses.
Matakas said the DDA also broke a new record, welcoming 18 new businesses to the district in the past year.
"It has been a busy 2018," Matakas said. "I assure you that 2019 will be equally active in improving services and creating new ones. I am really pleased with our progress and the support of all our citizens."
(Sue Suchyta can be reached at [email protected].)