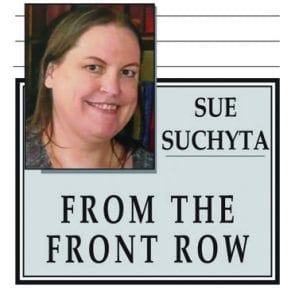 The Broadway tour of the Tony Award-winning comedy "The Play That Goes Wrong" opened at the Fisher Tuesday, and the non-stop laughter it evokes makes it a must-see comedy.
Opening earlier this week were the dramas "Venus in Fur" at the Outvisible Theater in Allen Park, and the Tony and Pulitzer Prize-winning "Death of a Salesman" at the Ringwald Theatre in Ferndale.
If laughter is the best medicine, the Tony Award-winning comedy "The Play That Goes Wrong" is guaranteed to cure whatever mid-winter blues have impacted your outlook.
The show is really funny, and theater people – anyone who has been in a play or worked backstage – will appreciate the clever physical comedy and hysterical word play even more.
It has been a long time since a show evoked as much laughter as this one does. Audiences will giggle, shriek, guffaw and roar with laughter-filled appreciation. Yes, it is that good. Don't blink, or you will miss a sight gag.
Listen carefully for the humor in the lines. It's the flubs and faux pas that are the funniest. It's an actor's nightmare, but it is so hysterically comical, one gets wrapped up in the mayhem and mischief as amateur thespians literally knock themselves out as they attempt to put on a 1920s murder mystery which goes comically awry.
The show continues its runs 8 p.m. Feb.16, and 19 to 23; 7:30 p.m. Feb. 17 and 24, and 2 p.m. Feb.16, 17, 23 and 24 at the Fisher Theater, 3011 W. Grand Blvd., Detroit.
Tickets start at $44, and are available by calling 800-982-2787 or at broadwayindetroit.com or ticketmaster.com.
ADULT-THEMED 'VENUS IN FUR' AT ALLEN PARK'S OUTVISIBLE THEATRE
Kinky came out to play on Valentine's Day, beginning a three-weekend run of David Ives' "Venus in Fur," based on the 1870 novella which reveals themes of female dominance, and coined the phrase sadomasochism, at the Outvisible Theatre Company in Allen Park.
The show continues its run at 8 p.m. Feb. 16, 18, 22, 23 and 25, and March 1 and 2, with a 3 p.m. March 3 show at the new Outvisible location, 14709 Champaign, Allen Park.
Directed by Adriane Galea of Dearborn, the cast includes Dani Cochran of Ferndale as Vanda and Joshua Brown of Flat Rock as Thomas.
Galea said she was drawn to the script the first time she read it.
"I was enthralled," she said. "It is so smart in the way that it weaves literary references and mythology and a dialogue on feminism into the story but also has this undercurrent of seduction," she said.
Ives' retelling of the story places an aspiring actress, Vanda, at an audition for an adaptation of "Venus in Fur," reading with Thomas, who wrote the adaptation. As the audition progresses, the line between what is scripted and what is reality begins to blur as the characters explore dominance and submission, with the power role shifting from line to line.
Cochran said as the story unfolds, it keeps the audience in suspense.
"It will have you wondering, at any given time, who is holding the cards," Cochran said.
Brown said the story allows the audience to rethink previous beliefs, and perhaps grow.
"The true gift of any art form is its ability to allow us exploration of all facets of our existence, and gain a further understanding of our world, to question limits," he said. "'Venus in Fur' is such an opportunity."
Galea said that while the show is Outvisible's most risqué show to date, she did not select it for its shock value.
"It's about art," Galea said. "At its core, this is a dialogue of sex and gender, but we want everyone to feel comfortable with what they are seeing, especially since our performance space is so tiny. But this show is something I could watch over and over again and discover something new and interesting."
Tickets are $25, with a $5 discount for seniors and a $10 discount for students. "Pay what you can" performances include the Feb. 14, 18 and 25 performances. To order, or for more information, call 313-759-8350 or go to OutvisibleTheatre.com.
RINGWALD BRINGS 'DEATH OF A SALESMAN' TO THE STAGE
Bringing iconic American plays to the stage for contemporary audiences has long been a part of the Ringwald's mission, and Arthur Miller's Tony and Pulitzer Prize-winning play "Death of a Salesmen" is a strong fit.
The show continues its run 8 p.m. Feb. 16, 18, 22, 23 and 25, and March 1, 2, 4, 8, 9 and 11 at the theater, 22742 Woodward, Ferndale.
Directed by Joe Bailey, the show stars Joel Mitchell as Willy Loman and Kelly Komlen as Linda Loman.
As a man reflects on his profession and personal life at the end of his career, he struggles to understand why success and happiness eluded him, and how his desire for material success kept him from seeing the richness of the people close to him.
The cast also includes Donny Riedel as Biff Loman, Jeffrey McMahon as Happy Loman, Randy Stewart as Charley, Dante Jones as Bernard, Brandy Joe Plambeck as Howard, Tess Hannah as Miss Forsythe, Patricia Gajos as Letta and Dyan Bailey as The Woman.
Tickets are $20, with $10 admission on Mondays. For more information, call 248-545-5545. To order tickets, go to TheRingwald.com.