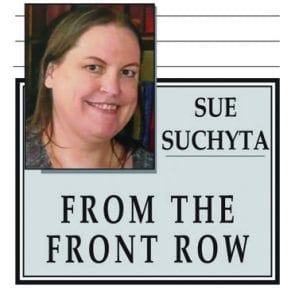 Set sail with your imagination for adventure on the high seas as the cast of "Peter and the Starcatcher" journey with pluck and humor as the Players Guild of Dearborn reveals the backstory of Peter Pan.
The show runs 8 p.m. March 8, 9, 15, 16, 22 and 23, and 2:30 p.m. March 10, 17 and 24 at the theater, 21730 Madison in Dearborn.
Director Brian Townsend of Dearborn said the show is a unique take on characters audiences know and love, and not what one might think.
"'Peter and the Starcatcher' is a piece of theatrical magic," Townsend said. "It's a unique blend of storytelling, imagination, music, chaos, friendship, comedy and love, and often with a wink to the audience."
Three orphans are sold to a terrible king, whom they join on a voyage, where they meet a young girl, who is on a mission with her father to destroy a trunkful of "star stuff" – the powerful and potentially dangerous matter left behind when stars fall to earth. Unbeknownst to them, pirates are after the star stuff as well.
Townsend said his goal is to have the actors connect with the audience as storytellers, using everyone's imagination, as well as lighting and sound effects to set the mood and enhance each scene.
He said he has many favorite moments in the show, from mermaids to linguistic twists and turns, to puns.
"We've been blessed with a great cast, willing and able to dive in and try anything," Townsend said. "This is a different type of show for us to produce. The narrative isn't as linear as most plays.
"In addition to our own creativity, we are relying upon our audience to suspend disbelief – these stairs are the deck of a ship, that sheet is a sail billowing in the wind, these lights are the glowing eyes of a ferocious crocodile, and those 12 actors are everything from a British lord to an orphan boy, grubby sailor, nasty pirate, tropical native and back again."
Townsend said the show is different, magical and hilarious.
"Mermaids, pirates, treasure, feats of daring-do – who wouldn't want a little of that in their lives?" Townsend said. "With all the craziness of our world today, this is the time to step away into something imaginative and inspiring."
Adam Lynch of Dearborn, who plays Bill Slank and Hawking Clam, said he is enjoying playing the crass and abrasive Slank, and said the show is fresh and full of jokes.
"People need to remember that this is a prequel," Lynch said. "The characters you know and love are just at the beginning of their respective journeys."
Graham Dallas of Dearborn, who plays Ted, said the timeless story has a fun spin on it and is absolutely absurd.
"It is a group of performers making magic happen, and it is absolutely hilarious," Dallas said. "This show adds layers upon layers to the story that everyone knows and makes it an entirely new and magical experience."
Alexandria Antonelli of Dearborn, as Prentiss, said the play gives the story of Peter Pan a new level of meaning.
"It is extremely funny, and yet at the same time has moments of poignancy," she said.
David Culliton of Livonia, as Black Stache, said his character is a sophisticated gentleman one moment and an impetuous child the next.
"He throws tantrums, gets words mixed up and is easily flustered when he doesn't get his way," Culliton said. "This duality makes him very amusing and fun to watch on stage."
He said the cast is "boundlessly creative."
"Our imaginations are firing on all cylinders," he said. "We are like 12 kids with overactive imaginations being given a giant playground to run wild, and it makes for a really unique production."
Matt Van Houton of Allen Park as Grempkin, Mack, Sanchez and the Fighting Prawn said the entire cast is involved in telling the story.
"The style of theater is comparable to that of ancient Greece," he said. "The entire cast is involved in telling the story, with each character given narration."
The cast also includes Mike Moseley of Allen Park as Lord Leonard Aster; Dearborn residents Sebastian Adams as Mrs. Bumbrake, Amy Jones as Captain Scott and Meg Pace as Molly Aster; Casey Coulter of Dearborn Heights as the Boy/Peter; Jacob Dombrowski of Southgate as Smee; and David Zolotarchuk of Ypsilanti as Alf.
Tickets are $18. To order, call 313-561-TKTS or go to playersguildofdearborn.org.
'VENUS IN FUR' MOVES TO SLIPSTREAM THEATRE
Due to unforeseen circumstances with the landlord at its new location, 14709 Champaign in Allen Park, the Outvisible Theatre Company will complete the remaining two weeks of David Ives' "Venus in Fur" at the Slipstream Theatre Initiative, 460 Hilton Road, Ferndale.
Remaining show dates are 8 p.m. Feb. 22, 23 and 25, and March 1 and 2, and 3 p.m. March 3 at Slipstream.
The show, directed by Adriane Galea and performed by Dani Cochrane and Joshua Brown, is captivating, and runs 90 minutes, without intermission, with a quick pace and superb acting.
As the story begins, a playwright is on the phone, complaining about being unable to find an actress to fit the needs for his stage adaptation of "Venus in Fur." A young woman rushes in to audition, begging for a chance to read for the part, but the man seems intent on turning her away. Even when she starts reading, he seems determined to reject her.
Quickly, however, curiosity and chemistry heat up between the characters, and the line between reading the role and reality blurs. The woman seems to have an uncanny, inexplicable grasp of the dialogue, barely relying on her script, which she mysteriously obtained, the means unknown to the playwright.
As the balance of power shifts back and forth, character motivation is debated and challenged, and two reading the scene cross a boundary from which it will be difficult to retreat.
The show contains adult themes, and those under 18 need a parent or guardian's permission to attend.
Tickets are $25, with a $5 discount for seniors and a $10 discount for students. For tickets or more information, go to outvisibletheatre.com.
SLIPSTREAM'S 'THE WOLVES' DELAYS OPENING TWO DAYS TO SHARE STAGE
Slipstream Theatre Initiative will delay its opening of " The Wolves" for two days to allow Allen Park's Outvisible Theatre Company to complete its run of "Venus in Fur."
"The Wolves" will run 8 p.m. March 8, 9, 15, 16, 22 and 23, and 7 p.m. March 3, 10, 17 and 24 at Slipstream, 460 Hilton Road, Ferndale.
Sarah DeLappe's Pulitzer Prize-nominated "The Wolves" follows a team of girls who warm up together for their U-17 soccer games over the course of six weeks, opening a window to their lives as they compete and collaborate, argue and support each other.
Directed by Luna Alexander of Ferndale, Dearborn actress Kate Martinez is featured in the cast, along with Annie Dilworth of Ann Arbor; Tiaja Sabrie of Detroit; Danielle Wright of Lathrup Village; Kim Alley of Redford; and Claire, Grace and Jennifer Joliffe and Isabella Weiss of West Bloomfield.
Tickets are $12. To order, call 313-986-9156 or go to SlipstreamTI.com.
DEARBORN SEEKS NOMINATIONS FOR MAYOR'S ARTS AWARDS
The Dearborn Community Arts Council is seeking nominations for the 31st annual Mayor's Arts Awards, which will be held 7 p.m. April 10 at the Ford Community & Performing Arts Center.
Nominees, which are due March 1, are sought for outstanding art patrons, educators, volunteers, visual or performing artists, organizations, and for the Bravo Award, which recognizes distinguished service and support of the arts.
The awards recognize artists as well as those who support and advocate for the arts in the Dearborn area.
Nominations may be submitted online, through dcacarts.org, by email to DCAC director Ralph Valdez, at [email protected], or by mail to DCAC Mayor's Arts Awards Review Committee, 15801 Michigan Ave., Dearborn, MI 48126.
For more information, call DCAC at 313-943-3095 or go to dcacarts.org.