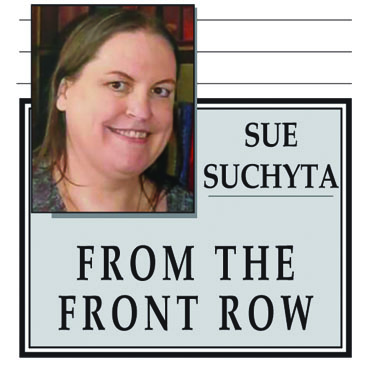 A mathematical genius puzzled by people seeks to solve the murder of his neighbor's dog in "The Curious Incident of the Dog in Night-Time" at Trenton's Open Book Theatre Company.
The play runs 8 p.m. March 15, 16, 22, 23, 29 and 30, and April 5, 6, and 11 to 13, and 2 p.m. March 17, 24 and 31 and April 7 at the theater, 1621 West Road, Trenton.
The show, a 2015 winner of five Tony Awards, including Best Play, is directed by Adriane Galea of Dearborn, with Joshua Whitson of Madison Heights as Christopher, a 15-year-old mathematical genius who has trouble relating to people. Christopher becomes determined to solve the mysterious death of his neighbor's dog, but must overcome his fears to do so.
While it isn't stated in the play, it is suggested that Christopher is on the autistic spectrum, and may have Asperger's Syndrome. His character doesn't like to be touched, doesn't understand metaphor and has strong color preferences.
Author Mark Haddon said in his blog that "'Curious Incident' is not a book about Asperger's … if anything, it is a novel about difference, about being an outsider, about seeing the world in a surprising and revealing way."
The play also is a mystery, and Christopher uncovers more secrets than just the dog's demise.
Whitson said the role is the most challenging he has ever played.
"I feel like it is important that everyone takes a moment to step into someone else's shoes," he said. "We are all on our own journeys, and sometimes we get so caught up in them. Seeing the world through the eyes of someone on the spectrum will remind you that one man's mountain is another man's molehill."
Whitson said he is a better person for having gone on Christopher's journey.
OBTC artistic director Krista Schafer Ewbank said she loved the novel when it was published in 2003, and followed its progress when it was adapted for the stage.
She said she bought a copy of the script as soon as it was published, but the national tour prevented local theaters from obtaining the rights to stage it.
"I saw the production that came to the Fisher," Ewbank said. "It was amazing."
While Crestwood High School in Dearborn Heights performed the show last fall, OBTC will be the first professional Michigan theater to stage the show, and Ewbank said she is excited about bringing the show to OBTC's intimate 80-seat black box style theater.
"The audience will never be more than three rows away from the action," she said. "It changes how you interact with the characters, and with the story.
"It presents different challenges for the designers and performers, but also for the audience. You get involved in a much more intense way."
The cast also includes: Jaclynn Cherry of Madison Heights as Siobhan, Christopher's school mentor; Robert Schoor of Northville as Ed Boone, Christopher's father; and Carrie Jay Sayer of Dexter as Judy Boone, Christopher's mother.
Playing multiple roles in the ensemble are Joshua Brown of Brownstown Township; Dale Dobson of Milford; Linda Rabin Hammell of Lathrup Village; Allison Megroet of Pontiac; Jean Pilon of Wyandotte; and Lindel Salow of Dearborn.
Tickets are $30 for opening night, which includes an afterglow, and $25 for other performances, with a $5 discount for seniors and a $10 discount for students. To order, or for more information call 734-288-7753 or go to openbooktc.com.