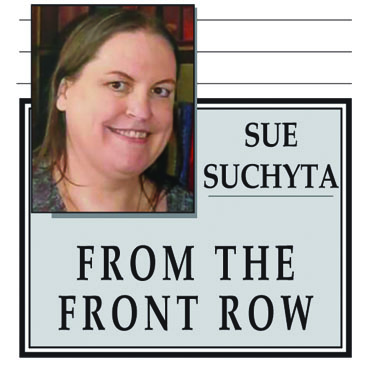 When James, an abused orphan, discovers a colorful cadre of eccentric bugs living inside a gigantic peach, a worldwide adventure begins with "James and the Giant Peach Jr." as they bond and confront bullies with courage and camaraderie.
The show runs 7:30 p.m. March 15, 16, 22 and 23, and 3 p.m. March 17 and 24 at Catherine A. Daly Theatre on the Avenue, 2656 Biddle, Wyandotte.
Director Nathan Vasquez said "James and the Giant Peach Jr." is a fun show with many character roles for the ensemble, which he feels is important.
"The ensemble is in it a lot, there are a lot of numbers for them and it really gives them a lot of opportunities to shine," Vasquez said. "We have several fun things planned for this show that you won't see in normal productions that will keep the adults entertained as well as the kids."
Vasquez said Roald Dahl slipped some favorite characters from his other stories into the show as well.
"I am a Roald Dahl fan myself, and 'James and the Giant Peach' I read multiple times growing up," he said. "It is just a fun story, and it is so creative and unique, with talking insects, mean aunts, zany characters and fun adventures, and even though it was written in the 1960s, still entertains its audiences."
He said the show features a cast of 30, ages 8 to 14, who all get a chance to shine.
"We fill the stage with so much stage magic that it is really going to captivate and entertain anyone who comes to see it," Vasquez said.
He said the show features a score by Justin Paul and lyrics by Benj Pasek, who won both the Golden Globe and Academy Award for Best Original Song for "City of Stars," and for the musical film "The Greatest Showman." He said their work on the original musical "Dear Evan Hansen" earned them a Tony Award for Best Original Score.
"It's a fantastic score, and it is really hard and challenging, but these kids are handling it, and it is amazing what they can do with it," he said.
Riley Barbee of Brownstown Township, who plays the Ladahlord, said the show has humor for both children and adults.
"It is also about adventure and excitement, and it's funny," Barbee said. "The dances are really exciting – they are big and bold."
Jeffrey Prueitt of Brownstown Township, who plays Earthworm, said he tells people the show is upbeat and exciting.
"Sometimes it will make you laugh, and sometimes it will make you be scared, and there are references to other shows, like 'Willy Wonka,' in the mix of the lyrics," Prueitt said. "It is just a really funny, exciting show."
Prueitt said Aunt Spiker and Aunt Sponge are especially funny, and his shtick as the cowardly earthworm is also entertaining.
The cast also includes Allen Park resident Isaac Clark as James; and Brownstown Township residents Cameron Abel as Ridgley Rapscallion, Calleigh Butler as Doreen Driggles, Charlotte Clavet as evil Aunt Sponge, Sydney Czopek as a featured dancer, Mia Morgan as Lucille Van Kooglestein and Addiyson Slepicka as a featured dancer.
Also, Flat Rock resident Isabella Selburg as Buzz, a Hollywood agent; Grosse Ile Township residents Olivia Emanuele as Violet Funkschmeller and Evelyn Howes as Chris Cryermouth; New Boston resident Emma Otter as Spider; Rockwood residents Evelyn McMaster as Ladybug and Gavin McMaster as Billy Bobby-Cop; and Southgate residents Abby Hinzmann as Matron Nurse of the Painswick Orphanage, Morgan Morris as reporter Ida Walters and Carly Serpetti as the Hat Lady.
Also, Taylor residents Kayla Aguila as evil Aunt Spiker and Kaitlyn Aguila as Mrs. Trotter; Trenton residents Joanna and Madalyn Bailey and Jaelin Szdlowski as featured dancers, and Katherine Bouquenoy as the Lollipop Girl; Westland resident Emily Ascensio as Bitsy Botana and Bobby Bobby-Cop; Woodhaven resident Parker Forgach as Centipede; and Wyandotte residents Andrew Dmitruchina as Mr. Trotter, Griffin Gardner as the male Spider, Ilya Nordstrom as Joe and Parker Watson as Grasshopper.
The show runs an hour and a half with intermission. Tickets are $14, and available by calling 734-407-7020 or at downriveractorsguild,net.
'HAMILTON' TICKETS STILL AVAILABLE THROUGH SPECIAL LOTTERY
A digital lottery for "Hamilton" tickets at the Fisher Theater will begin March 10, for the March 12 performance, and subsequent digital lotteries will open at 11 a.m. two days before each performance.
Digital lottery winners will be notified one day before the performance. Forty tickets will be sold for $10 each for each performance of "Hamilton" through the lottery. Each winner may purchase two tickets.
Use the Hamilton app for iOS and Android phones, hamiltonmusical.com/app, or hamiltonmusical.com/lottery to register. The lottery for each performance opens at 11 a.m. two days before, and closes at 9 a.m. one day before the performance. Winners will be notified at 11 a.m. one day before the performance by email.
Each person may enter once per performance, and repeat entries and disposable email addresses will be discarded. Payment must be made online with a credit card by 4 p.m. the day prior to the performance using the purchase link and code in the customized notification email. Tickets not claimed by 4 p.m. are forfeited.
Tickets purchased through the lottery may be picked up at Will Call beginning two hours prior to the performance with valid photo identification. Tickets purchased through the lottery will be voided if resold.
Other seats for "Hamilton" are available online, mostly for April performances. The show runs through April 21. Theatergoers are advised to check Ticketmaster.com for late release seats, which are available on short notice.
"Hamilton" is about Alexander Hamilton, one of America's founding fathers, the first secretary of the Treasury and a confidant of George Washington.
The show features a score with hip-hop, jazz, blues, rap, R & B and Broadway music styles, with book, music and lyrics by Lin-Manuel Miranda.
The show received numerous awards, including, in 2016, the Pulitzer Prize for Drama, 11 Tony Awards and a Grammy for Best Musical Theatre Album.
For more information, go to HamiltonMusical.com.