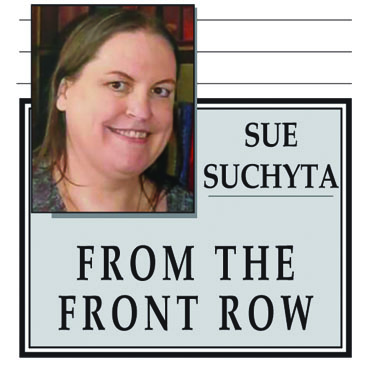 Fairy tales collide and folks find that what they wish for isn't always what's best for them in Dearborn High School's production of the Stephen Sondheim musical "Into the Woods."
The show runs 7:30 p.m. March 21, 22 and 23 in DHS's Valentine Auditorium, 19501 W. Outer Drive, Dearborn.
Greg Phillip Viscomi directs and produces the show, with musical direction by Maritsa Madias-Kalasz and choreography by Adam Lynch.
Viscomi said he chose "Into the Woods" for this year's musical because it seems like a good fit for his student actors.
"I felt the roles in the show played to the strength of the talent we have, and it has always been one of my favorite musicals," he said. "We last did it at DHS in 1998, and I felt it was time to bring it back."
Viscomi said the show is as relevant as it was in 1986, when it debuted.
"The musical's message of the importance of family and children is timeless," he said. "In fact, it may be more now than it has ever been before."
Katie Garber, who plays the Witch, said the show has many meaningful life lessons.
"My character shows that actions have consequences," she said. "And with such great music, it's truly a magical experience."
Garber said it is fun to play a character who is, in turn, ugly and beautiful.
"The way she moves and talks is slightly different for each, but it is important to keep her essential character the same," she said.
Garber said much of the story is told through the song lyrics.
"It is fun and challenging working with the music of Sondheim," she said. "The music is so intense."
Adriana Viscomi, who plays the Baker's Wife, said the show has a beautiful score as well as an insightful storyline.
"'Into the Woods' can touch people in a variety of ways," she said. "There is always room for a lesson to be learned."
Adriana Viscomi said the show is about more than the characters' surface storylines.
"The show has an underlying story," she said. "It's not just about a girl going to her grandmother's house or Cinderella attending a ball. It is about the choices the characters make and what happens to them after they get their wishes."
Senior Noah Goddard, who plays Cinderella's Prince, said he couldn't be happier with the choice of a musical for his last high school production.
"When you see a performance of Sondheim, the performers and the audience are having a lot of fun," he said.
Student lighting and properties designer Andrew Blankenship said he has had fun and found it freeing to create the effects for a show set in a world so different from our own.
"The music brings the show together, and the motifs that define the characters are unforgettable," he said. "The show is truly great, and I think that it is a must-see."
Others in the cast include: Caroline Giedeman as the Narrator, Ryan Chatila as Jack, Meriam Jeradi as Jack's mother, Simon Boyer as Milky White, Andrew Brown as the Baker, Nadia Gellani as Cinderella's Stepmother, Lillian Marsh as Florinda and Nora Karoub as Lucinda.
Also: Olivia Kirk as Little Red Riding Hood, Oliver Angel as Cinderella's father, Rebecca Dear as Belle, Reggie Simmons as The Beast, Elijah Fischer as Pinocchio, Alex Quesada as Prince Eric, and Julia Schoen as Ariel.
Also: Aubrey Accad as Princess Anna, Diayla Copeland as Queen Elsa, Isabella Bitonti as Hansel, Shae Murphy as Gretel, Victoria Irish as Goldilocks, Lillian Aitkens as the Fairy Godmother, and Marissa Adair as the Pied Piper.
Also: Sereen Elder as Little Bo Peep, Nour Shokr as Princess Jasmine, Alexandra Slanec as Princess Aurora / Sleeping Beauty, Nadia Gellani as Cinderella's mother, Jonah Guevara as the Mysterious Man, Ben Blessing as the Wolf, and Gwen Voice as Rapunzel.
Also: Jojo Greimel as Rapunzel, Caleb Reese as Rapunzel's Prince, Noah Goddard as Cinderella's Prince, Ben Blessing as the Steward, Adriana Viscomi as Cinderella's mother (offstage voice), Nour Shokr as the Giantess, and Gwen Voice as Snow White.
Tickets are $13, with a $2 discount for college students with identification, and a $5 discount for children, and for seniors 65 and older. Call 313-827-1647 to order.