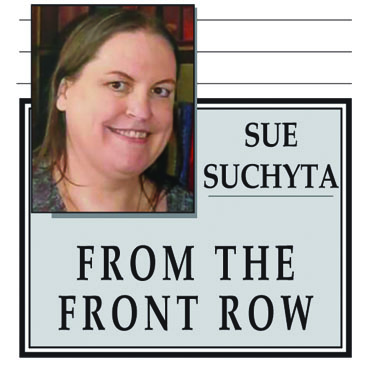 From the drama of "Tolton: From Slave to Priest" to the comedy "The Foreigner," to the light-hearted musical treat "42nd Street," live entertainment choices abound on area stages.
'TOLTON: FROM SLAVE TO PRIEST' VISITS DOWNRIVER
A story of a man born into bondage, who went on to Rome to become a Catholic priest, visits Downriver for a limited engagement in Saint Luke Production's "Tolton: From Slave to Priest."
The 75-minute show, suitable for ages 10 and older, runs 7 p.m. April 1 and 9:30 a.m. April 2 at Davidson Middle School, 15800 Trenton Road, Southgate.
The one-man, multi-media drama brings to life the true story of Father Augustus Tolton, played by Jim Coleman. Tolton, the first African American priest, is a story of courage in the face of prejudice, and includes Tolton's message of reconciliation and hope.
Bishop Joseph Perry of Chicago, who is seeking Tolton's canonization, said the show "inspires peace, hope and forgiveness."
Tolton was born in Missouri in 1854, and his mother fled to freedom with him and two other young siblings soon after. She settled in Quincy, Ill., where they soon discovered prejudice and hardship even in the North.
Tolton was determined to become a priest, but was rejected by every U.S. seminary. He finally traveled to Rome to study for the priesthood, then returned to Chicago to work with newly freed slaves.
Tolton said he found in Catholicism the antidote to discrimination and rejection, and his fellow priests helped him to forgive his persecutors.
Coleman said he is excited to be playing Tolton.
"Father Tolton's story needs to be told," Coleman said. "As a black man, this very important part of history is something that I want the world to hear about. I feel truly blessed to be the one to share Father Augustus Tolton with all who listen."
Tolton died of heat exhaustion at the age of 43 in Chicago. As the cause for his sainthood progresses, Tolton has begun to be recognized for his perseverance, courage and compassion.
Tickets are $10, with a $35 family rate, and a $5 student rate. To order, go to ToltonDetroit.eventbrite.com or e-mail [email protected].
HFC PRESENTS COMEDY 'THE FOREIGNER'
When a shy man who is too bashful to speak to strangers remains mute, the guests at a lodge are led to believe he doesn't speak or understand English, and soon they begin to tell him their deepest, darkest secrets, in Larry Shue's comedy "The Foreigner."
The show runs 8 p.m. April 4 to 6 and 11 to 13, and 2 p.m. April 7 and 14, at Adray Auditorium in the MacKenzie Fine Arts Center on the Henry Ford College main campus, 5101 Evergreen, Dearborn.
The cast includes Yvette Brown, Mohammed Hassab and Eric Vega of Dearborn; Kennedy Cooper of Detroit, Sasha Johnson of Redford Township; Eve Leigh of Royal Oak; Jesse Mattox and Nathaniel Wilhelm of Woodhaven; Dakota Nuttall of Wyandotte; and Zhanin Ruseva of New Boston.
Tickets are $15, with a $3 discount for HFC employees and students with valid photo identification. To order online, go to hfcc.edu/campus-life/theatre.
DIVINE CHILD PRESENTS MUSICAL '42ND STREET'
The magic of a Broadway show is celebrated in the upbeat musical, "42nd Street," which runs March 29 through April 7 at Divine Child High School, 1001 N. Silvery Lane, Dearborn.
Saturday and Sunday shows are at 7:30 p.m., with 2:30 p.m. Sunday matinees. The leads are double cast, with the Red cast performing the first Saturday, second Friday and second Sunday, and the Grey cast performing the first Friday, first Sunday and second Saturday.
"42nd Street" is the story of an aspiring chorus girl who comes to the big city and lands her first role in the chorus of a Broadway show. When opening night arrives, and the leading lady has broken her ankle, the small-town girl has a chance to save the day and let her star shine.
The show features favorite show tunes, including "We're in the Money," "Lullaby of Broadway," "Shuffle Off to Buffalo" and the title song, "42nd Street.
Tickets are $12, with a $2 discount for students and seniors. Tickets are for sale at the door and online through Vendini.