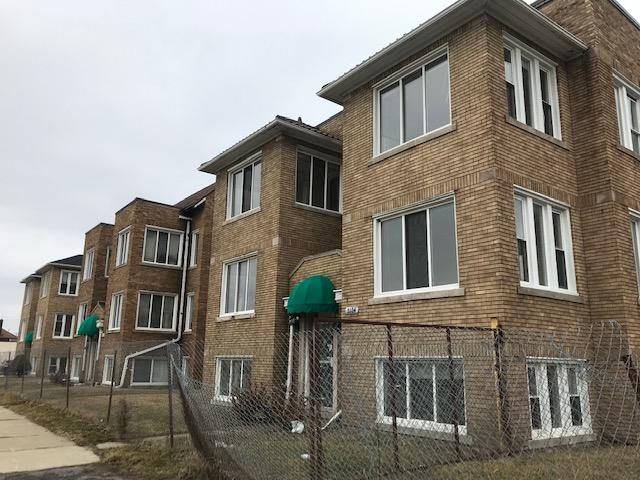 By ZEINAB NAJM
Times-Herald Newspapers
DEARBORN — The Zoning Board of Appeals unanimously approved several zoning variances allowing new owners of Oakman Place Apartments, 5104 Oakman Blvd., to begin applying for permits and start construction on the vacant buildings.
During the board's March 14 meeting at the Dearborn Administrative Center, 16901 Michigan Ave., board member Kenneth Gusfa made the motion to approve the requests and Hassane Fadlallah supported the motion.
Apartment owner Mike Jordan explained the plans to reduce the number of units from 68 to 60 with 44 one-bedrooms, eight to 10 studios and four to six two-bedrooms inside the three buildings built in 1926.
One of the zoning variances he needed approved was to change the apartment size for the one-bedroom units from 800 square feet to 435. He also requested a variance for the lot area for number of units to change from 5.6 acres to 0.85 acres, according to the zoning board's application packet.
"The number and size of one-bedroom apartments is based on the existing configuration," the practical difficulty section of the packet read. "Increasing the size of one-bedroom apartments would require substantial reconfiguration of each floor of each building, reducing the overall number of units. The existing size and location of windows places constraints on practical reconfiguration."
Another zoning variance listed was onsite parking with a code requirement of 97, and Jordan stating he could provide 47 spaces in lots and 10 additional street parking spaces.
Several board members questioned the lack of parking that will be available for those who live and visit the three buildings.
Attorney Sam Fakih informed the board that Jordan purchased the south parking lot for $250,000 from the La Shish restaurant owner, instead of leasing half of the lot as the previous owner did. When asked if he would number parking spots, assign them based on address and charge a premium for occupants who have vehicles, Jordan said that is something he would do to attract people who don't have cars.
Architect Ron Edwards also had submitted plans for bike racks to the city and the zoning board. When asked by board member Samera Ajami if the apartments would be affordable, Jordan said studios could cost approximately $550 to $600 per month, one-bedrooms at $650 to $700 and two-bedrooms possibly $750.
Jordan informed the board he has an 18-month timeline to complete renovations with six months for each building, including interior rehabilitation, landscaping, paved parking, and enclosed trash bins, but no exterior changes to current structures.
"My plan is to work on two buildings at a time by having the demolition crew in one building, finish the demolition and move to building two," he said. "Then have rough mechanical, electrical plumbing, rebuild or move walls and expand bathrooms. Get one building completely done, obtain a certificate of occupancy then move people in and go to building two and three."
Dearborn Economic and Community Development Assistant Director Thomas Paison said the city has been looking to add multi-family housing in or around the downtowns in Dearborn as a good quality to attract millennial workers or empty nesters.
"We view this as an extension of the east downtown area," Paison said. "We do have a shortage of quality multi-family housing options in town. We do see some pressure on that from folks being priced out of downtown Detroit especially because this is on the fast pass line where you can catch the bus downtown in about 15 to 20 minutes.
"It is viewed as an extension of — if renovated properly it could be attractive to a younger workforce, working downtown and who have priced out of downtown and Midtown but still want to be in a transit-friendly area, walkable to bars and restaurants and to walkable to a supermarket … It has a lot of characteristics that low car households would find attractive."
Dearborn Zoning Administrator David Breneau explained the additional variance requests submitted which were 84 side shrubs instead of the required 272; 12 site trees compared to the 136 required; no evergreen trees or walls screening; density of 80 units per acre instead of the required 12.1 units per acre; a rear setback of two feet compared to the required 30 feet and front setback of 13 feet instead of he required 35 feet.
According to the zoning board's application packet, the practical difficulty section listed said, "72 percent of the site is covered with either buildings or pavement. Adding 124 properly spaced trees would require elimination of parking spaces and or demolition of potions of the buildings."
For the landscape or wall screening the practical difficulty section read, "Screening along the south and east borders would require elimination of the parking spaces," according to the application packet. "A greenbelt with 20 shrubs along the north border is part of the proposed site plan. The greenbelt will separate the project's north parking lot form an adjacent surface parking lot. Screening would involve a significant expense serving no practical purpose in this particular case, and could create concerns for residents' sense of security."
Breneau explained that the buildings were in the demolition process, but now that Jordan took over ownership, the required renovations and repairs are looked at as basically new construction, so therefore have to meet all current building and zoning code departments.
Following Breneau's comments, Paison added content to non-conformities saying that if renovations are more than 50 percent than the current value of the building it's treated as if it was new in terms of zoning.
"The buildings have been vacated by the Building Department, under the prior owner and were in pretty bad shape inside," Paison said. "So, the level of repairs need to be because the prior owner had run them down so badly.
"Obviously, vacant buildings that have been condemned have a low current assessed value so any amount of reasonable repairs for the buildings will put them over 50 percent limit."
He also said that the Building Department has told him, the shells of the three apartment buildings are fine, but that the main problem is they need work on the inside. Paison told the commission that it was either fix the buildings or tear them down, from the administrative standpoint, and there were no in-between options.
During a Feb. 11 Planning Commission meeting, a request for the site plan and special land use approval for the renovation of the existing multiple family residential development was passed unanimously, according to meeting documents.
The motion was made by Commissioner Ted Easterly then supported by Commissioner Glen Green, and passed 5-0 with Commissioner Kevin Watts absent.
Director of Public Information Mary Laundroche said the apartments were shut down and residents evacuated due to health and safety concerns.
"We are very pleased to see that the current owners have a plan to rehabilitate the buildings and add housing to the east side," she wrote in an email.
In December 2016, the city closed the three apartment buildings after building code violations. According to WJBK Channel 2, neighbors raised concerns about the poor living conditions and when the city told the landlord to fix the issues, it was told he couldn't afford to do that.
Residents were told to leave the buildings and an estimated 50 renters were placed in Dearborn motels until January 16, 2017, paid for by the city, according to WJBK.
(Zeinab Najm can be reached at [email protected])