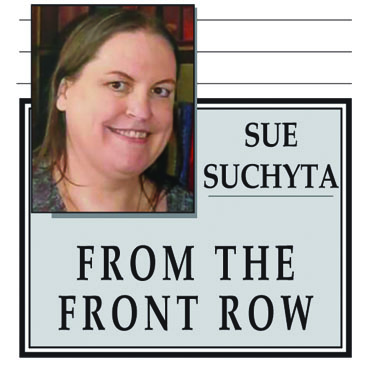 Dearborn, Downriver talent onstage and off
Whether you're "Puttin' on the Ritz" or enjoying the wacky humor of Mel Brooks in this campy, comical stage musical, "Young Frankenstein" is monstrously good fun and sure to please.
The show runs 7:30 p.m. March 29 and 30, and April 5, 6, 12 and 13, and 3 p.m. March 31 and April 7 and 14 at the Marlene Boll Theater at the YMCA, 1401 Broadway, Detroit. The opening night March 29 performance is sold out.  The first Sunday performance features a post-show discussion with the creative team.
The musical is an adaptation of the movie, but with music and dance numbers, as well as other creative surprises.
When the grandson of the infamous Victor Frankenstein inherits the family estate in Transylvania, Frederick Frankenstein, who is an American, and insists on pronouncing his name "FRAHN-kin-steen," wants nothing to do with his grandfather's reputation or re-animating the dead. However, fate and farces have a way of adding hysterically funny twists to good intentions, and laughter reigns throughout the clever, laughter-filled romp.
Local talent is evident onstage and off, with Tavala Luciow of New Boston and Christian Plonka of Dearborn performing in the ensemble, and Dearborn talent behind the scenes, with Alan Devlin serving as technical director as well as scenic and sound designer, and Michael Suchyta as the choreographer.
Greg Grobis directs the show, with Daniel Greig as musical director, Jamie Warrow as assistant director, Kirstin Renas as vocal coach and Matthew Lira as stage manager.
Grobis said the Detroit Mercy Theatre Company staff selects shows that will both challenge and inspire the students.
"We selected 'Young Frankenstein' because it was an opportunity to feature a majority of our students on stage for a main stage production," Grobis said. "'Young Frankenstein' is a fast-paced, over-the-top musical that is sure to have audiences snickering while enjoying Mel Brooks' iconic comedic writing."
Grobis said that when the grandson of Victor Frankenstein resists a calling which he has blocked out his whole life, it reminds people of the importance of being true to your own inner voice. He said the show also reminds one of the debates raging even now about the over-reach of science, as the grandson tries to uncover the mysteries his grandfather unlocked.
"Science in today's world is once again being ignored even though the fear of climate change seems to be more real than the monster of Frankenstein," Grobis said. "Though the world of Dr. Frankenstein is fictitious, the world of monstrous disease and illness impacts thousands of children and their families every year.
"The Detroit Mercy Theatre Company is proud to support the efforts and raise funds for the Make-A-Wish Foundation, with special emphasis on the Michigan chapter's Wish-A-Mile bicycle tour, its largest fundraiser to help critically ill children in the state."
In addition to the company supporting a good cause, the cast and crew will provide audiences with laughter.
"The musical is not the iconic 1974 movie, but it's a delightful mix of both the movie and what stage musicals do best, exaggerate as a way for us to look at ourselves and our world," Grobis said. "The musical is sure to entertain and give us a good laugh."
Hayley Pulizzi, who plays Elizabeth Benning, Frederick Frankenstein's fiancée, said people who liked the movie or gravitate to musicals will enjoy "Young Frankenstein."
"It's a fast-paced joyride, with over-the-top performances and great music," she said. "The process of developing Elizabeth has been an absolute blast, as she is such an over-the-top and glamorous character. Bringing her to life has been such a joy."
Pulizzi said the world can use some laughter right now.
"I hope audiences walk out of the theater feeling energized, and feeling that they don't have to take life too seriously," she said. "We really need laughter, and this show will supply that."
Bridget Smith, who plays Frau Blucher, said it is a challenge to find balance with so many creative minds in the cast and crew, but it is fun to see the results of the collaborative process.
"I hope the audience enjoys the show as much as we enjoy putting it on, and that they leave the theater with a smile," Smith said.
Conor Sullivan, who plays Frederick Frankenstein, said the role is a departure from what he has played in recent years, and he hasn't had to dance for a role in about five years, so that adjustment was a personal challenge. However, he said discovering the show's humor has brought fun to the rehearsal process.
"For me, the show is wrapped up in nostalgia," Sullivan said. "I grew up watching Mel Brooks movies, and they are one of the reasons I love comedy so much. This show is a loving send-up of horror movies, and anyone who comes should leave laughing."
Taylor LaPorte, who plays Inga, said the show's humor has been developed through the hard work of the cast and crew to showcase the campiness.
"Seeing it 'come alive' has been extremely fun and rewarding throughout the rehearsal process," she said. "I hope the audience will feel as if they are a part of the madness and craziness, too."
Others in the cast include: Arthur Beer as Victor Frankenstein; Nina Carlson as Tasha and ensemble; Preston Cornelius as Igor; Andrew Guay as Inspector Kemp; Dalton Hahn as the Monster; and DeShawn King as Mr. Hilltop and the Count.
Also: Bethany Lowhorn as the telegraph operator, Basha and ensemble; Elise Pannemann as Masha and ensemble; Kirstan Renas as the Herald and ensemble; Olivia Swad as Sasha and ensemble; and Savannah Wright as Ziggy.
Tickets are $30, with an $8 discount for alumni, faculty, staff and seniors, and a $15 discount for students and veterans with identification. For more information or to order, call 313-993-3270 or go to DetroitMercyArts.com.