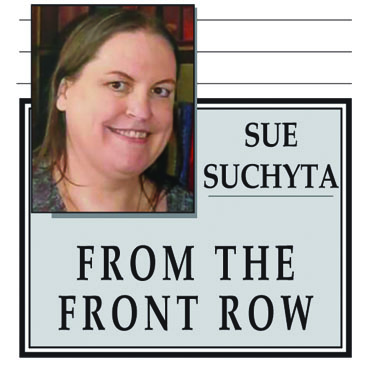 The powerful musical presence of "Hamilton" will bring history to life for 3,900 high school students and teachers April 11 and 18 through an innovative educational program and foundation subsidies.
Attendees from 59 area high schools who have spent the past several weeks learning about Alexander Hamilton and the nation's Founding Fathers, through a special integrated curriculum, will see a matinee performance of "Hamilton" for $10 each through the generous support of local foundations and sponsors.
Following the performance, cast members will participate in a question-and-answer session with the students. In addition, selected, pre-screened students will share original works they created as part of the educational component of the program, including original songs, raps, poetry, scenes and monologues for the other attendees.
On April 11, Charity Amadi of Advanced Technology Academy of Dearborn was scheduled to present her original poem about Phillis Wheatley on the Fisher Theater stage.
"Hamilton" producer Jeffrey Seller said the program provides students with a unique, exciting way to learn more about the founding of their country.
"Our goal is to ensure students have a shot to see 'Hamilton' and use its words, music and staging to further their understanding and enjoyment of American history, music and drama," Seller said. "We've had the pleasure of expanding the education program around the country."
The Hamilton Education Program was developed by James G. Basker, president of the Gilder Lehrman Institute of American History, in conjunction with Hamilton creator and producer Lin-Manuel Miranda, Seller, and the Rockefeller Foundation.
Basker said the project is transformative.
"'Hamilton' has struck a chord with our nation's students because it embodies what great history education is all about: bringing the past to life and fostering connections with the exceptional individuals and moments that have made us who we are," Basker said. "This program empowers students to reclaim their own narrative and teachers to bridge classroom learning with the stage."
The ticket price subsidies, which enable the students and teachers to see the matinees for $10, were provided by: The Max M. and Majorie Fisher Foundation, the John S. and James L. Knight Foundation, the William Davidson Foundation, The Kresge Foundation, the Marshall Mathers Foundation, the Royce Family Fund, and SMZ Advertising Inc.
Area high schools with students attending April 11 included Advanced Technology Academy of Dearborn and Vista Meadows Academy of Dearborn Heights. On April 18, high school students from Taylor Preparatory High School are scheduled to attend.
With book, lyrics and music by Lin-Manuel Miranda, "Hamilton" features jazz, hip hop, rap, blues, rhythm and blues, and Broadway style songs.
"Hamilton" is the story of Founding Father Alexander Hamilton, who immigrated from the West Indies, served closely under George Washington during the Revolutionary War and was the first U.S. Secretary of the Treasury.
For more information on "Hamilton," go to HamiltonMusical.com. For additional information about the show's run in Detroit, which ends April 21, go to BroadwayInDetroit.com.
HFC STUDIO SHOWCASE FEATURES LOCAL PLAYWRIGHTS
From ruin porn and relationships, to comedy to dark drama, local playwrights will be showcased in Henry Ford College's upcoming Studio Showcase of six short plays.
The showcase runs 8 p.m. May 2 to 4, and 2 p.m. May 5, in the Black Box Studio in Adray Auditorium in the MacKenzie Fine Arts Center.
Directed by Sarah Hawkins, the ensemble cast, who play multiple roles, include Kaylin Reed of Dearborn Heights, Dynasty Orr of Detroit, Joe Jabara of Flat Rock and Woodhaven natives Jesse Mattox and Nathaniel Wilhelm.
Hawkins said she was eager to showcase local playwrights and to have her actors explore their works.
"I want the students to work with people locally creating theater at this very moment," Hawkins said. "The hope is this will help them be energized to enter the professional theater world when they leave HFC."
Three plays of Maureen Paraventi of Redford Township will be performed. The first, "There's Nothing Wrong with Me," follows a wife plotting to poison her condescending husband during a stressful vacation. The second work, "Ruin Porn," looks at tourists photographing Detroit's decaying buildings as they encounter a native Detroiter who sees the scene through hometown eyes. The third work, "Going Nowhere," looks at the demise of a relationship during the stressful wait for a delayed flight.
"The Last Word," by Detroit playwright Ford McCarther, is a lighthearted look at a woman who visits a funeral home to plan her own sendoff in advance.
"Between the Thorns," written by Collette Cullen of Dearborn, is a bittersweet recollection of family and loss.
The sixth and final play, "Valerie: A Cosplay Monologue," by Asher Wyndham of Minneapolis, explore a woman's mission to help others navigate the complicated and treacherous dynamics of comic conventions.
The plays contain adult content and language, and are not appropriate for all audiences.
Tickets are $5, and may be purchased hfcc.edu/campus-life/theatre and at the door.