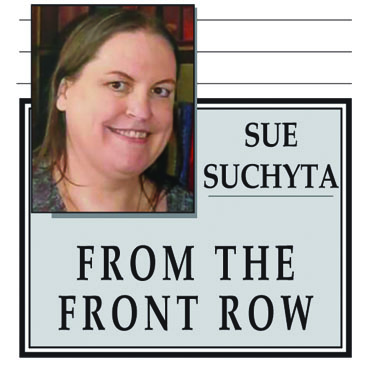 The barkers of the big top, bright lights and circus hype bring the circus to town as Southgate Community Players bring the Tony Award-winning show "Barnum – the Musical" to Downriver.
The show runs 7 p.m. May 3, 4 and 10, and 3 p.m. May 11 at Davidson Middle School, 18500 Trenton Road, Southgate.
Tamara Laflin of Southgate, who stage directs, music directs and choreographs the show, said, like P.T. Barnum, she has always been intrigued by sideshows, oddities and circus performers.
"I was a part of a production of 'Barnum' as a young person, and my love of the show was reignited when 'The Greatest Showman' was released," she said. "Although there are differences between the two, I have a lot of love for both the musical and the movie. Being able to help bring this story to life on the stage was an opportunity I didn't want to pass up."
Marla Laflin said since the movie "The Greatest Showman" came out, there is more interest among people about P.T. Barnum.
"Knowing that some of the characters they love from that story cross over gives them some familiarity, and if they love that story, I think they will love this one, too," she said.
Marla Laflin said one of her biggest challenges with this show was discovering the hidden talents in her cast so she could create a cadre of believable circus performers.
"I am so proud of what this cast is doing on stage," she said. "They are so skilled and talented, and are up to any challenge they are given."
Tamara Laflin said she hopes audiences are pleased by the surprises in the show, and they leave talking about the tricks and the spectacle they did not expect to see on a local stage.
"The circus performers do so many interesting things, and their costumes are gorgeous," she said. "They truly look like they could be a part of a traveling circus."
Logan Laflin of Southgate, who plays James A. Bailey and the Ringmaster, agrees that "Barnum" highlights talents that are seldom seen on the local stage.
"They see someone flip, juggle or do other tricks you don't see every day," he said. "The costuming – especially for the circus performers – is very elaborate."
Logan Laflin said he finds it relaxing and fun to work with and get to know the cast, who represents a wide range of ages, as he tackles the challenge of mastering the Ringmaster's verbose dialogue.
He said he hopes people take a chance and come see a show that is outside of the norm.
"It is a unique spectacle," he said. "It doesn't fit into the conventional box of what people think of when they think of musicals."
The cast features Dalton Pittman of Westland as P.T. Barnum; Melanie Berger of Brownstown Township as Charity "Chairy" Barnum; Sherry Irving of Riverview as Joice Heith; Brynn Ward of Royal Oak as Jenny Lind; and Isaac Clark of Allen Park as General Tom Thumb.
Jessica Breeding of Wyandotte plays Mrs. Stratton, with Noah Clark of Allen Park as Mr. Stratton and Chester Lyman, and Brecken Milner of Allen Park as Amos Scudder.
Others in the ensemble, many who play multiple character roles, include: Arielle Celmer and Allison Surma of Allen Park;  Nada Almaliki of Dearborn Heights; Ethan Jacoby and Katlin Jenkins of Lincoln Park; Aimee and Samantha Plunkett of Riverview; Isabella Pizzo of Southgate; Matthew Jakubiec of Taylor; Layton Gonsalez and Olivia Harrison of Trenton; Emma Ball of Wyandotte; Cami and Kylie McClain of Grosse Ile Township; Aiyanna Fivecoat of Brownstown Township; Chloe McMahon, Connor Moran and Makena Shell of Woodhaven; Reece Culverhouse of South Rockwood; and Amanda Nummy of Ann Arbor.
Tickets are $18, with a $3 discount for seniors and students. To order, call 734-282-4727 or go to showtix4u.com/events/15785.