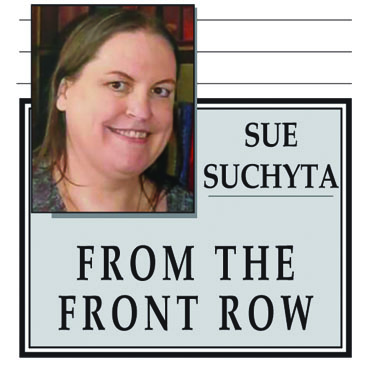 From ABBA's greatest hits to the Disney and Mackintosh magic of a most unusual nanny come two musicals to set your spirits soaring, as the Downriver Actors Guild presents "Mama Mia" and Dearborn Edsel Ford High School presents "Mary Poppins."
DOWNRIVER DELIVERS 'MAMA MIA'
With the music of ABBA and a fictional Greek Island as a backdrop, a 20-year-old woman is preparing for her wedding day, with one big dilemma: She doesn't know which of three men is her father. So, in the days before easy DNA tests, she invites them all, and sets a series of unforeseen events in motion.
The show runs 7:30 p.m. May 10, 11 and 16 to 18, and 3 p.m. May 19 at the Catherine A. Daly Theatre on the Avenue, 2656 Biddle, Wyandotte.
Directed by Denny Connors, the cast includes Ashley Gatesy of Westland as Sophie; Annie Mann of Southgate as Donna; Rob Douglas of Brownstown Township as Sam; Wyandotte residents Betsy Genrich as Tanya, Gerald Hymer as Sky and Sam Ramirez as Harry, Leo McMaster of Rockwood as Bill; and Debbie Aue of Taylor as Rosie.
Connors said the show has a strong message about friendship, finding yourself and finding your direction in the world.
"Your family is who you make it, and who is around you," Connors said. "And how can you go wrong with this music? Who doesn't love ABBA, or have at least one song they like in their closet?"
Connors said "Mama Mia" is a great musical from start to finish.
"The energy coming from the stage is kinetic," he said. "It gets the audience pumped. You have that live music around you, and it brings everybody up. It is contagious. Plus, it is a great story."
Connors said the cast is taking the material and really digging into it, bringing out the heart of the story.
"You are going to get caught up in the story and with these characters," he said. "You are going to feel for each one of these characters."
Connors said if you watch the show just on the surface, it is a cute story, and his challenge has been to delve into the emotion of it to reveal what is a compelling and engaging story.
"That has been hard, because the characters have had to go to places that are sometimes uncomfortable," he said. "But they are doing it, and it is beautiful when they hit those moments."
Connors said the show's vocals are top notch, and the dancing is going to blow people away.
"The dancing is ridiculously energetic," he said. "It is actually magical. The choreographer is Spencer Genrich and the vocal director is Melanie Aue, and they are top in their craft."
Gatesy, who loved the movie, said the show is special to her.
"This is a very heartwarming show," she said. "It revolves around the bond between a mother and her daughter, and it is a feel-good show that actually has some hidden depth in it."
Gatesy said the rehearsal process has been an exhilarating challenge, and she said the story is worth seeing even if you are not an ABBA fan.
Spencer Genrich said she loves the style of the show.
"I like to mix the jazzy, disco-y choreography with a little hip-hop to make it modern, so I was excited to incorporate all of these styles into a show that has dancing but traditionally not as much dancing as we are going to be doing in it," she said. "So, it was a fun challenge to expand on that."
Genrich said the audience will be tapping their toes, and will recognize iconic moments, as well as elements that are unique to this production.
"The dancing is going to blow your mind," she said. "The acting is wonderful, the voices are just so perfect and add so much to the entire impact of the show," she said. "And if you just like a feel-good story, that you don't have to focus too hard on, and can just sit back and enjoy, then this is going to be the show for you."
Debbie Aue said the talent in the show is amazing.
"The young people doing the dancing are actually working harder and longer and more numbers than the Broadway version, and it is just going to be a very high-end show," she said.
Debbie Aue, who is the theater's artistic director, and who is often behind the scenes, said she is having a blast.
"Rosie is a fun character, I get to be silly and show friendships," she said. "Annie and I have been friends for 25 years, I have known Betsy for 20 years, so the three of us truly have been friends a really long time, so it is fun, and we are having a good time, and we haven't even added the costumes yet. I am not looking forward to putting Spandex on, but that's OK."
Ramirez said anyone can see a movie, but "Mama Mia" is a whole different experience when one sees it live.
"It's real people – it's the community in the production," he said. "It has been a lot of fun, and we are all working hard to make it the best production that Wyandotte is every going to see."
Betsy Genrich, who choreographed "Chicago" when her daughter Spencer was in it, has now switched roles, and as one of the leads, is working with her daughter as the "Mama Mia" choreographer.
She said she also likes the friendship elements of the show, and she, Aue and Mann have remained close friends even though they have known each other for years and don't see each other all the time.
"When we get back together, it is like we don't even miss a beat," she said. "We are all having lives, but you just pick up the conversation where it left off, and I feel that really good connect with both Annie and Debbie. We met through theater."
Others in the cast include Ivy Anspach of Flat Rock as Ali,  Steve Baggett of Allen Park as Father Alexandrios, Jacob Dray of Dearborn as Eddie, Kayla Harwood of Westland as Lisa, and Corey Shorter of Dearborn Heights as Pepper.
The ensemble dancers include Allen Park residents Emily Braun, Jenna Smith and Matt Smith; Marie Gury of Dearborn; Jacob Partich of Melvindale; and Colette Serpetti of Southgate.
The ensemble includes Allen Park residents Wendy Baggett, Jane Bier and Laura Smith; Grace Mercuri of Dearborn; Jay and Ray Carter of Taylor; Sydney Villanueva of Southgate; Kyle Harwood of Westland; and Wyandotte residents Noah Bias and Amy Parenteau.
The songs include ABBA's greatest hits, like "Honey, Honey," "Dancing Queen," "Super Trouper," "Name of the Game," "Voulez-Vous," "Knowing Me, Knowing You," and "Take A Chance on Me."
Tickets are $18, with a $2 discount for students and seniors. Tickets are $14 for the May 16 performance. To order, call 734-407-7020 or go to downriveractorsguild.net.
'MARY POPPINS' FLIES INTO EDSEL FORD HIGH SCHOOL
The magical nanny with a spoon full of sugar and the ability to turn ordinary hours into the magical moments, breezes into London – or Dearborn – as Edsel Ford High School presents the musical "Mary Poppins."
The show runs 7 p.m. May 9 to 11 at the school, 20601 Rotunda, Dearborn.
Directed by Robert Doyle, the show features Nora Heaton and Maya Moreau sharing the role of Mary Poppins, and Nathan Wall and Oscar Vasquez-Torres sharing the role of Bert. Nathan Hermen plays George Banks, with Giana Lerini as Winnifred Banks, Matthew Hermen as Michael Banks and Myka Heaton as Jane Banks.
The cast also includes Griffin Ziembowicz as Admiral Boom; Garrett Hermen as the Bank Chairman; Zoe Rogula as Katie Nanna; Lily Kanclerz as Miss Andrew, a character new to the show; Abbie Pitts as Miss Lark; Kyla Heaton as Mrs. Brill; Leslie Adams as Mrs. Corry; Terez Johnson as Neleus; Hasen Alnakash as Robertson Ay; and Nathan Righetti as the Park Keeper.
The Dance Ensemble includes Hannah Abbas, Catherine and Elizabeth Dicks, Maddie Norris and Sarah Walker.
Nora Heaton, one of the two Mary Poppins, said the show is a big production with a lot to offer.
"There's flying, dancing, and a really interesting plot," she said. "Overall, it's a spectacle, fun to watch, and I hope audience walk away singing the songs."
Moreau said the cast worked extensively on the choreography, which highlights the show's energy.
"It brings out the magic, especially of being a child, and I think that is really special," Moreau said.
Lerini said children and adults will enjoy the show, and will see a difference in Mrs. Banks from the character in the movie.
"In the stage musical she is more of an independent woman," Lerini said.
Nate Hermen said his character changes as well.
"He starts out mean, and ends up a pretty cool guy," he said.
Myka Heaton said her character changes during the show as well.
"You really get to watch her grow up," she said.
She said she had fun with the "Step in Time" number, and thinks audiences will enjoy it.
"They will be really excited by all the tap dancing and flying around," she said.
Kanclerz said audiences will also appreciate the gorgeous set.
"Our stage crew and parents really put a lot of work into making it look great," she said.
Wall said the show has much to offer.
"Flying teenagers and a real live dog," he said. "What more could you want?"
Rogula said the cast has worked hard on the show, and hopes it showcases their hard work.
"We encourage you to come see it," she said.
Favorite tunes include "A Spoonful of Sugar," "Supercalifragilisticexpialidocious," "Jolly Holiday," "Let's Go Fly A Kite," "Step in Time" and Chim Chim Cher-ee."
Tickets are $12, and available at the door, with a $2 discount for students and seniors.