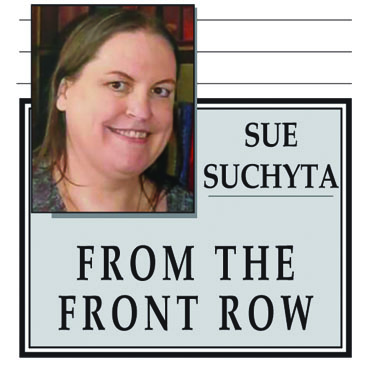 'Fool for Love' at Open Book while 'Waitress' runs at the Fisher and 'Jersey Boys' brings magic to Music Hall
Whether love makes us a fool, a dreamer or singer, there is a show for every mood, as Trenton's Open Book Theatre Company presents "Fool for Love," the Fisher continues its run of the musical "Waitress," and the love songs of Frankie Valli and the Four Seasons make magic at the Music Hall in "Jersey Boys."
'FOOL FOR LOVE' EXPOSES TURBULENT LOVE AT OPEN BOOK
Not all love stories are sweet romances, as audiences discover in Sam Shepard's "Fool for Love," which opens its five-weekend run May 17 at the Open Book Theatre Company, 1621 West Road, Trenton.
The show runs 8 p.m. May 17, 18, 24, 25 and 31 and June 1, 7, 8 and 13 to 15, and 2 p.m. May 19 and 25 and June 2 and 9 at the theater.
The play, which was a finalist for the 1984 Pulitzer Prize for Drama, is part of a quintet, which includes The Family Trilogy: Curse of the Starving Class (1977), Buried Child (1979), and "True West (1980)," and "A Lie of the Mind" (1985).
Set in a run-down motel in the Mojave Desert, Eddie has tracked down May, his former lover, who has left him because she fears he will return to the destructive habits that haunted their relationship in the past. As their story unfolds, and the dynamics of their relationship bring them together and push them apart, the chemistry of the couple irresistibly draws one to the drama unfolding in the room.
Directed by D.B. Schroeder of Grosse Pointe Woods, the cast includes Dearborn native Jonathon Davidson as Eddie and Krista Schafer Ewbank of Grosse Ile Township as May. Joshua Brown of Brownstown Township plays Martin, May's date, who arrives to find Eddie there, while Lindel Salow of Dearborn plays the Old Man.
Schroeder said Shepard has crafted two fascinating, strong characters.
"Both partners keep knocking the other off center," he said. "The dynamics of their love becomes fascinating to watch."
The two emotionally push and pull at each other, coming closer, then repelling, like magnets, he said.
"Love can be filled with reunions and times one is left behind, coming together only to push each other apart," Schroeder said. "With 'Fool for Love,' we actually walk away seeing more of ourselves in the characters than we might like to, but love makes fools of each of us."
Ewbank and Davidson shared the stage and a romantic plotline last season at OBTC as Emilie and Voltaire for their well-received performances in "Emilie: La Marquise Du Chatelet Defends Her Life Tonight."
Tickets are $25, with a $5 discount for seniors and a $10 discount for students. Opening night tickets are $30, which includes an afterglow. For tickets or more information, call 734-288-7753 or go to openbooktc.com.
'WAITRESS' SERVES UP PIE AND A SLICE OF LIFE AT THE FISHER
For anyone who has ever hoped to work up the courage to change their life, there's "Waitress," the feel-good musical about second chances running through May 19 at Detroit's Fisher Theatre.
Jenna, a waitress and expert pie maker, feels trapped in an abusive marriage, following the pattern of her mother and pie mentor. Her hopes of escaping seem dashed when she discovers she is pregnant, but her impending motherhood and the support of her friends, as well as an unexpected romance, provide her with the courage to face up to her reality and make a better life for her daughter.
The songs, both ballads and show tunes, tell a heartfelt story, and the music and dancing delivered by the cast are top notch and entertaining.
The show, while not a good fit for high schools, is destined to become a community theater staple when it is no longer touring or on Broadway.
The creative team is a female powerhouse, with music and lyrics by Sara Bareilles, book by Jessie Nelson, choreography by Lorin Latarro and direction by Tony Award-winner Diane Paulus.
The cast include Christine Dwyer as the indomitable Jenna, waitress and pie maker extraordinaire; Ryan Dunkin as Cal, who runs the diner; Ephie Aardema and Maiesha McQueen as Dawn and Becky, her fellow waitresses and cohorts; Jeremy Woodard as Joe, the owner of the diner; Jeremy Woodard as Earl, Jenna's husband; Steven Good as Dr. Pomatter, Jenna's OB/GYN; and Jeremy Morse as Ogie, Dawn's quirky love interest.
Tickets start at $39, and are available at 800-982-2787 or online at ticketmaster.com or broadwayindetroit.com.
'JERSEY BOYS' BRING MUCH-LOVED SONGS TO MUSIC HALL
From the harmony onstage to the discord behind the scenes, the magic of "Jersey Boys," the story of Frankie Valli and the Four Seasons,
brings its much-loved songs to the Music Hall.
The show runs 8 p.m. May 17 and 18, 2 p.m. May 18 and 19, and 7:30 p.m. May 19 at Detroit's Music Hall, 350 Madison.
The story of four young men from Jersey who made magic onstage but faced turmoil behind the scenes, brought songs to the radio that became the sound track to many lives, including "Sherry," "Big Girls Don't Cry," "Oh What A Night," "Walk Like A Man," "Can't Take My Eyes Off Of You" and "Working My Way Back To You."
The show won the 2006 Tony for Best Musical, the 2006 Grammy for Best Musical Show Album and the 2009 Olivier Award for Best New Musical.
The cast includes Eric Chambliss as Bob Gaudio, who was born in Royal Oak, and Johnny Wexler of London, Ontario, who plays Frankie Valli. Corey Greenan as Tommy DeVito and Jonathon Cable as Nick Massi round out the quartet.
Tickets start at $30, and are available at 800-982-2787 or online at ticketmaster.com or broadwayindetroit.com.