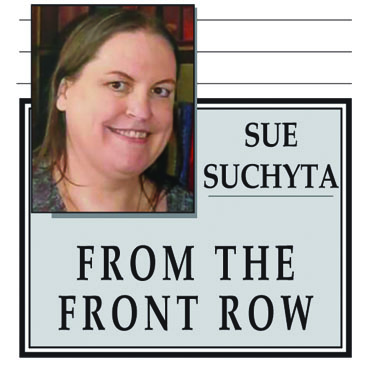 Longtime Henry Ford College theater director and faculty member Gerry Dzuiblinski will be honored 3 to 4 p.m. June 8 with a retirement party in Adray Auditorium in the MacKenzie Fine Arts Center.
Dzuiblinski, 64, who helped launch the acting and technical theater careers of countless students from Wayne County, faces health challenges.
HFC theater alumnus Jim Piche is organizing the event. For more information, contact him at 313-759-6276 or [email protected] Those planning to attend are encouraged to register at facebook.com/events/396010294573573.
'LOBBY HERO' AT HFC
When a down-on-his-luck security guard is drawn into a Manhattan murder investigation, the stage is set for HFC's production of Kenneth Lonergan's Tony Award-nominated play "Lobby Hero."
Jeff, a security guard in his late 20s, must deal with his strict supervisor, William, as well as a demanding senior police officer, Bill, and his young partner, Dawn, at a New York City apartment building, in the middle of the night following foul play.
Directed by Brandon Grantz, the cast features Woodhaven natives Jesse Mattox as Jeff and Nate Wilhelm as Bill, and Redford Township residents Sasha Joelle Johnson as Dawn and Carlos Snow as William.
Grantz said he chose the show because it reflects the realities of current events.
"It is relevant to the world we live in," Grantz said. "Even though written 18 years ago, it feels like one of Lonergan's newer works. Great writing transcends time."
The show contains adult language and content, and is for mature audiences.
Tickets are $12, with a $2 discount for HFC employees and students. To order tickets, go to hfcc.edu/campus-life/theatre.
STRATFORD OFFERS PROFESSIONAL THEATER CLOSE TO HOME
Whether seeking a day trip or a longer visit, for 66 years the Stratford Festival in Stratford, Ontario, a less than three-hour drive from the Detroit area, has offered professional theatrical performances, from the classics to modern, cutting-edge productions.
Whether seeking Shakespeare or modern musical comedy, there are shows for every taste, offered closer than New York or Chicago, in a charming, small town setting.
During its 2019 season, which previewed in mid-April and runs through the first weekend in November, the Stratford Festival offers a dozen shows on three stages, with a fourth venue being rebuilt and set to open next year.
This season, the Festival Theatre offers Shakespeare's "Othello" and "Merry Wives of Windsor," as well as Lee Hall and Elton John's "Billy Elliot the Musical" and Ben Hecht and Charles MacArthur's drama "The Front Page."
The Avon Theatre offers the Noel Coward comedy "Private Lives," the Arthur Miller drama "The Crucible," the campy and fun Howard Ashman musical "Little Shop of Horrors" and the children's play "The NeverEnding Story," based on the novel by Michael Ende and adapted for the stage by David S. Craig.
The Studio Theatre offers Shakespeare's "Henry the VIII," the Kate Hennig drama "Mother's Daughter," focusing on Queen Mary I's rise to power following the death of Henry VIII, plus Lessing's "Nathan the Wise," and Mouawad's "Birds of a Kind."
The shows run in rotating repertory, so it is possible to see a wide selection of shows during a visit to Stratford, which offers tours of the Festival Theater, the costume and prop warehouse, the archives, set changeover and the Elizabethan Garden at the Festival Theater, as well as the Arthur Meighen Gardens.
The Stratford Festival, in addition to offering professional plays performed by world class casts, offers unique settings and bold renditions of the classics, from "Othello" set in the present day, with soldiers dressed for modern warfare, to a light-hearted romp in "The Merry Wives of Windsor," set in 1950s suburbia.
"Mother's Daughter," set the first half of the 16th century, mixes period costumes with modern dress, as well as powerful contemporary dialogue.
Staying in Stratford for a day or more makes for an enjoyable holiday, with accommodations ranging from bed and breakfasts to luxury hotels. The town offers restaurants for a wide range of budgets, and with flexible menu options for visitors seeking vegan or gluten-free options. When walking off the meal, a stroll along the river, with the swans, or to the unique and eclectic gift shops offer diversions between shows.
For more information about the Stratford Festival, call 800-567-1600 or go to stratfordfestival.ca.