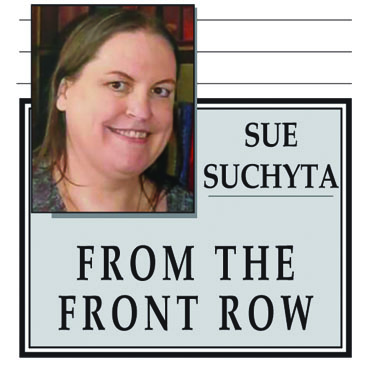 From Romanov Russia to 1920s Paris, the Tony Award-nominated "Anastasia – the new Broadway musical" U.S. tour makes its Detroit debut June 11 to 23 at the Fisher Theater, with a young woman trying to determine the secrets to her illusive past.
The show runs 7:30 p.m. June 11 to 15 and 18 to 22; 2 p.m. June 15 and 22; 1 p.m. June 16 and 23; and 6:30 p.m. June 16 and 23 at the Fisher Theater, 3011 W. Grand Blvd., Detroit.
The exhilarating, sweeping adventure, inspired by the film, features sumptuous sets and costumes, and travels back in time through Tsarist Russia to post-World War I Paris in the 1920s. As a ruthless Soviet officer seeks to silence her, Anya, who has amnesia, seeks to learn the secrets of her past with an affable con man and a former aristocrat who travel to discover what love, home and family really entail.
"Antastasia" features a book by Terrence McNally, with a score by Stephen Flaherty and lyrics by Lynn Ahrens. The Tony Award-nominated costumes were designed by Linda Cho, with a set design by Alexander Dodge.
The musical numbers include "Once Upon a December," "A Rumor in St. Petersburg," "Learn to Do It," "Paris Holds the Key," and "Meant to Be" from the movie, plus 20 new songs created for the stage musical.
The cast includes Lila Coogan as Anya/Princess Anastasia; Stephen Brower as Dmitry, a con man and her love interest; Jason Michael Evans as Gleb Vaganov, a Bolshevik general ordered to kill Anastasia; Edward Staudenmayer as Vlad Popov, a con man and former aristocrat in the Romanov court; Tari Kelly as Countess Lily Malevsky-Malevitch, Vlad's former lover; and Joy Franz as the Dowager Empress Maria Feodorovna.
Tickets start at $39, and may be ordered by calling 800-982-2787 or online at BroadwayInDetroit.com or Ticketmaster.com.
FLAT ROCK ACTRESS ON CMU SUMMER TOUR
Flat Rock resident and actress Karinna Taylor will tour this summer as Louise in "Fox on the Fairway," a story of love, life and golf, with the Central Michigan University summer theater program.
Performances include 7:30 p.m. June 21 and 2 p.m. June 23 shows at the CMU Bush Theater in Mount Pleasant; a July 6 show at the Beaver Island Community Center on Beaver Island, and a 7:30 p.m. July 13 show at the White Lake Playhouse in Whitehall.
Taylor is pursuing a bachelor's degree in fine arts in theater and interpretation.
'GROSS INDECENCY: THE THREE TRIALS OF OSCAR WILDE' CONTINUES SLIPSTREAM RUN
When rumors, whispers and deceit lead to court, Oscar Wilde is put on trial for his illegal homosexual affair with Lord Alfred Douglas, whose father wanted to permanently end the relationship.
The show runs 8 p.m. June 7, 8, 14, 15, 21, 22, 28 and 29, and 7 p.m. June 9, 16, 23 and 30 at the Slipstream Theatre Initiative, 460 Hilton, Ferndale.
The penalty at the time for "gross indecency" was hard labor, and with it came exposure, the loss of friends and one's legacy. The iconic playwright's arrogance and belief that he was untouchable brought about his downfall in an era when homosexuality was considered a deviant crime.
Slipstream creative force Bailey Boudreau directs the show, with Richard Peyton as Oscar Wilde; Luna Alexander as George Bernard Shaw and other roles; Rachel Biber as Harris, Wilde's confidant; Jackson Abohasira as Lord Alfred "Bosie" Douglas; Patrick Flannagan as Wilde's attorney, Clark; Tiaja Sabrie as Carson, the first prosecutor, and Wilde's wife Constance; Pat O'Lear as the Marquess of Queensberry and briefly as Queen Victoria; Caleb Biber-Welser as the lead narrator; and Victoria Rose Weatherspoon as second prosecutor, Gil, and other roles.
Tickets are $12, and are available by email at [email protected]