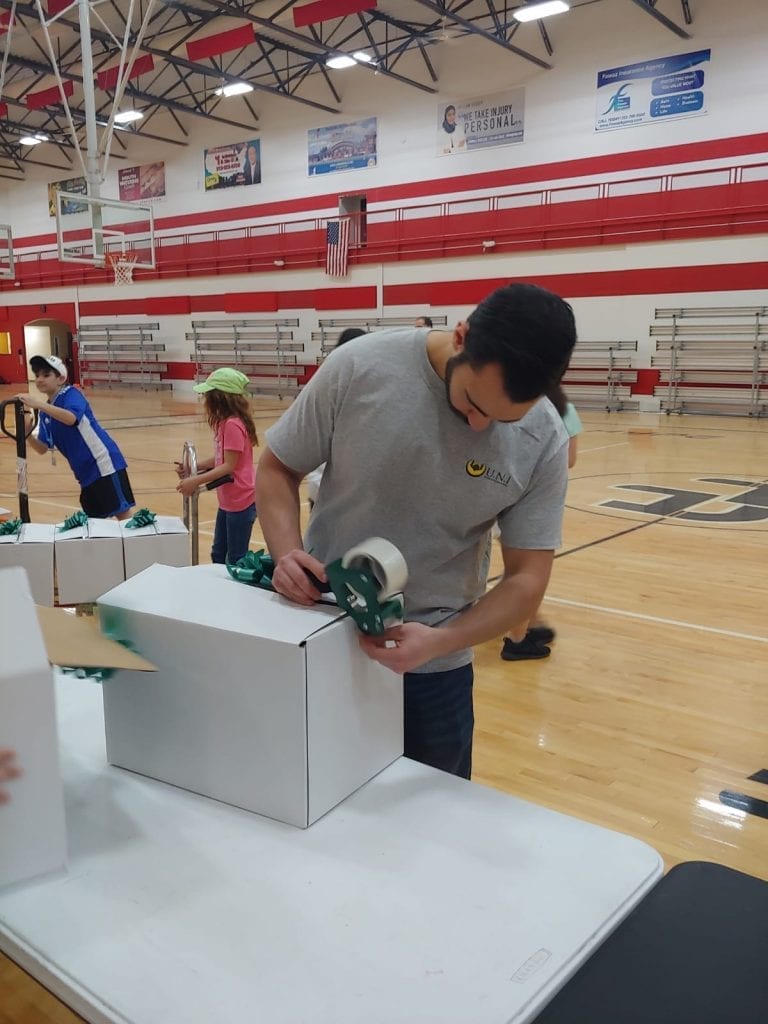 By ZEINAB NAJM
Times-Herald Newspapers
Muslims throughout Dearborn and Dearborn Heights attended Eid al-Fitr prayer and festivals with their families June 4 and 5 to mark the ending of the holy month of Ramadan.
Along with fasting from sunrise to sunset, it is a time for Muslims to practice self-discipline, read the Quran, perform good deeds and charity, and other activities to learn and practice the teachings of Islam.
The Eid al-Fitr days began with morning prayer to mark the holiday at mosques and community centers in both cities.
Some of the festivals held for families included one June 5 at Sonic Drive-In, 10403 Ford Road, where families enjoyed horse rides, face painting, a skating show, dunk tank and lawn games. What's Up Media Network and Dearborn police held a festival June 7 at the police station with giveaways, face painting, comedy show, food trucks, arts and crafts, cartoon characters, photo booths, petting zoo and a magic show.
Also, the Al-Mustapha Scouts Troop and Pack 1172 and Fire Scouts Troop 48050 hosted a festival June 8 at Hemlock Park with inflatable games, train, pony ride, face painting, petting zoo, raffle prizes, video games and food.
Along with celebrations, organizations gave back to the community by purchasing and distributing items to local families in need for the Eid.
The Our Village Gives On Eid initiative volunteers spent June 3 at Hype Athletics in Dearborn Heights boxing purchased gifts from money collected through donations.
Children had the opportunity to make personalized cards that were placed in each box. For children with disabilities, there were boxes with sensory items.
About 300 families in need, with 1,000 total children, had boxes delivered to them at 6 p.m. that same day just before the Eid holiday.
On June 2, The Zayn Initiative also had 100 volunteers packaging toy boxes at Sarai Palace to hand out to 200 families, with 800 children in Dearborn and Detroit.
Both initiatives in their second year are lead by Latifeh Sabbagh and Malak Saab, respectively, who were inspired by the Goodfellows "No Child Without a Christmas" yearly campaign where funds are collected to gift local children Christmas presents.
The Ramadan Suhoor Festival closed with a farewell weekend on May 31 to June 2 with an Eid toys raffle, Eid gift card raffle, 2,000 free Quran's during a giveaway, a raffle for three trips for first time pilgrims to Hajj in Saudi Arabia and a Ziyarah raffle for one trip to the holy city of Karbala in Iraq.
The festival was held on weekends during the month of Ramadan at Hype Athletics where over 20 vendors served suhoor meals — the last meal Muslims have before the sun rises.
Elected officials from the local, state and federal levels wished Muslims a happy holiday.
U.S. Rep. Debbie Dingell (D-Dearborn) on June 4 introduced a resolution recognizing Eid al-Fitr and offered her respects to all Muslims.
"The holy month of Ramadan is time for our Muslim friends and neighbors to reflect on the principles and values of community and compassion that is critical for our humanity," Dingell said in a statement. "As this time of devotion comes to an end, we extend our best wishes for a joyous Eid to all celebrating. May we all join together in the tradition of breaking bread and recognizing the important role of Muslim Americans in our communities."
U.S. Rep. Rashida Tlaib (D-Detroit) also sent a message.
"#EidMubarak to all in #13thDistrictStrong, across the country, and around the world celebrating!" Tlaib wrote on her Facebook page.
Wayne County Executive Warren Evans also took to Facebook to write his message.
"Ramadan comes to an end for our Muslim friends and neighbors this week," he said. "I hope all who observed the holiday found the month of fasting, prayer, and reflection to be fulfilling. Service is also a key tenant of Ramadan and, on behalf of all Wayne County residents, I thank all who participated in Ramadan-related service activities in our communities. Ramadan Mubarak."
Dearborn City Council President Susan Dabaja and Dearborn Heights City Councilwoman Lisa Hicks-Clayton also shared Facebook messages about Eid al-Fitr.
"From my family to yours, Eid Mubarak!" Dabaja wrote. "May Allah's blessings shower all humanity with love, good health and peace."
"Wishing those who celebrate a joyous and peaceful Eid al-Fitr," Hicks-Clayton wrote. "May this Eid al-Fitr 2019, bring prosperity to those in need and uplift us all for a more just and peaceful world."
(Zeinab Najm can be reached at [email protected])