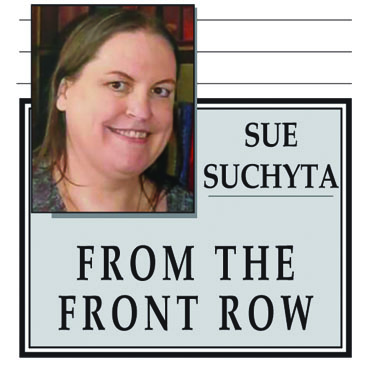 From "Conjunction Junction" to "Just a Bill," the Players Guild of Dearborn pre-teen Guildlings fill the theater with the musical magic and toe-tapping fun of "Schoolhouse Rock Live Jr."
The show runs 7:30 p.m. June 27 to 29 and 2:30 p.m. June 30 at the Players Guild of Dearborn, 21730 Madison, Dearborn.
Based on the Emmy Award-winning educational cartoon series, "Schoolhouse Rock Live Jr." is a fun, high-energy musical which follows a young school teacher who is worried about his first day as a teacher. When he decides to watch television to relax, on-screen characters come to life, offering him imaginative, musical ways to win over his students.
Songs include: "A Noun Is A Person, Place or Thing," "Three is a Magic Number," "Unpack Your Adjectives," "Just a Bill," "The Preamble," "Do the Circulation," "Conjunction Junction," "Great American Melting Pot," "Elbow Room," "Inter-planet Janet" and "Interjections."
Laura Rea directs the show, with music direction by Rebekah Preiss and choreography by Laura Tyler.
Jack Durant plays the teacher, Tom, with soloists Ava Assenmacher, Calum Carscadden, Laura ElHaj, Lily Farley, Moogie Fawaz, Maggie Kanclerz, Charlotte Karoub, Natalie Nazarian, Erin Preiss, Charlotte Rea, Daniel Tyler and Kate Varitek.
Ensemble members include Aly Anderson, Samantha Bush, Margaret Carscadden, Blake and Brady Deckert, Peyton Hudson-Dowd, Livia Farley, Matt Hermen, Phoebe Morris, Deirdre and Maeve O'Connell, Jaclyn Sayger and Izzy Watts.
Music director Preiss said the children stepped up to the challenge and learned the songs in a short time frame, and learned the lessons in each song.
"Even though the kids are on summer break, school was still in session," she said. "All of the songs teach something. A big challenge was making sure kids knew what an adjective is, how to count by threes, knowing what a conjunction was, and what the Constitution is and why it is important."
Preiss said the show has a generational appeal.
"'Schoolhouse Rock' is a show that most of the kids' grandparents and parents watched, and now these kids are getting to jump in and be in the show," she said. "It is a nostalgia ride for the adults and something brand new for the little ones."
Preiss said the music is fun as well.
"We cover everything from country honkytonk to rock-a-billy, to swing," she said. "The audience won't be able to keep from singing 'I'm Just A Bill' or 'Conjunction Junction.'"
Cast member Livia Farley said the show is enjoyable and educational for all ages.
"It is an exciting show, has a lot of songs and is funny," she said.
Cast member Lily Farley said the songs make the show fun.
"It's very enthusiastic and energetic, and that makes it fun," she said.
Watts, also in the cast, said the dancing adds to the level of fun.
Karoub, a soloist, said the learning process appeals to her, and the cast is excited to be part of the show.
"We are excited to have this opportunity," she said.
Ensemble member Bush said learning about topics through song makes it fun.
"It's a great show with talent that makes the show awesome," she said.
Chorus member Hudson-Dowd said for her, the singing and dancing is the best part of being in the show.
"The cast and director have made this show both fun and special," she said.
Tickets are $12, and are available by calling 313-561-TKTS or online at playersguildofdearborn.org.