By MIKE GALBRAITH
Metromode Media
DEARBORN — There is perhaps no better representative of a city's arts-nurturing culture than Dearborn's Michelle Plucinsky, co-owner and co-founder of the Glass Academy. Her story involves city programs, cultural institutions, and opportunity, the combination of which results in a successful arts-based business, and all within her hometown.
Born and raised in Dearborn, Plucinsky grew up attending city-sponsored hands-on crafting sessions in the parks. She'd take classes at The Henry Ford, learning about printing and weaving, making the connection between a textiles class and the clothing that we wear. Art is beautiful, yes, but it can also be functional.
It was at The Henry Ford where Plucinsky fell in love with the art of glass making. It has since become her life's work.
"The Henry Ford really taught me the tradition of arts and crafts but also how to modernize those traditions," Plucinsky says. "That's something the Henry Ford made possible."
After leaving Dearborn to attend college in New York, Plucinsky would soon feel the pull of home. And not just for sentimentality sake, but for one of opportunity. She would return with husband Chris Nordin in 2004 when the couple first opened the Glass Academy.
Celebrating 15 years of business in Dearborn, Plucinsky and Nordin have developed a unique experiential-based business model for the Glass Academy. While they experimented with offering a glass-making curriculum, the couple found their true business in a variety of stand-alone classes, ideal for date nights and the like.
Plucinsky likens the appeal of glass making to swimming with dolphins, "bucket list" activities to cross off throughout one's life.
On the road to 15 years of running the Glass Academy, Plucinsky and Nordin have learned the benefit of the community, forging partnerships throughout both the city's creative and business circles. Involving themselves in the Dearborn Area Chamber of Commerce, for example, led to a partnership with Dearborn Brewing. The Glass Academy now makes that brewery's beer mugs for its mug club.
It was Dearborn's arts community that drew Plucinsky back to Dearborn, but she credits one person in particular: EmmaJean Woodyard, the director of the Dearborn Community Fund. Woodyard is a common denominator when talking to members of the Dearborn arts community.
"EmmaJean is connecting the dots of all the people working in the arts here," Plucinsky says.
The recent month-long April Arts Dearborn series of events is a prime example of Woodyard's work, but also the breadth of Dearborn's arts community as a whole. Woodyard and her organization are tasked with organizing the city-wide event each year, showcasing all that Dearborn has to offer year-round by punctuating that notion in a single month.
A kickoff event and fundraiser Arty Party was held at the Black Box Gallery, and ten galleries and businesses participated in this year's Gallery Rally, which ferried participants from one exhibit space to the next; Woodyard says that attendance was up this year and gallery owners are already asking to be involved in next year's iteration.
The Arab American National Museum hosted the SURA Arts Academy Student Photography Exhibit. The AANM also facilitates the Artist in Residence program at the nearby City Hall Artspace Lofts, in addition to its regular exhibits throughout the year.
The City Hall Artspace Lofts are unique in and of themselves, offering affordable live/work spaces for artists as well as exhibit space.
There were numerous concerts at the Ford Community & Performing Arts Center, from the Dearborn Symphony Orchestra and many other bands and performers.
There were lectures, poetry readings, film screenings, and photography exhibits.
There were student art exhibitions from Henry Ford College and Dearborn Schools.
And, of course, the Mayor's Art Awards, a decades-old tradition for Dearborn.
It's a lot to mention, but those few weeks exemplify just how much goes on at any given point throughout the city. Free concerts in the park. Public school programming. The list goes on and on.
"Dearborn is getting better at marketing the arts, but also itself. The arts are just a part of that bigger story. We're working to get the word out from the inside to the outside world," Woodyard says. "I'm a firm believer that the arts are an economic driver. When the arts are doing well, the rest follows."
Like Plucinsky at the Glass Academy, Ray Alcodray grew up in Dearborn, took advantage of its arts infrastructure, and would go on to open an arts-based business in the city. Alcodray will soon celebrate the one-year anniversary of his Black Box Gallery, an art gallery, retail space, and coffee shop.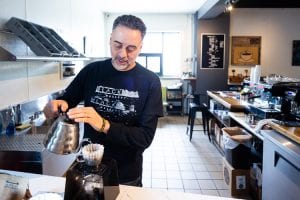 In less than a year's time, Black Box has established itself as a Dearborn arts hub. Black Box has hosted a Dearborn Public Schools teacher-student exhibit, participated in the April Arts Gallery Rally, and hosted that event's kick-off party and fundraiser.
Alcodray namechecks neighboring galleries and studios like Artspace and Fishnet Artist Studios when talking about his own mission, emphasizing the importance of organizations working together in building a larger, successful community.
"I'm seeing a resurgence of art in the community. In order for it to be nurtured, it needs a little quarterbacking. It can become corrosive if it becomes competitive; you don't want gallery owners fighting or leaching off of each other," Alcodray says.
"If everyone is contributing to the community, everybody wins. Let's create an ecosystem for art to survive and grow."
Whether in the fine arts or more functional, craft-based arts, the same seems to be true. Dearborn's arts community is growing. There is more and more opportunity. There is more and more to enjoy.
It will be interesting to see where its stakeholders take the arts from here, be they the cultural and educational institutions, exhibit spaces, or artists themselves.
"When I see Dearborn, I see a lot of transition happening with tons of opportunity. Even the mayor is a creative person, and opportunity can be driven from the top," Plucinsky says.
"But I think right now it's important to get the younger community involved in organizations and on boards. Society changes and getting the youth involved is best for that.
"Dearborn has so much potential."
(This story was reprinted from Metromode Media. It also is available here.)