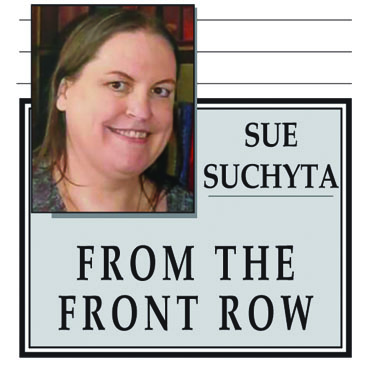 When not offering summer shows, local theaters are gearing up for their upcoming seasons, with auditions for actors, targeted training for students and ticket sale specials for loyal followers.
PLAYERS GUILD AUDITIONS FOR 'YOU CAN'T TAKE IT WITH YOU'
Auditions for Moss Hart and George Kaufman's classic comedy "You Can't Take It With You" are scheduled for 7 p.m. July 22 and 23 at the Players Guild of Dearborn, 21730 Madison, Dearborn.
The show runs 8 p.m. Sept. 13, 14. 20, 21, 27 and 28, and 2:30 p.m. Sept. 15, 22 and 29.
Debbie Pletzer will direct the show, with assistant director Kenyada Davis.
For a downloadable audition form, go to playersguildofdearborn.org/wp-content/uploads/2016/06/AuditionForm_2016.pdf. Those auditioning should be prepared to list potential rehearsal conflict dates as well. Casting is color-blind, and the ages given are the character's age.
Set in New York City in the mid-1930s, the three-act comedy takes place in the Vanderhof/Sycamore house, populated with a zany cast of eccentric characters who make fireworks in the basement, practice ballet in the living room and pursue whatever strikes their fancy. When daughter Alice wants to introduce her fiancé and his conservative parents to her extended family, she begs them to be "normal" for just one night. However, the guests arrive on the wrong night, and they experience the family in all its crazy glory.
The characters include:
MARTIN VANDERHOF, 75, the patriarch of the household and Penny's father. Having given up his job 35 years ago to enjoy his life, he is happily busy attending circuses and commencement ceremonies and collecting snakes. He provides the philosophical center of the play, explaining the folly of seeking material wealth at the expense of personal fulfillment.
PENELOPE SYCAMORE, early 50s, is the daughter of Martin, wife of Paul and mother of Essie and Alice. She is an avid playwright and painter, neither of which she does well. She is charmingly and blunt, and creates many eccentric circumstances throughout the play.
ALICE SYCAMORE, early 20s, the younger child of Penny and Paul, is the only member of the household with steady employment in "the real world." Although well aware of their "quirks," she loves and is devoted to her family. Alice is in love with her boss' son, Anthony Kirby, and fears his conservative parents will never accept her family's eccentricities.
TONY KIRBY, mid 20s, is the vice president of his father's business, Kirby & Company, where Alice is his secretary. He is madly in love and wants to marry her. He is an idealist, and determined to make his own mark.
ESSIE CARMICHAEL, about 29, is the eldest child of Penny and Paul, and the wife of Ed. She has a "curious air of the pixie about her." Essie is an aspiring ballerina who dances her way through the play under the direction of Mr. Kolenkhov. Essie is both happily absorbed in tasks which amuse her and is wholly undisturbed by the eccentricities of her family.
ED CARMICHAEL, 30s, is the husband of Essie Carmichael. He plays the xylophone (the actor need not be proficient), and creates various flyers and leaflets with his home printing press, which he puts in the boxes of Essie's candy he sells, which he does not realize are the writings of Leon Trotsky.
PAUL SYCAMORE, 50s, is Penny's husband, and father of Essie and Alice. He is quiet, charming, and mild-mannered, and never loses his composure. He spends most of his time making fireworks in the basement with Mr. De Pinna. He also builds toy models.
MR. DE PINNA, 40-65, is a "bald-headed little man with a serious manner." He is a former ice deliveryman. About eight years ago, he delivered ice to the house and never left. He spends most of his time making fireworks with Paul.
RHEBA, 30s, is an eccentric maid who speaks her mind and holds her own within the eccentric household.
DONALD, 30s, is Rheba's boyfriend, cheerful and at ease, a minor comic character who willingly runs errands and offers amusing comments.
BORIS KOLENKHOV, 50s-60s, a Russian émigré, is Essie's private ballet instructor. He is "enormous, hairy, loud, and very, very Russian." While auditionees need not audition with a Russian accent, one will be required for the role.
MR. ANTHONY KIRBY, SR., late 50s, is the president and founder of Kirby & Company. He is extremely wealthy and successful, a self-made businessman, and everything that the Vanderhof/Sycamores are not. Conservative and repressed, he believes that Grandpa Vanderhof's idea of doing what makes you happy is "un-American."
MRS. MIRIAM KIRBY, in her 50s, is Tony's mother and a perfect match for her husband. Mrs. Kirby is the quintessential high society matron, who is also dissatisfied with her marriage. She has an avid interest in Spiritualism, and is shocked by the unconventional Vanderhof/Sycamores.
WILBUR C. HENDERSON, late 20s-30s, is the tax man who arrives to collect 22 years-worth of back taxes from Grandpa Vanderhof. He is unemotional and matter-of-fact.
GAY WELLINGTON, any age, is an actress and nymphomaniac with a distinct fondness for gin. She passes out on the couch and occasionally awakens to contribute to the chaos around her.
THE GRAND DUCHESS OLGA KATRINA, 60s, is a Russian friend of Kolehnkov. She fell on hard times following the Russian Revolution, and was a cousin to Nicholas II, czar of Russia. She is now a waitress and has a talent for making blintzes.
THREE MEN, FBI agents (G-men) come to investigate the "political" papers that Ed has been enclosing in Essie's candy boxes.
For more information about auditions or the Players Guild of Dearborn, go the playersguildofdearborn.org.
WSU OFFERS FAMILY SAVINGS FOR 'A CHRISTMAS CAROL,' 'MARY POPPINS'
Two family-friendly Wayne State University shows, "A Christmas Carol" and "Mary Poppins – the Musical," both set in London, are available at significant savings through summer ticket sales.
A special discount is available when purchasing at least one child and one adult ticket to both shows. Attendees will save $10 on each adult ticket and $5 on each student ticket. Use the ticket code FAMILYPACK.
To order online, go to theatreanddanceatwayne.com/family, or call 313-577-2972 and mention the ticket code FAMILYPACK. For more information, contact [email protected].
SHAKESPEARE IN DETROIT TO WORK WITH STUDENTS IN THE FALL
The teaching artists and theater experts of Shakespeare in Detroit will bring a theater program to select Detroit Public Schools this fall. Students in grades 3 through 12 at Boggs School, Clippert Academy and the Detroit School of Arts will receive a theater introduction and training.
The new Marygrove High School will benefit from a program for ninth grade students beginning in January.
Students will learn performance warmups, and will be introduced to Shakespeare, including iambic pentameter. At the high school level, the students will perform and produce "Romeo and Juliet," which is part of the district's required reading curriculum.
Select students will also learn lighting and sound design, and set and costume construction.