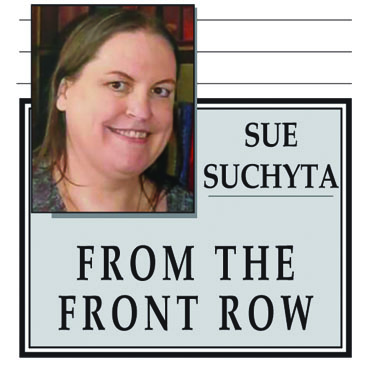 Ripped from the headlines, the Players Guild of Dearborn's Guildlings take on "Heathers – The Musical" high school edition, a dark comedy which portrays bullying, teen suicide, assault and school violence.
The show runs 7:30 p.m. July 18 to 20, and 2:30 p.m. July 20 and 21 at the theater, 21730 Madison, Dearborn.
The high school edition has removed most of the profanity, sexual material and innuendo, while keeping the dark power plays and cliquish nightmares of high school.
Cayla Kolbusz is the director and choreographer, with Amanda McFarland as the show's musical director.
Kolbusz said the show is about the pressures placed on high school students, and its stereotypes.
"It unabashedly presents the darkest parts of these experiences and struggles, but also allows for hope and beauty to shine through," Kolbusz said. "I love that this show makes its audience uncomfortable, squirm in their seats and question their roles within these experiences."
She said most of us have tried, at some point, to be someone we weren't in order to fit in.
"Each one of us is filled with the power to heal and harm," Kolbusz said. "These characters let us experience this from the safety of our seats. Whether you are in high school, getting ready to start, or remembering your time in it, we can all relate to the themes, hopes, and fears that this production instills within us."
She said it was important for her to not shy away from the content within the show which takes people outside of their comfort zone.
"Although Heathers is an exaggeration of the high school institution, it still presents very real feelings that our students experience every single day," Kolbusz said. "Finding that balance between the humor and the horror has been one of the most challenging and rewarding parts of my job."
Assistant director Graham Dallas, a recent high school graduate, said too often actors in their 20s and 30s play high school age characters.
"In this show, we are lucky to have a cast of actual high-schoolers, many of whom are experiencing themes similar to those of 'Heathers,' like the pressures of popularity and trying to fit in," he said. "It brings authenticity to the production."
Dallas said the show presents poignant topics with humor and wit.
"It allows the audience to enjoy an infectious musical with great numbers, and go home with something to think about," Dallas said.
Adriana James, who plays Martha Dunnstock, agrees that the show makes audiences think about their own teenage school experiences.
"I think it's important because these problems are still going on and no one wants to talk about it," she said. "So, doing a whole show about it, there's comedy in it, but it still leaves you thinking about your experiences."
James said the cast is bringing their own high school perspectives and experiences to the roles.
"I hope the audience walks away with the realization that this is real life," she said. "These are real problems in our society."
Lane Straub, as Heather Duke, said the rehearsal process has been enlightening.
"It's a unique story," she said. "It will definitely make you laugh, but also leave you wondering."
Ronin Castoreno, as J.D., said he likes how his character doesn't sugarcoat what he sees as wrong with the world around him.
"His views on his world aren't ideal, but he 'tells it like it is,' and is chillingly realistic," he said. "This show tells a story on many different levels, and every person in the audience can identify with someone in the cast."
Castoreno said the cast brings energy, honesty and heart to the stage.
"It provides a better understanding of what kids in high school endure on a daily basis, how that affects them, and what those issues can turn into," he said.
Molly Boudreau, who plays Veronica, the lead, said the role is a character to which she can strongly relate.
"It shows the different struggles of high school, including those that make people uncomfortable," she said. "Not only does it have an important message, it mixes in humor with an amazing soundtrack."
The cast also includes Lily Tack as Heather Chandler, Jamie Paschke as Heather McNamara, Adam El-zein as Ram Sweeney, Aidan Gabriel as Kurt Kelly, Maggie Kalt as Ms. Fleming and Patrick Culliton as Kurt's dad.
Sean Riley plays Big Bud Dean, with Kevin Briggs as Veronica's dad and the Hipster Dork, Adriana Viscomi as Coach Ripper, Damian Barkas as the Preppy Stud, Nate Hermen as the Beleaguered Geek and Khalia Mims as the Stoner Chick.
Katie Garber plays the Young Republicanette, with Cassidy Taylor as the New Wave Girl, Sydney Hickman as Veronica's mom, Cass Dickey as Ram's dad, Hasen Alnakash as Officer Milner, Carson Harris as Officer McCord and Jewell Redman as Principal Gowan.
Tickets are $15, and available by calling 313-561-TKTS, or online at playersguildofdearborn.org.