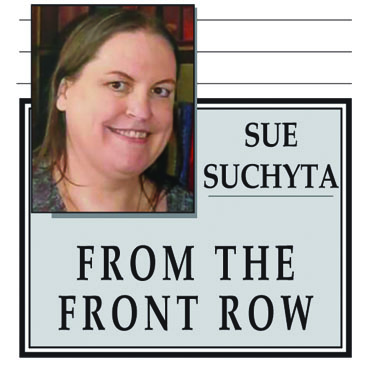 Humor and angst combine with talent in dark comedy
From Ouija boards to Tootsie Pops, three narratives, three teens and three fathers unravel tales which deliver psychological impact, toxic traits and dark humor in the premiere of Maxim Vinogradov's "My Father was Fifteen Feet Tall."
The show runs 8 p.m. July 19, 20, 22, 26, 27 and 29, and Aug. 2 and 3, and 3 p.m. Aug. 4 at the theater, 14709 Champaign, Allen Park.
While billed as a dark comedy, it should be noted, for those susceptible to triggers, that the show contains suicide depiction.
Directed by Mycah Artis, the cast includes Anna Doyle as Lucy, Scott Anthony Joy as John, Robert Schorr as Dad and Taylor Morrow as Marlene.
Set on Halloween night in 2004, three teens, who have lost the innocence and joy of childhood, join together on a quest to contact the spirit of Lucy's dead mother. Lucy hopes to assume her mother's identity to flee the country. However, the specters which haunt them are those of their absent fathers, who have left each of the teens with unanswered questions about their leave-taking.
Vinogradov said that in writing the play, he wanted to accurately depict not only the circumstances which precede a tragedy, but the psychological shock waves which batter the survivors. Through each teen and the specter of their absent father, the story delves into the psychological impact of destructive behavior patterns which follow family trees.
"I wanted to break down traits we inherit from our parents: toxic masculinity, excessive desire to please, and never asking for help," he said. "I wanted to make sure this wasn't a play you 'have to see' but never wanted to, one with dark humor that teenagers exhaust when in the face of tragedy."
The playwright's approach to the script differed diametrically as well: Vinogradov was given four actors, and empowered to write a script and story for them.
He said he is uncertain what audiences will take from the story.
"There are funny moments and there are hard moments," Vinogradov said. "There are big arcs. There are Ouija boards. What you take from that is entirely at your discretion, but everyone who has had eyes on it have been taking mountains away with them."
Artis said directing a play in which the playwright and actors are involved in its creation is enticing, and the process has favorably exceeded her expectations.
"The collective talent and voices involved in this project is phenomenal," Artis said. "Maxim's script is so beautifully written, and directing this show has been a true joy. I hope audiences connect with these characters, through their humor and pain, which acts as a reminder of our shared human natures and the need for connection."
Of the four characters, Schorr plays a three-fold role, portraying the father of each teen. He said each father and how he impacts his offspring differs, but one commonality occurs with each parent-teen interaction: The progeny sees, for the first time, that their parent is human, not bigger than life, or "fifteen feet tall."
"They are flawed and imperfect, meaning that they are real people," Schorr said. "We see a snapshot of that moment when children begin to realize that their parent isn't this monumental, outsized being, but rather a real person, with the problems and imperfections of everyone else."
Joy said his character, John, who recently lost his father, is a teen in denial, trying to mask his pain, and is looking to the past for comfort and understanding.
"He is very sensitive to others, but can be reckless and unable to look ahead," Joy said. "It's a thrill as an actor to take on that challenge, and to work on something that is evolving and changing both on the page and off."
Doyle said her character, Lucy, is also a teen who has lost a parent.
"Lucy lost her mom at a young age, and had to grow up too fast and become a caretaker for her father," she said. "She dreams of escaping her life and starting over."
Doyle said as a society, we are uncomfortable talking about death.
"I think we tend to get really weirded out by it," she said. "This play deals with death, grief, and loss in a blunt, darkly comedic way."
Morrow, as Marlene, said there is hidden comedy in the dialogue.
She said the play also has no clear good guy or bad guy.
"It's really rich in open-ended questions and ideas," Morrow said. "That's exciting as an actor."
Tickets are $25, with a $5 discount for seniors and a $10 discount for students. Monday performances are "pay-what-you-can." To order, go to outvisibletheatre.com.