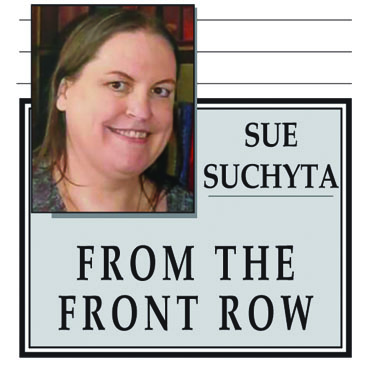 Dearborn's Jonathan Davidson plays Iago in 'Othello'
Be ready to get your Bard on as the Waterworks Theatre Company offers a triple treat, with "Othello," "The Tempest" and "Macbeth" offered as part of Michigan's largest professional outdoor Shakespeare festival.
The Shakespeare festival's 19th season includes: "Othello" at 8 p.m. July 25 to 27 and Aug. 1 to 3, and 5 p.m. July 28 and Aug. 4; "The Tempest" at 4 p.m. July 27 and Aug. 3, 7 p.m. July 31, and 1 p.m. July 28 and Aug. 4; and "Macbeth" at 12 p.m. July 27, and 7 p.m. July 29 and 30 at Starr Jaycee Park, 1101 W. 13 Mile, in Royal Oak.
"Othello," directed by Frannie Shepherd Bates, show how evil manipulations can sow the seeds of doubt, jealousy and hatred. Othello has been victorious in battle and lucky in love, which the evil Iago sets a course to destroy, abusing fellow soldier Cassio as a pawn in his evil mind games and machinations.
The cast features Dearborn native Jonathan Davidson as Iago, along with Will Bryson as Othello, Catherine Coffey as Desdemona, Sarah Hawkins as Emilia and Artun Kircali as Cassio.
Also in the cast are Annie Dilworth as Lodivico, Matthew Van Meter as Montano, Dante Jones as Roderigo, Chris Martin as Gratiano, Allison Megroet as Bianca and Sean Paraventi as Brabantio.
"The Tempest," the festival's family daylight show, directed by Barton Bund, features Erika Hoveland as Prospero, Claire de Vries as Miranda and in ensemble roles, Jarvis Pitts as Caliban and ensemble, Lee Cleaveland as Ferdinand and ensemble, and Erin Prouty as Ariel and as Gonzalo.
Set on a mysterious island, shipwreck survivors live amid magical creatures in a story about love, betrayal and forgiveness.
Bund said "The Tempest" is a favorite of his, and he wanted to approach it from a different perspective.
"The company was looking to do one of (Shakespeare's) plays with a cast of six or fewer," he said. "I have done this with several of the plays, and have always loved the result."
Bund said one key difference is his casting of a woman to play Prospero, with the other five actors playing all of the other roles.
"It's not a stunt – I really like watching the small group take on such a monumental task, and in doing so, the audience can actually follow the show more easily," Bund said. "It can be confusing to watch these plays, and keeping track of all the characters is a challenge. Here, the viewer follows individual actors as they transform into each new persona. It is fun to do, and fun to watch."
Bund said the play is magical, and he wants audiences of all ages to enjoy it.
"It is sophisticated language, so we created a lot of visuals to make the play enjoyable for people seeing it for the first time," he said.
Bund said the cast's diversity was an essential element for him.
"By putting a woman in the lead role, we will all hear the words again for the first time," he said. "It's a young cast, too. I hope viewers will see Shakespeare the way we see it, as a creative wonderland.
"Shakespeare will never grow old. Every new production should bring new light to the original work. It shows us that Shakespeare lives on in us, and when we make new choices, we make it work for new audiences."
Young actors are drawn to Shakespeare as well, with the Waterworks teen ensemble, now in its ninth year, performing the tragedy of "Macbeth," with a murderous power couple rising through the ranks with murder and mayhem, and whose lust for power is their ultimate undoing.
For all three plays, guests may bring their own blankets or chairs, or may sit in the park's bleachers. Parking is free, on the west end of the park. A walk across a grassy field is required to reach the performance area. Guests with special mobility needs may seek assistance from the volunteers on site.
Tickets are $25 for "Othello" and $15 for "The Tempest." Admission to "Macbeth" is a donation at the gate. A fundraiser before the July 26 performance of "Othello" features pre-show hors d'oeuvres and drinks, in a VIP tent with the company, and is available with the purchase of a $100 First Friday ticket.
To order, go to ShakespeareRoyalOak.com or BrownPaperTickets.com. In case of rain, pre-sold tickets may be used at a subsequent performance of the same show.