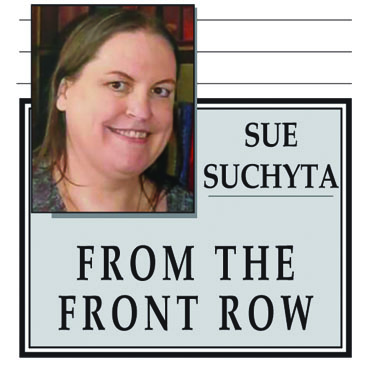 From 'Cinderella' to 'Mary Poppins'
From chimney sweeps on the rooftops of London to Seussical creatures in an imaginary land, the Downriver Actors Guild introduced "A Year of Possibilities" Aug. 10 as actors previewed its upcoming season.
The 2019-20 season includes seven main stage musicals, plus a comedy-drama. Also, on the playbill, are two youth productions, two beginner shows, two dinner theaters, an improv show, a one-night interactive comedy, a performance by DAG's a capella group, and a country music group with a Downriver vocalist, now on tour in Europe.
The season kicks off with the musical "Songs for a New World," a vocally demanding musical with four performers, which runs Sept. 12 to 15, and includes pop, gospel and jazz.
An improv night with Downriver Renegade will fill the house with laughter Sept. 21, followed a week later by the beginner children's production "Two for the Show" Sept. 28 and 29, which tells the story of the Little Red Hen and the Billy Goats Gruff.
Nashville-based country music group 4th and Main, currently on its European tour, comes to Wyandotte Oct. 4, with Allen Park singer Christopher Chavez in the quartet.
"Evil Dead, the Musical," DAG's Theatre on the Edge, revived with last year's cast, will put audiences in a Halloween frame of mind Oct. 11, 12, 18 and 19, with a splash zone for audiences who wish to have an immersive experience.
November features an offsite dinner theater, "My Big Fat Greek Murder," Nov. 2 at the Grecian Center, 16300 Dix Toledo, Southgate, followed by a Nov. 8 to 10 and 15 to 17 youth production of "Disney's Frozen Jr."
Avenue A Capella, DAG's own vocal harmony ensemble, closes the month with a Nov. 23 performance of its breathtaking, multi-part harmonies, sung without instrumental accompaniment.
Rodgers and Hammerstein's Broadway musical, "Cinderella" arrives for the holiday season, running Dec. 6 to 8, 13 to 15, and 20 to 22, with its timeless story, beloved score and feel-good happy ending.
The new year begins with the musical "Forever Plaid," running Jan. 11 and 12, and 17 to 19, featuring 1950s guy group type harmony, with a revue of popular music from the era.
In February, the youth theater presents the crowd-pleasing "Chitty Chitty Bang Bang Jr.," Feb. 7 to 9 and 14 to 16, followed by a one-night run Feb. 29 of "The Complete Works of William Shakespeare (Abridged)," a three-person comedy which attempts to cover the Bard's 37 plays in 97 minutes, filling the house with laughter.
March roars in like a lion with "Rock of Ages" March 13 to 15, and 20 to 22, a jukebox musical built around 1980s-era songs from Styx, Journey, Bon Jovi, Pat Benatar, Foreigner and more.
DAG's second dinner theater of the season, "Awesome 80s Prom," runs April 17, 18 and 24 at the Grecian Center, followed by another musical, "Disaster, the Musical," a satire which runs May 8 and 9, and 14 to 17, at the Theatre on the Avenue.
June ushers in the comedy-drama "Steel Magnolias" June 4 to 7, followed by "Seussical Kids" June 26 to 28, a beginner youth production.
The season closes on a high note, with the musical, "Mary Poppins" July 24 to 26, July 31, and Aug. 1 and 2, a high-spirited, family-friendly show, featuring the beloved songs from the 1964 movie, with new music written exclusively for the stage show.
A four-show flex pass is $58, with an $8 discount for students and seniors. A six-show flex pass is $78, with a $16 discount for students and seniors. Flex passes apply to regular season shows: "Songs for a New World," "Evil Dead – the Musical," "Cinderella," "Forever Plaid," "Rock of Ages," Disaster, the Musical," "Steel Magnolias" and "Mary Poppins."
The youth shows – "Disney's Frozen Jr." and "Chitty Chitty Bang Bang Jr." — are $15 each, and the beginner shows – "Two for the Show" and "Seussical Kids" – feature $12 tickets.
The Downriver Renegades performance is $15, and "Avenue A Capella" and "Complete Works" are $10 each. 4th and Main is $20 per person.
For more information about DAG's upcoming season, call 734-407-7020 or go to downriveractorsguild.net.
HEAD BACK TO SCHOOL WITH THE RINGWALD'S 'HIGH SCHOOL MUSICAL'
The Ringwald launches its season early, heading back to school with Disney's "High School Musical," based on the popular movie, with Troy, Gabriella and the student stars of East High.
The show runs 8 p.m. Aug. 23, 24, 26, 30 and 31, and Sept. 2, 6, 7, 9, 13, 14 and 16 at the theater, 22742 Woodward, Ferndale.
Directed by Brandy Joe Plambeck, the cast features Matthew Wallace as Troy Bolton, Jordan Gagnon ​as Gabriella Montez, Joe Bailey ​as Sharpay Evans, Christopher Ross-Dybas ​as ​Ryan Evans, Kevin Kaminski ​as Chad Danforth, Rashi Sarwar as Taylor McKessie, and Geoffrey Schwerin ​as Zeke Baylor.
Also: Wendy Cave ​as Kelsi Neilsen; Kevin Keller as Jack Scott; Hayley Pulizzi ​as ​ Martha; Suzan M. Jacokes ​as Ms. Darbus; Brandy Joe Plambeck ​as Coach Bolton; and, in the ensemble, Phoenix Eldridge, Tyler Goethe and Alisa Chirco. ​
Tickets are $25 on Friday and Saturday, with a $10 student discount available at the door. Monday shows are $15, with a $5 discount student at the door. For more information, call 248-545-5545 or go to TheRingwald.com.