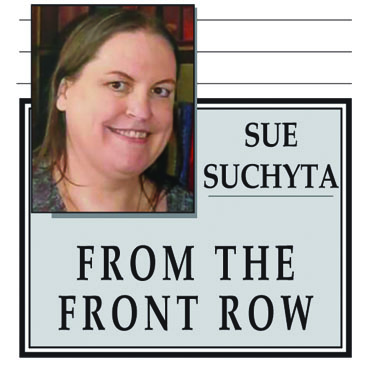 From local talent on stage, to the North American tour of "Cats" at the Fisher, September ushers in the 2019-20 theater season, with comedy, musicals, drama and more.
Southgate Community Players has announced its upcoming season, which will begin with the family favorite "Disney's Frozen Jr." Sept. 20 to 22 at Davidson Middle School, 15800 Trenton Road, in Southgate, followed by the fall musical "Young Frankenstein" Nov. 8 to 16 at Davidson.
Disney's "AristoCats Kids" ushers in the holiday season Dec. 6 to 8 at the Southgate Community Players Corner Playhouse, 12671 Dix Toledo Road, followed by Disney's "High School Musical on Stage" Jan. 17 to 26 at the Corner Playhouse.
Noel Coward's classic "Blithe Spirit" runs Feb. 7 to 15 at Davidson, followed by "Disney's Winnie the Pooh Kids" March 20 to 22 at the Corner Playhouse.
The season continues with "Arsenic and Old Lace" April 10 to 18 at the Corner Playhouse, followed by the fun-filled musical "Bye, Bye, Birdie" May 8 to 16 at Davidson.
For more information, see the Southgate Community Players Facebook page, or go to its website, scponstage.com.
'CATS' LAUNCHES THE FISHER SEASON
"Cats" is back in town, Sept. 3 to 15, with the North American tour launching the Fisher Theatre's fall theater season.
The show runs 7:30 p.m. Sept. 3 to 7, and 10 to 14; 2 p.m. Sept. 7 and 14; and 1 p.m. and 6:30 p.m. Sept. 8 and 16 at the Fisher Theater, 3011 W. Grand Blvd. in Detroit.
Composed by Andrew Lloyd Webber, and based by T.S. Eliot's "Old Possum's Book of Practical Cats," the show features new sound design, direction and choreography to introduce a new generation to the much-loved show.
Since its debut in 1981, "Cats" has toured to 30 countries and been translated to 15 languages. During its 1982 Broadway debut, it won seven Tony Awards, including Best Musical. Both the London and Broadway cast albums have won Grammy Awards for Best Cast Album, and the hit song, "Memory" has been recorded by more than 150 artists, including Barbra Streisand and Barry Manilow.
Until it was surpassed by Webber's "Phantom of the Opera" in 2006, "Cats" was the longest running musical in Broadway history.
Tickets start at $35, and are available at 800-982-2787 or at BroadwayInDetroit.com or Ticketmaster.com.