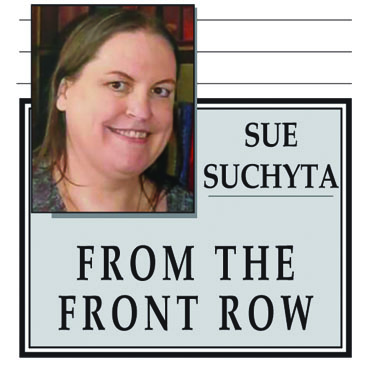 From unplanned fireworks to a blintz-making duchess, the Players Guild of Dearborn launches its 92nd season with the George Kaufman and Moss Hart comedy "You Can't Take It with You."
The show runs 8 p.m. Sept. 13, 14, 20, 21, 27 and 28, and 2:30 p.m. Sept. 15, 22 and 29 at the theater, 21730 Madison, Dearborn.
Set in New York City during the Great Depression, the endearing yet unusual family, who each follow the beat of their own drummer, try to create a "normal" family dinner for Alice, who is engaged to her boss' son. However, when Alice's fiancé and his parents arrive a day early, all bets are off, as hilarity and mayhem ensue.
Director Debbie Pletzer of Northville said that even though life has changed in many ways since the show opened in 1936, the political and economic concerns of its characters, as well as the family's themes of loyalty, love and living life fully remain much the same.
"I remember big family dinners, reunions, campouts and family celebrations," Pletzer said. "But, most of all, I remember how my family was there for me through happiness, heartache, tragedy and everyday life.
"The Vanderhof household is the embodiment of the American dream. They have a wonderful place to live, they are happy and they are each pursuing their dreams – what could be better than that?"
Bill McCloskey of Monroe, who plays Anthony Kirby Sr., said the show's quirky characters redefine normal and transform the other characters by the end of the play.
"Nobody tries to be funny," he said. "The characters act honestly and earnestly. The audience will laugh at the antics of a family that doesn't for a second think it is weird."
Josh Beurer of Allen Park, who plays Donald, said the laughter is reinforced by humor which has held up well since the show's 1936 opening.
"The jokes still feel fresh and relevant, even after 83 years," he said. "I think people will come to the theater expecting a perfectly pleasant period piece, and will leave with more than a few good belly laughs."
Kaitlyn Cross of New Boston, who plays Essie Carmichael, said the show is funny and ageless.
"It's a classic comedy, yet the script is extremely relatable and the lines are natural to say," she said. "The cast is having a good time. You won't want to miss it."
Rebekah Preiss of Livonia, who plays Alice Sycamore, said everyone can relate to having a crazy family.
"This show perfectly depicts crazy," she said. "But even amid all the craziness, the love the family members have for each other shines through, and the audience is going to enjoy every crazy, sweet and emotional moment."
Julie Ballantyne Brown of Dearborn, who plays Penelope Sycamore, said she loves the Sycamore family dynamics.
"They are so quirky and lovely, I want to be them," she said. "Everyone is making the characters their own, and the cast is bringing a genuine warmth to this show."
Brown said the show's message is as relevant today as it was when it opened.
"You really can't take it with you," she said. "You can't live life in misery to make money or to obtain things. You have to live it with happiness. I think people will be surprised how it resonates with them at the end."
Also in the cast are Allen Park residents Linda Mosley as Miriam Kirby and Matt Van Houten as Boris Kolenkhov; Nick Szczerba of Brownstown Township as Martin Vanderhof; Dearborn residents S. Z. Adams as the Grand Duchess Olga Katrina, Jacob Burke as Ed Carmichael, Kristen Campbell as Rheba, Adam Lynch as the Man, Conor Nicholl as Mac and David Wood as Mr. De Pinna; D.J. Schneider of Detroit as Tony Kirby; Pat La Framboise of Northville as Gay Wellington; Daniel Bartrum of Riverview as Wilbur C. Henderson; and Tom Downey of Westland as Paul Sycamore.
Tickets are $18, with a $2 discount for students with valid identification. To order, call 313-561-TKTS or go to playersguildofdearborn.org.