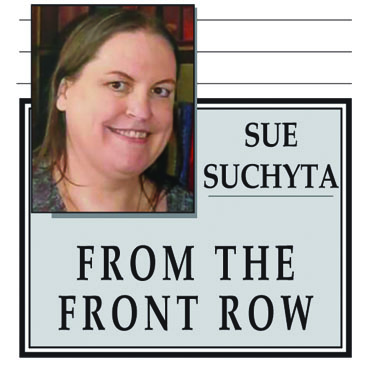 Open Book offers 'Watson Intelligence;' Downriver Actors Guild presents 'Songs for a New World'
Two Downriver theater companies launch shows next weekend, as Trenton's Open Book Theatre Company opens its sixth season with "The Watson Intelligence," and Wyandotte's Downriver Actors Guild launches it season with the musical "Songs for a New World."
"The (curious case of the) Watson Intelligence," a play by Madeleine George, looks at how technology allows people to connect as well as disconnect from each other.
The show runs 8 p.m. Sept. 13, 14, 20, 21, 27 and 28, and Oct. 4, 5, and 10 to 12; and 2 p.m. Sept. 15, 22 and 29, and Oct. 6 at the Open Book Theatre Company, 1621 West Road, Trenton.
The scenes, with Watson, Merrick and Eliza, cover three centuries, traveling from the Victorian Era, to the 1930s, to the present day.
The show also presents four Watsons: Sherlock Holmes' sidekick, the engineer who helped Bell build the first telephone, the super computer which won at "Jeopardy!" and a "techno-dweeb looking for love."
Directed by OBTC Artistic Director Krista Schafer Ewbank of Woodhaven, the cast features Joe Zarrow of Ann Arbor as Watson, Annabelle Young of Dearborn Heights as Eliza, and Patrick Loos of Detroit as Merrick.
Ewbank said she is fascinated by human connection: Why people do or don't connect, what a true connection looks like, and what gifts those connections provide.
"'Watson Intelligence' looks at these questions from so many angles and eras," she said. "I was drawn to the challenge of time-jumping in the script. It's got great, meaty dialogue, fun conflict and this wonderful weaving together of different stories."
Ewbank said the immediacy of live theater makes the story work by taking the audience along for the ride.
"I love how theatrical it is," she said. "Experiencing that change, right before our eyes, in real time, is uniquely theatrical and such an interesting way of storytelling. We see how these questions and discoveries play out over the decades."
Ewbank said she hopes audiences leave talking about the conundrum of "better living through technology," and how it can be harnessed to facilitate connection as long as it doesn't become a substitute for personal contact.
Young said she hopes audiences leave realizing the importance of relationships and connections to other people.
"It is always a stroke of luck to connect with another, even briefly, and even if the outcome is difficult," Young said, quoting the character Watson.
Zarrow said playing Watson offers a unique challenge, as each character has its own emotional arc and separate worlds, which range from the Victorian Era to the present day.
"I have to switch between these modes while almost never leaving the stage, so I am dependent on my talented castmates, who help bring me into each unique moment and world," he said.
Loos said the show is relevant to our present world.
"Technology is connecting us faster than ever, and with that, we need to learn to navigate new ways and how to use them for us, and not the other way around," he said. "I think this show raises some good questions in that regard."
Loos said he hopes audiences leave thinking about the connections, both big and small, that they have made in their lives, as well as the connections they failed to make in the past.
"I hope it makes them consider the impact of that increasingly advanced technology, and how it can help us and not be turned into a crutch," Loos said.
Ewbank said she hope audiences leave talking about how technology can make life better.
"I hope they share how they can harness it for connection, but not use it to replace actual, in person contact," she said.
Opening night seats are $30, with an afterglow, and $25 admission for all other performances, with a $5 discount for seniors and a $10 discount for students. To order, or for more information, call 734-288-7753 or go to openbooktheatrecompany.net/tickets.
DAG PRESENTS MUSICAL 'SONGS FOR A NEW WORLD'
Blending musical elements of pop, gospel and jazz, the Downriver Actors Guild launches its 2019-20 season with the musical "Songs for a New World," which looks at moments in time when characters must make a choice and go forward and enter a world new to them, or turn around and go back.
The show runs 7:30 p.m. Sept. 12 to 14, and 3 p.m. Sept. 15 at the Catherine A. Daly Theatre on the Avenue, 2656 Biddle, Wyandotte.
The show is directed by Tamara Marla Laflin of Southgate, with vocal direction by Gerald Hymer and music direction by Jeremy St. Martin, both of Wyandotte.
The cast features Taylor residents Melanie Aue and Mishana Green, Chris Joseph of Ann Arbor and Sam Ramirez of Wyandotte.
Audiences travel with the cast, whether sailing on a Spanish ship bound for a new land, or on the ledge of a New York City penthouse. Characters range from a young man in the Bronx who dreams of glory on the basketball court, to a lonely Mrs. Claus who laments her life as Noel nears.
Tickets are $14 for all seats Sept. 12, opening night, and $18 for the Sept. 13 to 15 performances, with a $2 discount for the last three performances for seniors and students. To order tickets or for more information, call 734-407-7020 or go to downriveractorsguild.net.
'CATS' AT THE FISHER FAILS TO LIVE UP TO ITS PROMISE
If you are a fan of Andrew Lloyd Weber's award-winning musical "Cats," based by T.S. Eliot's "Old Possum's Book of Practical Cats," the Broadway touring company's much-touted new sound design, direction and choreography fails to live up to its promise.
"Cats" is a show that depends on people moving like felines an entire show, while still delivering two hours of high-energy choreography and incredible vocals. This production does none of that.
While it is entertaining and fun to watch, the transitions between numbers are awkward, the dance numbers lack energy and creativity, and the last number of the first act, "Memory," is so underwhelming you walk into the lobby for intermission disappointed.
When the actress playing Grizabella, Keri Rene Fuller, actually belts out a few lines of "Memory" in the second act, and has a brief chance to redeem herself, she unfortunately slips once more back into unremarkable vocal delivery.
"Cats" is supposed to be a triple threat show, and audiences end up with the feeling that they are watching a cast of compromises.
If you have tickets, go and make the best of it, but don't break the bank to see this tour – wait until a better production comes to town.
The show continues its run 7:30 p.m. Sept. 7, and Sept. 10 to 14; 2 p.m. Sept. 7 and 14; and 1 p.m. and 6:30 p.m. Sept. 8 and 16 at the Fisher Theater, 3011 W. Grand Boulevard in Detroit. Tickets start at $35, and are available at 800-982-2787 or at BroadwayInDetroit.com or Ticketmaster.com.