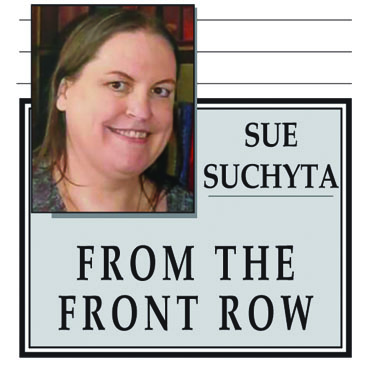 From the ghost-beckoning séances of "Blithe Spirit" to the sisterhood of store sales in "Menopause, the Musical," the curtain rises on multiple shows at local theaters.
Wayne State University begins its season with its graduate company's production of Noel Coward's "Blithe Spirit" at the Hilberry Theatre.
The show runs 8 p.m. Sept. 20, 21, 27, 28, and Oct. 4 and 5; 2 p.m. Sept. 21, 25 and 28; 7 p.m. Sept. 26 and Oct. 3; and 3 p.m. Oct. 6 at the Hilberry Theater, 4743 Cass, Detroit.
When a writer decides to hold a séance to gather material for a novel, he gets more than he bargained for when the ghost of his first wife is summoned to the scene. She decides she wants to win him back, which upsets his current wife. With a colorful medium, a couple of earnest dinner guests and a nervous servant, the high spirits notch up the humor and set the comedy in motion.
Director James Kuhl, a 2009 graduate of the Hilberry Company, said he is excited to be returning to WSU to direct "Blithe Spirit."
"It has been a joy to bring this timeless, classic comedy to life," he said. "Sir Noel Coward wrote the play in just five days, and the show premiered in 1941."
The comedy provided the relief audiences needed from the grim reality of World War II.
"Some thought the play's frivolity was callous to the serious happenings of the war, but audiences found the laughter a necessary respite," Kuhl said. "My hope is that the show brings joy to those that need it most."
The cast includes John Bergeron as Charles Condomine, Lani Call as Ruth Condomine, Jacob Chapman as Dr. Bradman, Quint Mediate as Edmund (a male rendition of Edith), Tori Miller as Mrs. Bradman, Sarah Summerwell as Charle's first wife, Elvira, and Jasmine Monet Roosa as the medium, Madame Arcati.
Ticket are $29, with a $5 discount for seniors, alumni, faculty and staff, and a $12 discount for students. For more information or to order, call 313-577-2972 or go to theatreanddanceatwayne.com.
DEARBORN HOSTS 'MENOPAUSE, THE MUSICAL' AT FORD CENTER
The national tour of "Menopause, the Musical" will take to the stage in Dearborn for three shows, with two Detroit natives in the cast – Linda Boston as the Professional Woman, and Kimberly Vanbiesbrouk as the Soap Star.
The show runs 8 p.m. Sept. 24 to 26 at the Michael A. Guido Theater in the Ford Community & Performing Arts Center, 15801 Michigan Ave., Dearborn.
The cast also includes Teri Adams as the Iowa Housewife and Roberta A. Wall as the Earth Mother.
The musical includes characters who are beginning, enduring or who have survived "the change." Set in a department store, four women meet while shopping for a black lace bra at a lingerie sale, and bond over jokes about their hot flashes, mood swings, wrinkles, weight gain and more.
The 90-minute show features musical numbers which parody pop songs from the 1960s to 1980s. For more information, go to MenopauseTheMusical.com.
For tickets or more information, call 313-943-2354 or go to dearborntheater.com.
DOWNRIVER ACTORS GUILD HOSTS IMPROV TROUPE
Laughter will fill the Catherine A. Daly Theatre on the Avenue at 7:30 p.m. Sept. 21, as the Downriver Actors Guild, 2656 Biddle, Wyandotte, hosts the improv troupe Downriver Renegades. The fast-paced, adult improv show has won fans for the past 20 years at venues which include Second City, Planet Ant, Joey's Comedy Club and ComedySportZ.
The performers include Tom Kollenberg, Michael Lomas, Kara Markusen, Andi Maziarz, Ryan McGillen, Maria Monkaba, Sean Paraventi and Jeff Priskorn.
Tickets are $15. To order, call the Downriver Actors Guild at 734-407-7020 or go to downriveractorsguild.net.
SOUTHGATE COMMUNITY PLAYERS PRESENT 'FROZEN JR.'
"Frozen Jr." will warm up audiences as the Southgate Community Players youth theater heats up the stage of Davison Middle School, 15800 Trenton Road, Southgate.
The show runs 7 p.m. Sept. 20 and 21, and 2 p.m. Sept. 21 and 22, with $12 admission for all seats. To order, go to showtix4u.com/events/15785.
'DESIRE' TAKES THE STAGE AT DETROIT MERCY THEATRE COMPANY
Homecoming weekend at Detroit Mercy will feature the theater company's production of "DESIRE: Four One-Act Plays Based on Short Stories by Tennessee Williams."
The show runs 7:30 p.m. Sept. 20 at the Grounds Coffeehaus. The production, part of the Theatre Lab's Second Stage Series, is free, with donations welcome.
The four one-act plays feature the work of playwrights Marcus Gardley, Rebecca Gilman, John Guare and Beth Henley.
Directing the works are alumni Chris Berryman, '94, Pricia Hicok, '81, and Karen Kron-Dickson, '94, and features a cast of current UDM students.
The show presents stories of atonement, love's realization, discovering one's sexuality and the consequences of clinging to immature love.
DETROIT REPERTORY THEATRE WORKSHOP RETURNS
The Actors Workshop returns to the Detroit Repertory Theatre this fall, with scholarships available for low to moderate income students. The 10-week actor training program provides professional instruction for those who wish to refine their acting skill, pursue a theater career, revive a dormant interest, gain confidence in their communication skills or simply fulfill the need for self-expression.
The workshop will cover voice and diction, improvisation, scene study and audition technique, and is open to adults only. Registration will be held Sept. 28 at the theater, 13103 Woodrow Wilson, Detroit. First-time registrants will be required to perform a one-minute monologue from a published play.
The workshop will run 10 weeks, from 9 a.m. to 1 p.m. Saturdays from Oct. 5 to Dec. 7, with a performance Dec. 9 at the theater.
For more information about the workshop, call 313-868-1347, 10 a.m. to 3 p.m. weekdays. To learn more about the Detroit Repertory Theatre, go to detroitreptheatre.com.