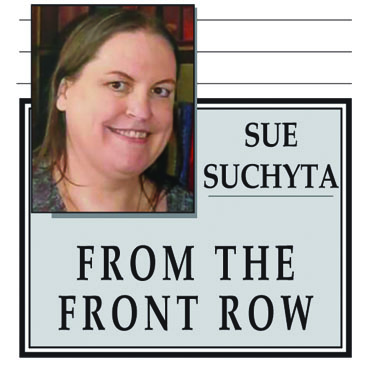 Stories draw people together and remind us of our common humanity, whether glimpsing the life of an advice columnist in "Tiny Beautiful Things" at the Ringwald, or seeing people cope with politically motivated racism in "Cabaret" at the JET. "Come from Away" shares personal recollections of Sept. 11, 2001, while "Duet" brings to life the work of a local playwright as part of The Grandmother Project.
DEARBORN ACTRESS STARS IN RINGWALD'S 'TINY BEAUTIFUL THINGS'
Dearborn actress Kelly Komlen performs as advice columnist Sugar in the Michigan debut of "Tiny Beautiful Things" at the Ringwald Theater.
The show runs 8 p.m. Oct. 11, 12, 14, 18, 19, 21, 25, 26, 28, and Nov. 1, 2 and 4; and 5 p.m. Oct. 27 and Nov. 3 at the Ringwald, 22742 Woodward, Ferndale.
Based on the best-selling book by Cheryl Strayed, and adapted for the stage in 2016 by Nia Vardalos (of "My Big Fat Greek Wedding" fame), the play follows Strayed's time as an online advice columnist, from 2010 to 2012, using empathy and kindness to help people overcome the obstacles life threw in their paths.
Directed by Joe Bailey, Komlen is joined by cast members Joel Mitchell, Trish Gajos and Robert Hill.
Tickets are $20 for the Friday, Saturday and Sunday shows, with a $5 discount for those bringing a copy of Strayed's book, "Tiny Beautiful Things." All seats are $10 for the Monday performances. To purchase tickets, go to TheRingwald.com, or buy them at the door the day of the show. Call 248-545-5545 for more information.
JET'S 'CABARET' SERVES AS A TIMELY REMINDER
Closing its first year in its new location, the 30th season of the Jewish Ensemble Theatre closes with the iconic musical "Cabaret," set in the Kit Kat Club in 1931 Berlin, which follows a storyline which shows the shift toward popular acceptance of Hitler's fascism and nationalism.
The show runs 8 p.m. Oct. 11, 18 and 25, and Nov. 1; 5 p.m. and 8:30 p.m. Oct. 12, 19 and 26, and Nov. 2; and 2 p.m. Oct. 13, 20 and 27, and Nov. 3 at the JET, 1124 E. West Maple Road, in Walled Lake.
Director Christopher Bremer said he has been planning the project for several years.
"This play is an important work to present at this time," he said. "It's not only highly entertaining, but relevant to issues that we confront today."
Playing the role of nightclub singer Sally Bowles is Mackenzie Conn, with Bello Pizzimenti playing the Emcee.
Others in the cast include Connor Allston, Grant Cleaveland, Lee Cleaveland, Meredith Deighton, Julia Glander, Sara Kmiec, Claire Lord, Elizabeth Kurkowski, Jake Rydell, Tim Stone, Greg Trzaskoma, Anna Ventura and Mariel Zmarzly.
The story follows the romance between an American writer, Clifford Bradshaw, and an English cabaret performer, Sally Bowles. A secondary romance involves Fraulein Schneider, who runs a boarding house, and Herr Schultz, a Jewish fruit vendor. The club's Emcee mirrors the changes in Germany's political climate during the rise of Nazism.
Audiences will be seated at tables in an immersive, cabaret-like setting. Tickets are $47, with a $3 discount for seniors and members of the military. Student tickets are $16, with valid identification. "Cabaret" is not appropriate for children 12 and younger. To order, call 248-788-2900 or go to jettheatre.org.
'COME FROM AWAY' SHOWCASES KINDNESS IN THE SHADOW OF 9/11
The first national tour of the musical "Come from Away" showcases the human kindness which surfaced in the wake of 9/11, when U.S. airspace was closed, and the small town of Gander, Newfoundland took in 7,000 passengers from 38 planes that were directed to land immediately.
The feel-good story of kindness highlights mankind's common humanity, creating a compelling, engrossing and uplifting story despite it bringing painful memories of 9/11 to the surface for anyone in the audience 23 or older.
The Tony Award-winning play features a cast of a dozen actors who play multiple roles, some named and others not, from passengers to flight crew to townsfolk, and they do it in a blink of an eye, by changing a hat or simply their demeanor.
The music becomes the cohesive glue of the story, and it soars as the emotions of the story rise. One cannot watch the show without remembering the gut-wrenching horror of the day, but the kindness the people of Gander show to the stranded passengers from around the world restores one's faith in the goodness of mankind, and allows audiences to fall in love with a musical about a very dark day in the world's history.
The show's run continues 8 p.m. Oct. 5, and Oct. 8 to 12; 7:30 p.m. Oct. 6 and 13; and 2 p.m. Oct. 5, 6, 12 and 13 at the Fisher Theater, 3011 West Grand Blvd., Detroit.
Tickets start at $39, and are available by phone, at 800-982-2787, or online at BroadwayInDetroit.com or ticketmaster.com.
'THE GRANDMOTHER PROJECT' SHOWCASES DEARBORN PLAYWRIGHT COLLETTE CULLEN'S 'DUET'
"Duet," a play by Collette Cullen of Dearborn, will be performed as part of a community storytelling event, The Grandmother Project, at noon, 2 p.m. and 4 p.m. Oct. 12 at Lumpkin and Carpenter in Hamtramck. "Duet" features actress Madelyn Porter, and is followed by open mic storytelling.
The Hamtramck Neighborhood Arts Festival, which occurs annually the second weekend in October, is a showcase of local artists, writers and musicians. The event's mission is to tap area talent and showcase it in a walkable, neighborhood-sized event. For more information, go to HamtramckNeighborhoodArtsFestival.com.