By PATRICK DUNN
Metromode Media
DEARBORN — Rashid Baydoun was adamant about naming Stout Middle School's theater group the Stout Theater Company, not the Stout Theater Club or Stout Drama Club. He explains it this way: There's a good reason student government isn't known as "Student Congress Club."
"When I think of clubs, I think of, 'Let's make brownies! Yayyy!'" says Baydoun, STC's director. "The idea is you want to raise the bar."
Since its founding in 2014, STC has done just that by creating a safe space for students of all backgrounds and establishing high standards for student performance both on and off stage. That's created a huge interest in the program, which has grown from 15 to 20 cast members at its founding to around 80 today.
The company's mission has also drawn devoted long-term acolytes like Zeinab Alhasheni, a founding STC member who says she "slept, ate, and breathed STC" when she was in middle school. Now a high school senior, she's still a dedicated volunteer with the company, showing up to every rehearsal to mentor young performers and help in any other way she can.
"We take in the weirdos, the hurting," Alhasheni says. "We take in the outcasts. We take in the pariahs. We take in everyone and anyone. At the end of the day, there's this one single common factor, which is we're all different and we're all unique and we're all hurting and we all have our own issues, but we're using theater as a platform, an outlet to explore the human condition in a safe space."
'A huge community builder'
STC started when a group of Stout students wanted to establish a standup comedy club and another group wanted to start a glee club. Baydoun and founding faculty adviser Lisa Cronin proposed merging the two ideas into a theater company, and STC was born.
Baydoun, a restorative practices specialist at Stout who volunteers his time with STC, recalls that he used his tax refund to cover the costs of STC's first production, "Schoolhouse Rock Live!"
"People were just totally shocked by the commitment our young people had on the stage," he says. "People began to say, 'Why can't we do this at our middle school?'"
That led STC to open its doors to K-8 students from any school, even those beyond the Dearborn Public Schools district. The resulting group of students is diverse in many ways, and Baydoun and STC's other leaders work hard to make sure that they all feel safe and supported.
Baydoun, who studied theater in college, says the experience is particularly powerful for STC's many Arab-American students.
"There are these stereotypes out there that Arabs don't do theater and whatnot," he says. "That was this misconception that was out there. But people of color, in general, don't usually have access to theater. So being able to see people up there playing these iconic roles but also wearing a headscarf, shows that we're limitless."
The group is also empowering to younger students who might not otherwise work so closely with older children. Amanda Zoratti, STC's faculty adviser and a math teacher at Stout, notes that a 7-year-old played the role of Thing in STC's recent production of "The Addams Family."
"It's been a huge community builder," she says. "Kids who ordinarily or previously didn't really associate very often come together."
Perhaps surprisingly, Alhasheni says there's "no hierarchy or little cliques" in STC.
"Everyone is close to everyone," she says. "Especially in a program this robust and this large, it's kind of neat to see. It's a family affair."
Serious business
Much of the program's success is rooted in the responsibility and respect STC extends to its cast members. Baydoun treats his young charges like adults, requiring them to maintain good grades and bust out their school books when there's downtime at rehearsals.
They're also expected to respect their fellow cast members and manage their time well, keeping up attendance at rehearsals even if they have other extracurricular commitments.
"The expectation is, if you are going to take on something you enjoy, it doesn't excuse you from the things you're responsible for," Zoratti says. "And that's an important life lesson for kids this age."
When he's leading rehearsal, Baydoun is a ball of energy, ping-ponging around the auditorium and deploying a near-constant stream of professional feedback to his cast. He's as likely to perform choreography on stage with them as he is to power-walk to the back of the room to shout advice on projecting your voice. The cast hangs on his every word, laughing at his jokes and paying close attention to his direction.
But if cast members aren't living up to STC's standards, Baydoun is uncompromising. He recalls one rehearsal when all the eighth-graders had gathered on the stage, leaving all the younger children to sit in the auditorium seats. He saw the older children creating a hierarchy that he didn't like, and immediately made the two groups swap places.
Later, when many of the same eighth-graders' grades started to slide, Baydoun replaced them with fourth-graders.
"I was trying to send a message," he says. "It showed them that my standards will not ever be lowered."
Those standards make a big impact on his cast members.
"There is a determination in his work and you can really tell because he will push you," says eighth-grader Kennedy Weakley, who has been in STC since November 2018. "He will drive you to the point where you can handle other things and you can still do theater. It's like juggling things, but it makes it really easy."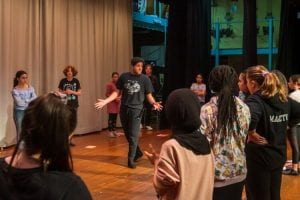 Baydoun says his work has drawn pleasantly stunned responses from many parents, including one mom who tearfully told him that STC made her son want to go to school for the first time. But, he says, "the greatest compliment I get is, 'How did you get my kid to do that?'"
"The parents are like, 'I've known this little booger all my life. I've known this person all my life and I've never seen this side of them,'" he says.
The key, it seems, is empowering children to be the best version of themselves.
"When you're in middle school, you think it's cool how you wouldn't bring out your all because you think you're going to make a fool out of yourself," says seventh-grader and STC cast member Shanya Duncan. "But no. It's actually cooler if you bring it all and then you can show everyone that this is what you've got."
STC's next production, "Law and Order: Fairy Tale Unit," runs Dec. 5 and 6.
(This story was reprinted from Metromode Media. It also is available at: www.secondwavemedia.com/metromode/features/dearborn-stout-theater.aspx.)