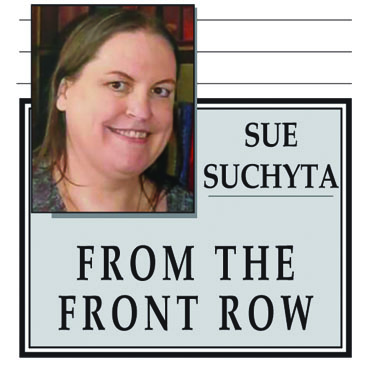 Since almost everyone has a Cinderella memory, whether from a vintage TV or a present-day magic kingdom visit, audiences of all ages will enjoy making new memories together at the Downriver Actors Guild's production of the Rodgers and Hammerstein musical, "Cinderella."
The show runs 7:30 p.m. Dec. 7, 13, 14, 20 and 21, and 3 p.m. Dec. 8, 15 and 22, at the Catherine A. Daly Theatre on the Avenue, 2656 Biddle Avenue, Wyandotte.
Paul Bruce of Dearborn is the director and choreographer, with musical direction by Tamara Laflin of Southgate.
Bruce said he has loved "Cinderella" and its score since he was a boy.
"I took on the project because I wanted to create a show that would be as magical for the children who see it today as it was for me many years ago," he said. "I'm hoping that the children who are brought to this show during the Christmas season are so transported that they remember the experience for the rest of their lives, and that the child in each adult who accompanies those youngsters is equally enchanted."
Bruce said the message from "Cinderella" remains steadfast: Goodness, kindness and compassion always win out over evil.
"The reward of a happy ending is the hope that springs eternal in us all," he said. "While the show still carries that much welcome kernel of joy, the book for this new Broadway version of the show has some additional characters and new twists that add a level of hilarity that I think will be greatly enjoyed by all."
Bruce, a retired teacher, believes in the importance of introducing children to live theater, and for several years, DAG has welcomed students from Salina Intermediate School in Dearborn, where Bruce taught, to the final dress rehearsal for free.
"The students who attend that school live in an extremely impoverished, polluted area," he said. "Most are the children of recent immigrants who have never experienced something as magical and wonderful as live musical theater and could never afford to do so."
He said the generosity of the community theater volunteers and the teacher chaperones open the students' eyes to a new and wonderful experience they would otherwise have never known.
"I've been doing this for well over 30 years and the results have paid off handsomely," Bruce said. "As the children have grown and started families of their own, they continue to make theater a part of their lives, and have introduced it to their children, many of whom participate in youth theater themselves.  This is what you call the 'win-win.'"
Bruce said live theater, and American musical theater in particular, is an asset to the entire world.
"We already know that children who read, write, learn music and express themselves through art become the most well-rounded people on the planet," he said. "Theater combines these features in a way that is motivating, compelling and builds better people."
Like Bruce, Ashley Gatesy of Westland, who plays Gabrielle, is an enthusiastic fan of Rodgers and Hammerstein's music.
"The gorgeous score really helps convey the pure magic and joy of 'Cinderella,'" she said. "The recurring themes are used to maximum effect throughout the show, and the different lines and harmonies that happen simultaneously in the 'Ten Minutes Ago' reprise is absolutely breathtaking."
Meg Berger of Huntington Woods, who plays Marie and the Fairy Godmother, said the dancing and singing in "Cinderella" will impress audiences, while Zack Yaeger of Rockwood, who plays Jean-Michel, praised the show's strong themes and beautiful dances.
There is a little something for everyone to enjoy," Yaeger said. "I hope audiences find the magic in this show and spread it to everyone they love this Christmas."
Others in the cast include Taylor Charbonneau of Gibraltar as Ella, Nathan Vasquez of Wyandotte as Topher, Jaclyn Duvall of Monroe as Charlotte, Annie Mann of Southgate as Madame, Aric Liljegren of Dearborn as Lord Sebastian and Branden Omoregie of Detroit as Lord Pinkleton.
The women's ensemble includes Stepheni Aguila of Taylor, Amanda Aue of Wyandotte, Sherry Irving of Riverview, Lara Keathley of Trenton, Danielle Konaszewski of Southgate and Maya Liljegren of Dearborn.
The men's ensemble includes Taylor residents James Aguila, Steve Baggett and Steven Baggett; Chris Gawel of Detroit; and Matt Van Houten of Allen Park.
Tickets are $18, with a $2 discount for students and seniors. For tickets or more information, call 734-407-7020 or go to downriveractorguild.net.