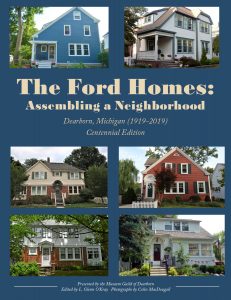 It may have been one of Henry Ford's most innovative ideas. In 1919, with Ford's enthusiastic endorsement, workers began constructing the first of 250 homes in a west Dearborn neighborhood today known as the Ford Homes Historic District.
Now, a century later, the Museum Guild of Dearborn will release a new book comprising 264 pages of text and photos to celebrate Ford's brainstorm about applying assembly-line concepts to homebuilding. "The Ford Homes: Assembling a Neighborhood" is the newest major fundraiser for the museum,
The Guild will launch sales of the book at a signing from 1 to 5 p.m. Dec. 1 at the Commandant's Quarters, 21950 Michigan Ave., by the book's editor, L. Glenn O'Kray, and photographer, Colin MacDougall. Books are $30 each, or $25 when buying five or more.
O'Kray, secretary of the Dearborn Historical Commission, won a state history award from the Historical Society of Michigan last year for his book "Before Fair Lane," which featured Bruce Harkness' photos of Dearborn homes built before Henry Ford's mansion was completed in 1919.
The Ford homes, originally sold to Ford Motor Co. employees, were built between 1919 and 1921 on seven streets south of Michigan Avenue – Park, Nona, Beech, Gregory, Edison, Francis and South Military. The Ford Homes Historic District was established by the City Council in 1979.
O'Kray said the book began as a visual record of the homes' exteriors.
"However, I found that the outsides only showed part of the story," he said. "People are the other necessary ingredient. Not only was it appropriate to include pictures of families, but it was also necessary to tell some stories of the homes and the people who live and have lived there."
O'Kray said he wanted the book to give readers "a good sense of how life is now and how it had been for the prior 100 years" in the neighborhood.