Trenton mayor dies of heart attack at 63
By SUE SUCHYTA

Sunday Times Newspapers
TRENTON – Trenton Mayor Kyle Stack, 62, whose public service to the city she loved spanned more than four decades, died of a heart attack Nov. 29 at Beaumont Hospital-Trenton.
Media accounts said she had a heart attack Friday afternoon, and was taken Beaumont, where at 11 p.m. Nov. 29, she suffered a second heart attack, which was fatal.
Stack was recently re-elected to her third four-year term as mayor. She also served as Trenton city clerk for many years.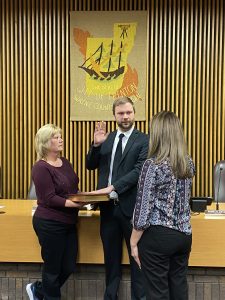 Mayor Pro-Tem Steven Rzeppa was sworn in as mayor the morning of Dec. 2. City Clerk Debra Devitt said Dec. 6, it needs to be clarified whether Rzeppa will fulfill Stack's four-year term or only the duration of his two-year council term.
Councilman Rick Benedetti will move up to the mayor pro-tem spot. This leaves a vacant seat on the city council, which the body likely will fill soon.
Stack leaves her husband, Bill Jasman; mother, Shar Stack and brother Craig (Pam) Stack. She is the aunt of Evan, Kristen, Peyton, Mary and Michael; and half-sister of Lisa (Mark) Andrews.
Funeral arrangements were handled by Martenson Funeral Homes of Trenton. Visitation was Dec. 4 at the Trenton City Hall. She was in state with a funeral mass Dec. 5 at St. Joseph Catholic Church, 2623 Third St., Trenton.
Memorial contributions are suggested to the Trenton Rotary Jack Castignola Scholarship Fund, or to the Goodfellows.
Rzeppa said everyone is at a loss over Stack's unexpected passing.
"I have known Kyle since I was 6 years old, and she was the true definition of a public servant," Rzeppa said. "She cared so deeply about our community, and, above all else, making sure it was a great place to live. The impact she made on our community is immeasurable, and I will miss her immensely."
Newly elected City Councilwoman Wendy Pate said Stack loved Trenton dearly.
"Kyle dedicated her life's work toward giving to its people, which is to be admired," Pate said.
City Councilwoman Timber Baun-Crooks said Stack was a remarkable person, who had a passion for the city of Trenton.
"She was my best friend," Baun-Crooks said. "I will miss her every day. My heart is broken."
Trenton City Assessor John Dahlquist said Stack was a caring person who will be missed dearly.
"She did everything from that big, loving heart she had," he said, "and because she cared so much, this city is a better place.
"Kyle always sent a note to city employees on the anniversary of their start date with the city," Dahlquist said. "That is just a small example of one of the many things she did to ensure that the people she touched were appreciated."
Dahlquist said Stack epitomized service above self. He said Stack was active with Rotary International, the Goodfellows and many other charities and organizations.
"That, to me, is what Kyle meant to the city of Trenton," Dahquist said. "It will be difficult to find another of her quality."
U.S. Rep. Debbie Dingell (D-12th District) said Stack, a close friend and advisor, leaves a deep hole in our community.
"She was a visionary leader of Downriver," Dingell said. "She loved Trenton and devoted everything to see it through good times and bad."
Dingell said she had spoken to her Friday, and the two were planning one of their many girls' nights.
"As a community, we remember all she did, and continue her work to make Trenton and Downriver a thriving community to live, work and go to school," Dingell said.
Riverview Mayor Andrew Smith said he will remember Stack for her genuine desire to do what she felt was right.
"Of all the mayors Downriver, I have worked with Kyle the most," Swift said. "Riverview and Trenton have so much in common. We share many of the same successes and concerns."
Swift said he met with Stack often to discuss how Riverview and Trenton could partner to benefit both communities.
"She always treated me with kindness and respect," Swift said. "She was very knowledgeable in so many areas, I just don't know how she did it. She will be missed, and her loss will impact our communities for a long time."
Steven Voss, director of Police and Fire, said he began working closely with Stack in 2012, when he was deputy police chief, and quickly realized that her heart was always in the right place.
"She wasn't a politician, like a Democrat or Republican – she was more concerned with doing what was right," Voss said. "The employees came first with her. Countless times she checked in with me, asked about employees, and what she could do to make their lives better. She always said 'family comes first,' and she meant it."
Voss said the city has lost a great leader who loved the city.
"She will never be replaced, because you can't replace someone like her," Voss said.
Michael Samhat, president of Crown Enterprises, which is tasked with the McLouth site cleanup and remediation, said Stack's passing has weighted heavily on so many people, and he has been honored to work with her for many years.
"Mayor Stack worked with such honesty and integrity, and was always looking out for what she felt was in the best interest for the city of Trenton and its residents," Samhat said. "I had so much respect for her, and she will be greatly missed."
Samhat said one of Stack's greatest wishes was to see the McLouth site transformed into a new opportunity for both Trenton and Downriver.
"The progress to date would never have happened without her leadership and commitment," Samhat said. "I am thankful for the experiences I had working with her."
Brian Kelly of the Environmental Protection Agency said the McLouth cleanup was one of Stack's biggest priorities.
"It was my honor to have worked with her over so many years to accomplish that goal," Kelly said. "I hope future generations remember that it was her hard work that made it happen."
Trenton resident Ryan Stewart, who ran against Stack in the last election, said she embodied Trenton's spirit of hometown pride and sense of community.
"She was representative of how tight-knit our city is, in a wonderful way that sets us apart from many other communities," Stewart said.
State Rep. Darrin Camilleri (D-Brownstown Township) said on his Facebook page that he had just met with her last week about the many plans she had for Trenton.
"You were excited about all the projects in the works for the city – new restaurants, bars, fun places to go – a whole new city, because of your leadership," Camilleri said. "And, of course, our train issue. We had plans for you to testify in Lansing to help us solve this problem. I was excited for my colleagues to hear your story, because I know you could bring so much passion to this issue."
Camilleri said Trenton and Downriver will miss her.
"We will miss working alongside you to make Downriver work for all of us," Camilleri said.
Krista Schafer Ewbank, artistic director of Trenton's Open Book Theatre Company, said from the time she met Stack at the theater's 2016 ribbon cutting, the mayor was welcoming.
"She was a season ticket holder, and a strong advocate for the theater," Ewbank said. "She was an advocate for the arts as well as small businesses here in Trenton. She cared deeply about this community, and I was grateful for her work and support."
Stack honored at Dec. 4 remembrance