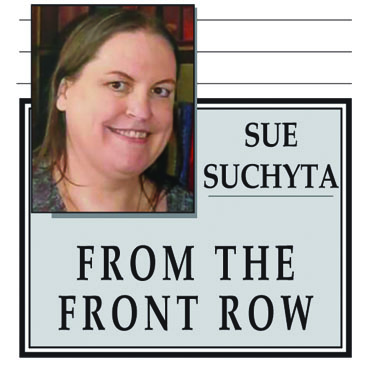 Fundraisers help local theaters
DATA Cabaret night funds scholarships; donations at DAG's 'Cinderella' to fund new lighting and Salina theater program
The generosity of theater patrons took center stage in early December, as the Dearborn Area Theatre Association Cabaret Night Dec. 6 replenished its scholarship fund, and the Downriver Actors Guild's production of the musical "Cinderella" drew donations to replace the theater's lighting system and to launch a theater program for students at Salina Intermediate School in Dearborn.
DATA CABARET NIGHT BENEFITS SCHOLARSHIPS
DATA's Cabaret Night featured thespians from Dearborn, Edsel Ford and Crestwood high schools performing musical numbers and non-musical scenes from performances they plan to take to upcoming adjudicated competitions.
Admissions went to the student scholarship fund, whose proceeds are awarded at DATA's late spring awards show.
DAG's 'CINDERELLA' DRAWS DONATIONS
Theater folk were also generous at the Catherine A. Daly Theatre on the Avenue in Wyandotte, where seed money was donated by the cast and crew of "Cinderella" to establish a theater program for students at Salina Intermediate School in Dearborn.
"Cinderella" director Paul Bruce, a retired teacher, once taught at Salina, and he still invites students to the final dress rehearsals of age-appropriate performances of shows he directs, to introduce students to the magic of live theater.
Those wishing to donate to the Salina theater program may send a check made out to "Salina Intermediate School," with "theater" in the subject line, to 2623 Salina St., Dearborn, MI, 48120.
At the opening weekend Sunday matinee, a post-show curtain speech about the theater's need to replace its lighting system to LEDs drew a very generous response from a couple in the audience, who earlier led a standing ovation.
After the show, a cast member said actors would be collecting donations in the lobby to start a fund to replace the theater's lighting system, to comply with new government regulations.
The pair sought out the theater's artistic director, Debbie Aue, and said they were so impressed with the quality of the show they had just seen, that they donated $5,000, the estimated cost of the new lighting system.
"Talk about a good day," Bruce said in a social media post. "Santa came a little early in the form of some real theater angels."
To see what has inspired standing ovations and generous philanthropy, plan now to see DAG's production of Rodgers and Hammerstein's "Cinderella."
The run continues at 7:30 p.m. Dec. 14, 20 and 21, and 3 p.m. Dec. 15 and 22, at the theater, 2656 Biddle Avenue, Wyandotte.
The cast is talented, from the leads to the ensemble, the costumes are stunning, and the scenic backdrop is a rich, colorful delight.
This is not the black and white show baby boomers will remember seeing on television. The story has been updated: Cinderella is not looking to be rescued by a rich monarch, but finds a soulmate to whom she is truly drawn. She also makes her prince more politically aware.
The story also introduces a sympathetic stepsister, and a beau for her; and lets us know why the stepmother was such an unkind person.
Story updates aside, though, "Cinderella" always will be a feel-good story of good triumphing over self-centered narcissism, with wonderful songs that will stay in your head while you mentally dance a waltz with your own true love.
You'll laugh at the "Stepsister Lament," and you'll sigh at the romance of "Ten Minutes Ago" and "A Lovely Night." A strong production of "Cinderella" beats a Hallmark movie for holiday cheer every time.
When you go, watch for the costume magic that puts Cinderella into a gorgeous ballgown right before your eyes as her fairy godmother works her magic, and the costumers add some theater tricks of their own.
Tickets are $18, with a $2 discount for students and seniors. For tickets or more information, call 734-407-7020 or go to downriveractorsguild.net.
HOLIDAY MAGIC CONTINUES WITH 'IT'S A WONDERFUL LIFE: A LIVE RADIO PLAY' AT BAREFOOT THEATER
Onstage magic continues with Barefoot Theater's production of "It's a Wonderful Life: A Live Radio Play."
The run continues at 8 p.m. Dec. 14, 20 and 21 and 2 p.m. Dec. 15 and 22 at the playhouse, 33735 Five Mile Road, Livonia.
The radio play is set in 1946 in New York City, broadcasting a live performance of "It's a Wonderful Life" in a unique retelling of the Frank Capra classic tale.
The cast includes Tom Downey of Westland, Ronya Mallad of Canton, Andrew and Rachel Petrylka of Oak Park, Anette Ripper and Sean Thomas, both of Northville, Terry Viviani of Garden City, Patrick Wears of Novi and Jared Withrow of Livonia.
Tickets are $19, with a $2 discount for students and seniors. A portion of Sunday's ticket sales will be donated to Toys for Tots. To order tickets, call 734-855-4922 or go to justgobarefoot.com.