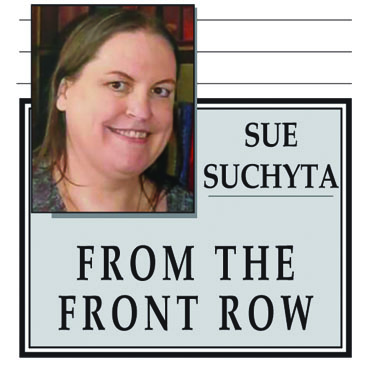 Whether you seek a musical or a drama, local theaters offer a glimpse at what might have been, as the Downriver Actors Guild presents "Forever Plaid," a musical about a singing group who posthumously receive a chance to perform the show of which they dreamed, while Slipstream Theatre Initiative's "A Doll's House Part 2" looks at what happens when Nora returns to the family she left behind.
When the members of a 1950s male vocal quartet, who dream of recording their own album, are in a life-ending crash while on their way to a promising performance, the cosmos conspire, and a miracle concert occurs to give The Plaids the show of which they always dreamed, but never occurred.
The musical runs 7:30 p.m. Jan. 11, 17 and 18, and 3 p.m. Jan. 12 and 19, at the Catherine A. Daly Theatre on the Avenue, 2656 Biddle Ave., Wyandotte.
The quartet is a harmonious 1950s, clean-cut "guy group," singing many popular songs, including "Three Coins in the Fountain," "Moments to Remember," "Crazy 'Bout Ya, Baby," "Chain Gang," "Heart and Soul" and "Love is a Many Splendored Thing."
Deborah Aue of Taylor directs the show, with choreography by Kayla Harwood of Dearborn Heights and vocal and musical direction by David Waggoner of Wyandotte.
The cast includes Rob Douglas of Brownstown Township as Francis/Frankie, Kyle Harwood of Dearborn Heights as Jinx, Brian Haverkate of Livonia as Smudge and Alex Quinlan of Detroit as Sparky.
Aue said she loves the music of the '50s and '60s.
"I was born in the wrong era," she said. "I am a big fan of four-part close harmony."
Aue said "Forever Plaid" flows like a concert with dialogue.
"It's funny, heartwarming and the music is beautiful," she said. "The four gentlemen in the show are just outstanding, and I have enjoyed working with them."
Haverkate said he was drawn by the tight harmony singing in the show, as well as its humor.
"I think people will love the music, whether they come in knowing it or not," he said. "There is a great variety of songs, and there is something for everyone."
Haverkate said the show is like taking a step back in time.
"It is an opportunity to experience an era they might not have been alive for, or a chance to relive some of those memories if they were," he said. "I hope audiences come away with an appreciation for how hard these guys worked on the show."
Quinlan agreed that everyone will enjoy the songs, whether or not they experienced the era first-hand, because of the tight harmonies and the emotions in the music.
"The guys were four great friends who practiced in a basement and just loved performing together," he said. "Although we didn't practice in a basement, I think the chemistry in the cast comes through – we really enjoy the music and love performing together."
Douglas is performing in "Forever Plaid" for the third time, and is excited by the opportunity.
"The harmonies are very intricate, and sound amazing," he said. "The show is entertaining and fast moving – no one could possibly get bored. If they don't remember the music, I hope they develop an appreciation for it."
Harwood said his love of four-part harmony made the show a natural fit for him.
"There are a lot of styles represented, so there is something for everyone," he said. "It will be fun for folks who grew up in the '50s and '60s, because it will fill them with nostalgia. Hopefully everyone who sees the show leaves feeling better than when they walked in."
Tickets are $20, with a $2 discount for seniors and students. For tickets or more information, call 734-407-7020 or go to downriveractorsguild.net.
SLIPSTREAM PRESENTS "A DOLL'S HOUSE PART 2"
Written 138 years after Ibsen's landmark "A Doll's House," and set 15 years after the first story ended, Lucas Hnath's award-winning "A Doll's House Part 2" explores how decisions made with the best of intentions can have unintended consequences.
The show runs 8 p.m. Jan. 3, 4, 10, 11, 17, 18, 23 to 25, and 27, and 7 p.m. Jan. 5, 12, 19 and 26, at the theater, 460 Hilton Road, Ferndale.
Directed by Bailey Boudreau, the show reunites the cast of last year's "Three Tall Women," with Jeannine Thompson as Nora, Maggie Gilkes as Anne-Marie and Maggie Alger as Emmy. Playing Torvald is Patrick O'Lear.
Ibsen's "A Doll's House" ends with Nora leaving her husband, children and home, and was controversial in 1879 when it was written. It sparked debate about women's rights, and created controversy about whether Nora's motives were a noble or selfish, and about the impact of her decisions on others.
In Hnath's "A Doll's House – Part 2," set 15 years later, Nora returns to seek a divorce. She has become a successful feminist novelist. Those she left behind question her, and express their recriminations.
The script has been described as unique, while exploring themes which are universal.
Alger said the play lets audiences see that even decisions made with the best intentions can have unintended consequences.
"The best laid plans of mice and men – and 'dolls' – often go awry," Alger said.
Thompson said the show is about the human desire to give and receive love without limitations.
"It's about seeing what's wrong in the world, and trying to change it," Thompson said.
O'Lear said it is also a play about loss.
"Everyone has lost something, and everyone is now in search of renewal," he said.
The play, which is said to evoke both laughter and deep thought, reminds audiences of the everyday blessings in front of them, and the potential of living in the present, as opposed to the past.
Despite being set 140 years ago, the language is modern, and easy to follow.
Tickets are $20, and are available by calling 313-268-3739, emailing [email protected], or going to slipstreamti.com.