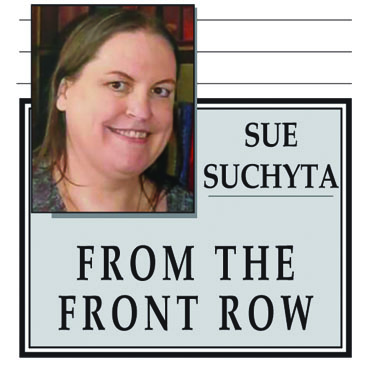 Whether in the Manhattan moonlight or poolside in Palm Springs, the choices and risks one takes in life and love offer a fascinating glimpse into the human heart and mind, as Open Book presents "Frankie and Johnny in the Clair de Lune," and the Ringwald launches "Bright Colors and Bold Patterns."
OPEN BOOK THEATRE PRESENTS 'FRANKIE AND JOHNNY IN THE CLAIR DE LUNE'
"Clair de Lune," or "moonlight" is the soul-searching and emotionally risk-taking setting of Terrance McNally's "Frankie and Johnny in the Clair de Lune," the next production of Trenton's Open Book Theatre Company.
The show runs 8 p.m. Jan. 24, 25 and 31, and Feb. 1, 7, 8, 14, 15, and 20 to 22, and 2 p.m. Jan. 26 and Feb. 2, 9 and 16 at the playhouse, 1621 West Road, Trenton.
Director Wendy Katz Hiller said the show is "deceptively simple."
"Two middle-aged 'losers' have what could be a one-night-stand or, possibly, the start of a relationship," Hiller said. "The tension between our wants and our fears, masks and vulnerabilities, alienation and connection are explored throughout one important night."
She said the playwright doesn't let the story become preachy or melodramatic.
"The play is filled with funny, biting, ironic moments, as well as the sweet hope of the possibility of love," Hiller said.
She said that while the show forgoes the nudity of the Broadway production, it does contain mature language and themes.
Hiller said the intimate performance space of Open Book is an excellent fit for the show.
"I look forward to Open Book patrons being both challenged and touched by this play, that audiences around the country have loved for 30 years," she said.
The cast include Krista Schafer Ewbank as Frankie and Patrick Loos as Johnny, both local Wilde Award-winning actors.
Artistic director Ewbank said she has wanted to bring the play the Open Book stage for quite a while.
"I'm really interested in the intimacy issues, and the barriers to intimacy presented in the play," she said. "We all have things that keep us from getting closer to others, walls that we build around ourselves in an attempt to protect ourselves, that also keep people from getting close to us. 'Frankie and Johnny' is an interesting exploration of that."
Ewbank said the play is both appealing and emotionally challenging for performers.
"I'll admit I've also been a bit intimidated by it," she said. "It's a very vulnerable piece, in a lot of different ways. I've looked at it nearly every year since I opened 'Open Book.' This year just felt like the right time."
Ewbank said that while her personality is very different from her character, Frankie, she can relate to her very human need for, as well as her fear of, the vulnerability inherent to emotional connection. In turn, she hopes audiences see that such emotional connections are worth the risk.
"I hope they're thinking about the gifts that can come from connecting with others, and considering the walls they're hiding behind themselves, and what can be gained by risking that connection," Ewbank said.
Tickets are $25, with a $5 discount for seniors and a $10 discount for students. All tickets are $30 for the Jan. 24 opening night gala. For tickets or more information, call 734-288-7753 or go to openbooktc.com.
RINGWALD PRESENTS ONE-MAN COMEDY 'BRIGHT COLORS AND BOLD PATTERNS'
Blending in versus embracing one's colorful, over-the-top personality is the basis for the Ringwald's production of Drew Droege's one-man comedy, "Bright Colors and Bold Patterns."
The show runs 8 p.m. Jan. 10, 11, 13, 17, 18, 20, 24, 25 and 27, and 5 p.m. Jan. 26 at the theater, 22742 Woodward, Ferndale.
Directed by Kelly Komlen of Dearborn, the show features the acting talent of Ringwald artistic director Joe Bailey, who plays Gerry.
The story is set in Palm Springs, Calif., where road weary Gerry has just arrived for his friends Josh and Brennan's meticulously planned wedding. He settles poolside, under the influence of a few beers, stewing that the invitation dictates that guests "refrain from wearing bright colors or bold patterns."
Gerry's insightful and humorous running dialogue offers a revealing and entertaining look at contemporary gay life, and asks whether it is more important to blend in or stand out in an age in which "there is no khaki in the rainbow."
Tickets are $20, with a $10 discount for the Monday performances. For more information, call 248-545-5545, and to order, go to TheRingwald.com.