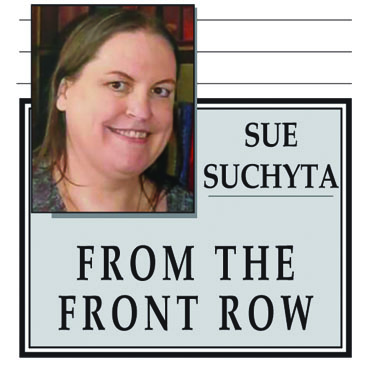 From the barren cold expanse of a beloved Disney story to the brightness of the red carpet, local theater groups are turning up the heat and warming the hearts of thespians, as the Dearborn Youth Theater presents Disney's "Frozen Jr.," and the Southgate Community Players roll out the red carpet with its live broadcast of the Academy Awards Feb. 9 at MJR Southgate Digital 20 Cinemas, 15651 Trenton Road, Southgate.
DEARBORN WINTER YOUTH THEATER PRESENTS 'FROZEN JR.'
The modern Disney classic "Frozen Jr.," performed by youth age 11 to 18, will warm up the stage of the Michael A. Guido Theater with the popular musical, which brings Anna, Elsa and the magical land of Arendelle to the stage.
Directed by Rashid Baydoun, the show runs 8 p.m. Jan. 30 and 31 and Feb. 1; 1 p.m. Feb. 1; 2 p.m. Feb. 2, and 6 p.m. Feb. 2 at the Ford Community & Performing Arts Center, 15801 Michigan Ave., Dearborn.
In addition to the songs featured in the Disney movie, the show adds five new songs for the stage production in a story which blends magic, humor and adventure.
Eight of the major roles are double cast. In the Arctic cast, which performs at 8 p.m. Jan. 30 and Feb. 1, and 1 p.m. Feb. 2 are: Molly Boudreau as Elsa, Avery McKelvey as Anna, Adam El-zein as Kristoff, Amen Salha as Hans, Selah Brace as Olaf, Gioia Lerini as Young Elsa, Charlotte Monroe as Young Anna, and Iman Farran as Queen Iduna.
In the Glacial cast, which performs at 8 p.m. Jan. 31, 1p.m. Feb. 1, and 6 p.m. Feb. 2, are: Nadia Gellani as Elsa, Jenna Kobeissi as Anna, Joe Smentowski as Kristoff, Jameel Baksh as Hans, Yasmeen Keaik as Olaf, Maria Saad as Young Elsa, Olivia Abernethy as Youth Anna, and Giana Lerini as Queen Iduna.
Also, in the cast, are Marian Houssami as Sven, Jack Durant as King Agnarr, Abullah Abouhashim as Weselton, Avalon Moreau as Oaken, Mahdy Omari as the Bishop, Sara Barakat as Pabbie, and Sophia Mijat as Bulda.
MacKenzie Compton plays the housekeeper, with Mirna Shami as the butler, Iman Farran as the handmaiden, Stella Arsenault as the cook, Sophia Beydoun as the steward and Amenah Barakat as the vicar.
The ensemble includes: Lindsay Adams, Brenna Ald, Stella Arsenault, Ava Assenmacher, Addison Bacheller, Zack Barakat, Ryann Barakat, Alora Bazzi, Sophia Beydoun, McKenzie Compton, Molly Chinery, Diayla Copeland, Claire Cronin, Joshua Dauzy, Claire Duperron, Jack Durant, Rabih Farhat, Iman Farran, James Hansen, Emma Hossein, Zeinab Hussein, Dalal Ismeil, Zahra Jamil, Laila Jumaa, Marissa Kenrick, Sophia LaFata, Maria Makki, Rokaya Martin, Nouhad Nasserdine, Jad Nourredine, Julia Nourredine, Eliana Quesada, Lily Anna Reynoso, Olivia Rosales, Mirna Shami, LolaRose Song, Marie Spadafore, Kennedy Weakley and Camille White.
Tickets are $10, and are available at the box office and by phone, at 313-943-2354, and online at dearborntheater.com.
SOUTHGATE COMMUNITY THEATRE PRESENT LIVE ACADEMY AWARD RED CARPET GALA
The Southgate Community Players present its 20th annual Red Carpet Gala at MJR Southgate Digital Cinema, 15651 Trenton Road, in Southgate, featuring a live broadcast of the Academy Awards at 8 p.m. Feb. 9, with doors opening at 7 p.m., which serves as a benefit for the community theater.
Tickets are $35 in advance, and $40 at the door. Attendees are encouraged to "dress to impress." The event is for those 21 and older.
The evening features a prize raffle, tempting hors d'oeuvres, desserts, wine, Pepsi and popcorn.
Tickets may be charged by phone with a Visa, Mastercard or Discover card. For more information, call 734-282-4727 or go to scponstage.com.
CRESTWOOD HIGH SCHOOL ANNOUNCES THEATER WINNERS
Dearborn Heights Crestwood High School Theater director Cayla Kolbusz announced the school's 2019 State Thespian Festival award winners.
Receiving a superior rating were: Jamie Paschke and Khalia Mims in a group dance number to "I am the One – Reprise" from "Next to Normal;" Alina Hazime for the monologue "I'd rather be a man" from "August Osage County;" Austin Thomas, Adam El-zein and Jamie Paschke for the group musical number "If I Could Go Back to College," from "Avenue Q," and Adam El-zein in a solo musical number, "Hellfire," from "The Hunchback of Notre Dame."
Receiving excellent ratings were Austin Thomas in a solo musical number, "The Squib Song" from "Be More Chill," and Khalia Mims and Alina Hazime in a duet musical number, "No Reason," from "Beetlejuice."
Downriver drama teachers and faculty sponsors wishing to honor its school awardees should forward a list of its winners to [email protected]