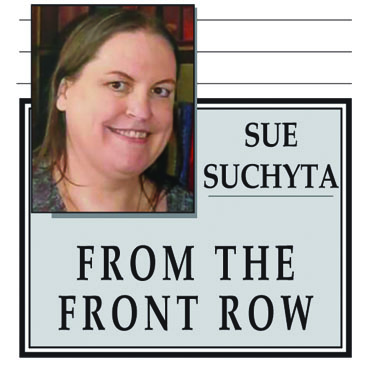 As winter continues its cold, gray hold on southeast Michigan, local theaters offer an escape, with Southgate Community Players offering the Noel Coward classic "Blithe Spirit," Barefoot Productions performing the original farce "Gianni Schicchi," the Downriver Actors Guild presenting "Chitty Chitty Bang Bang Jr.," and the Detroit Mercy Theatre Company producing Shakespeare's "A Midsummer Night's Dream."
SÉANCE SUMMONS SPIRITS IN SCP'S 'BLITHE SPIRIT'
Seances, spirits and astral bigamy take center stage in the Southgate Community Players production of the Noel Coward comedy "Blithe Spirit."
The show runs 7 p.m. Feb. 7, 8 and 14, and 3 p.m. Feb. 15 at Davidson Middle School Auditorium, 15800 Trenton Road, Southgate.
Directed by Jema McCardell, the cast features Brendun Deer of Dearborn Heights as Charles, Brigette Clements of Brownstown Township as Ruth, Kristi Ball of Wyandotte as Elvira, Ashley Gatesy of Westland as Madame Arcati, Stacy Mero of Canton Township as Violet Bradman, Chuck Ingram of Wyandotte as Dr. Bradman and Ana Pauli of Lincoln Park as Edith.
Coward, who debuted the play in London in 1941 during the Blitz, intended the comedy to take people's minds off their worries for a few hours. It soon opened on Broadway as well.
When a writer decides to invite a medium to conduct a séance so he can learn the "tricks of the trade" for a book he is writing, the evening has unintended results, when the ghost of his first wife is summoned. Living with his second wife and the ghost of his first makes life complicated, and a subsequent séance causes even more unexpected consequences.
McCardell said the show is a classic British farce, which audiences will enjoy.
"The dry humor might go over the heads of a youth audience, but there is some physical humor from Madame Arcati and Edith, so there really is something for everyone," she said. "We see a bit of romance, a bit of drama and a lot of humor."
McCardell said having the cast members develop British accents presented an initial challenge.
"Before auditions, I very nearly reset the show in New England," she said. "But I had the cast try it, and rehearsal after rehearsal, they just got better and better. As their accents progressed, so did their characters."
She said that Coward's work still resonates with audiences nearly 80 years later.
"It was written by Noel Coward when life seemed bleak and depressing, and was intended to be an evening of silliness to take everyone's mind off the real world," she said. "it succeeds wonderfully today as well."
Tickets are $18, with a $3 discount for students and seniors. To order, call 734-282-4727 or go to showtix4u.com/events/15785.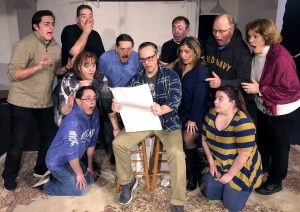 DEARBORN PLAYWRIGHT DEBUTS FARCE BASED ON OPERA
The world premiere of the non-music farce "Gianni Schicchi," written by Dearborn playwright Brian Townsend, based on the 1918 Puccini opera by the same name, launches Feb. 7 at Barefoot Productions in Livonia.
The show runs 8 p.m. Feb. 7, 8, 14, 15, 21 and 22, and 2 p.m. Feb. 9, 16 and 23 at the playhouse, in Civic Center Plaza, 33735 Five Mile Road, Livonia.
Directed by Townsend, the cast includes Matt Van Houten of Allen Park as Marco Donati; Ronya Mallad of Canton Township as Celia Donati; and Dearborn residents Nathan Booth as Junior Suppino, Phillip Booth as Bernardo Scarlucci, Graham Dallas as Matteo Donati, Stan Guarnelo as Gilberto Suppino and David Wood as Simone Donati.
Also, Patti Jones Martin of Farmington Hills as Zita Donati; Valerie Haas of Inkster as Nella Donati-Suppino; Norb Nowak of Monroe as Buoso Donati, Dr. Spinelloccio and Amantio; Samantha Odom of Novi as Lauretta Schicchi; and Stephen Sedore of Plymouth as Gianni Schicchi.
Set in Florence, Italy, in 1930, the greedy family of a dying man are desperate to learn the details of his will, fearing his assets may go to a local monastery. Deciding to do anything to get their hands on his money, the relatives hire a local n'er-do-well, Gianni Schicchi. As time runs out, collection agents appear, and romance blooms, while the family bickers and schemes, hounding Schicchi for a happy ending.
Townsend said the Puccini opera is a gem, and by telling the story without music, he has the opportunity to have some fun and bring the play to a broader audience.
"What I saw was an opportunity to make it feel accessible to those who might shy away from an operatic setting," he said.
Townsend said he added other traits to the characters, and included some plot twists and turns while staying true to Puccini's original story.
"It's always great to hear other voices speak the words you put on the page, and sometimes a happy accident occurs – a misspoken word, a jumped cue, a quick ad lib – and it makes things better," he said. "That's the joy of working on a new play."
Two years ago, Townsend produced another original play, "Murder Comes to Uptight Abbey," at Barefoot Productions, which artistic director Haas said sold out every performance.
"We are looking forward to bringing his newest play to the Barefoot stage," she said. "'Gianni Schicchi' is another hilarious farce from Townsend, and we can't wait for opening night to welcome audiences."
Tickets are $19, with a $2 discount for students and seniors. To order, call 734-855-4922 or go to justgobarefoot.com/tickets.
DAG'S YOUTH THEATRE PRESENTS 'CHITTY CHITTY BANG BANG JR.'
Discover a magical car that flies and floats as it takes its humans on a delightful journey, in the Downriver Actors Guild youth contingent's performance of the musical, "Chitty Chitty Bang Bang Jr."
The show runs 7:30 p.m. Feb. 7, 8, 14 and 15, and 3 p.m. Feb. 9 and 16 at the Catherine A. Daly Theatre on the Avenue, 2656 Biddle Ave., Wyandotte.
When an eccentric inventor and his two children restore an old race car, they soon discover it is no ordinary auto, as it both flies and floats. However, when an evil baron and baroness and their evil cohorts try to take the car from them, they muster their friends and forces to thwart them.
Nathan Vasquez directs and choreographs the show, with vocal direction by Gerald Hymer, both of Wyandotte.
Leading the cast are Tyler Frazier of Allen Park as Caractacus Potts; Parker Watson of Wyandotte as his son, Jeremy; and Evelyn McMaster of Wyandotte as his daughter, Jemima.
Courtney Perttula of Allen Park plays Truly Scrumptious, while Gavin McMaster of Wyandotte plays Grandpa Potts.
The dastardly Baron Bomburst is played by Jeffrey Prueitt of Brownstown Township, with Madison Ganzak of Dearborn Heights as the Baroness, and Vincent Mazzotta of Romulus as the Child Catcher.
Isaac Clark of Allen Park play Boris, with Brownstown Township residents Riley Barbee as the Toy Maker, Charlotte Clavet as Lord Scrumptious, and Parker Forgach as Goran; Alec Hernandez of Flat Rock as Sid; Grosse Ile Township residents Chloe Coleman as the Fair Announcer, and Evelyn Howes as Greta; and Carly Serpetti of Southgate as Marta.
Taylor residents Kaitlyn and Kayla Aguila play Chefs, with Blake Beringer as the Farmer, and Lexi Berringer as Miss Phillips. Trenton residents Madalyn Bailey plays Violet, with Finn Jamison as Mr. Coggins; Emily Ascencio of Westland as the Junkman; and Wyandotte residents Nadia Pers as the Hidden Child, and Sawyer Watson as Toby.
Tickets are $15, and are available by calling 734-407-7020 or going online to downriveractorsguild.net.
DETROIT MERCY THEATRE COMPANY PRESENTS 'A MIDSUMMER NIGHT'S DREAM'
Jealous lovers, magical creatures and a company of amateur actors collide in a journey into the woods, complete with laughter and lessons learned, as the Detroit Mercy Theatre Company presents Shakespeare's "A Midsummer Night's Dream."
The show runs 7:30 p.m. Jan. 30 and 31, Feb. 1, 6, 7 and 8, and 3 p.m. Feb. 2 and 9 at the Marlene Boll Theatre, inside the Boll Family YMCA, 1401 Broadway, Detroit.
Greg Grobis, chairman of Detroit Mercy's Department of Performing Arts, said this is the company's first Shakespearean production in a decade.
"In a time when our country is divided and our world is in disorder, producing a play that feels fanciful on the surface yet reveals consequences of malevolence is rather appropriate," Grobis said.
For more information, go to TheTheatreCo.com.
Tickets are $25, with a $7 discount for seniors, and a $15 discount for veterans and students with valid identification. To order, call 313-993-3270 or go to DetroitMercyArts.com.