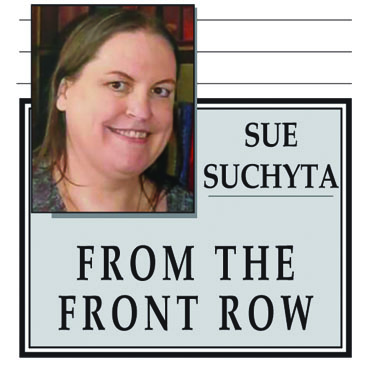 Whether taking audiences to a magical realm or back in time to share the drama of history, stories on local stages have plenty to offer, with "Disney's Little Mermaid Jr." at the Downriver Youth Performing Arts Center in Trenton and "The Life and Times of Sojourner Truth" at Wayne County Community College District in Taylor.
ENJOY MAGIC UNDER THE SEA WITH DYPAC'S 'DISNEY'S LITTLE MERMAID JR.'
Trenton winds may be cold coming off the Detroit River, but it will be warm and welcoming inside the Trenton Village Theater as the Downriver Youth Performing Arts Center surrounds audiences with warm ocean breezes as it presents "Disney's Little Mermaid Jr."
The show runs 7 p.m. Feb. 21 and 22 and 2 p.m. Feb. 23 at the Trenton Village Theater, 2447 W. Jefferson, Trenton.
The show is adapted from the Broadway production, and features the popular award-winning music, book and lyrics.
Based on the Hans Christian Andersen story, the tale follows the sacrifices one makes for love and acceptance.
As mermaid Ariel longs to explore the world above the waves, she chooses to defy her father, King Triton, and bargain with the evil sea witch, Ursula, for a chance to win the heart of human Prince Eric.
DYPAC alumna Tamara Marla provides the stage and vocal direction, as well as the choreography.
Ariel is played by Olivia Johnson, 18, of Woodhaven, with Matthew Jakubiec, 18, of Taylor as Prince Eric, and MacKenna Tocco, 13, of Brownstown Township as Ursula.
Hassan Almaliki plays Triton, with Skye Baxter as Flounder, Julianne Moreno as Scuttle, Noah Rodriguez as Sebastian, Taylor Ridings as Flotsam, Abigail Phillips as Jetsam, Cameryn Beatty-Burnett as Carlotta, Isaac Clark as Chef Louis and Jacob Maher as Grimsby.
The mersisters include Reagan Lewis as Adella, Jennah McWhorter as Atina, Samantha Plunkett as Arista, Kaya Shell as Aquata, Kyleigh Stangle as Andrina and Jadie Weatherly as Allana.
Kolton Adams, Matthew Bond and Hudson Veltman play sailors, with Enzo Bonomo as a sailor and pilot. Alyssa Duchene, Avalon Francis, Gabriella Godfrey, Katie Loger, Kiri Saiti and Urvi Vaya play princesses and sailors.
Playing gulls are Ellie Knapp, Ciana Litten, Evangeline Miles, Lexi Pitock, Ella Price, Evelyn Stitman, Emmelyn Strozeski and Preston Trush.
Merfolk, sea creatures and chefs are played by Kate Bouquenoy, Bianka Bryant, Violet Gates, Ava Giese, Liv Harrison, Lauryn Hill, Cami McClain and Brooklyn Shell. Chloe McMahan plays a merfolk and a chef, and Kassidy Korndorfer plays a seahorse, merfolk and a sea creature.
Playing merfolk and sea creatures are Karter Adams, Nicholas Bond, Edna Bonomo, Esther Crock, Sydney Czopek, Delia Henderson, Gianna Lagina, Kylie McClain, Aurelia Miles, Ellie Nowak, Kendall Parker, Katelynn Strozeski, Lilyann Strozeski and Ava Sturgill.
Playing merfolk are Olivia Owsinek, Allison Poremba and Madison Strozeski.
Tickets are $10 and $15, and are available online, at dypac.com, and at the door.
WCCCD HOSTS 'THE LIFE AND TIMES OF SOJOURNER TRUTH'
The chronicle of a champion for women's rights and civil rights comes to life on the stage at WCCCD in "The Life and Times of Sojourner Truth," a free performance at Heinz C. Prechter Educational and Performing Arts Center.
The performance is at 7 p.m. Feb. 19 at the Downriver campus, 21000 Northline Road, Taylor.
Madelyn Porter plays Sojourner Truth in the one-woman show, which includes the famous "Ain't I a Woman" speech. The performance follows her journey as a champion of both rights for women and minorities, and her abolition work. The character's passion, humor and outspokenness shares a narrative of the African American experience.
For more information, call 734-374-3232 or go to wcccd.edu/EPAC/site/index.html.
'PASS OVER' AT UNIVERSITY OF DETROIT MERCY
The University of Detroit Mercy Theatre Company presents Antoinette Nwandu's "Pass Over" at 7:30 p.m. Feb. 21 at the Grounds Coffeehaus on the McNichols campus. Admission is free, and is appropriate for adult audiences.
As two young black men stand on a corner, dreaming of their future, a stranger with his own agenda derails their plans. The play exposes the struggle to find a way out of a limiting cycle devoid of opportunities.
Call 313-993-3270 or go to TheTheatreCo.com for more information.
SLIPSTREAM PRESENTS WORLD PREMIERE OF 'THE GENTLEMAN CALLER'
Tennessee Williams and William Inge collide in a brief, illicit and volatile pairing in the world premiere of Philip Dawkins' "The Gentleman Caller."
The show runs 8 p.m. Feb. 14, 15, 21, 22, 28 and 29 and 7 p.m. Feb. 16 and 23 and March 1 at the Slipstream Theatre Initiative, 460 Hilton Road, Ferndale.
The play offers a glimpse at Tennessee Williams shortly before his "Glass Menagerie" success, as he sits down for an interview with then reporter, and soon to be playwright William Inge. Their encounter is both volatile and hopeful, with moments of truth and beauty.
Kaitlyn Valor Bourque directs the show, with Bailey Boudreau as Tennessee Williams and Brenton Herwat as William Inge.
Tickets are $20, and are available at 313-986-9156 or at SlipstreamTI.com.