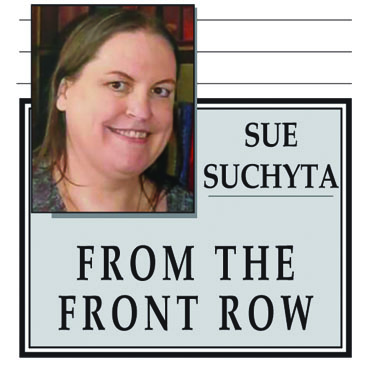 The captivating drama of "The Glass Menagerie," the breakthrough play that brought Tennessee Williams recognition as a playwright, comes to fresh life on the Players Guild of Dearborn stage.
The show runs 8 p.m. March 6, 7, 13, 14, 20 and 21, and 2:30 p.m. March 8, 15 and 22 at the theater, 21730 Madison, Dearborn.
Directed by Paul Bruce, the cast includes Dearborn residents Julie Ballantyne Brown as Amanda Wingfield and David Culliton as Jim O'Connor, Claire Hayostek of Royal Oak as Laura Wingfield, and DJ Schneider of Detroit as Tom Wingfield.
"The Glass Menagerie" is a memory play, narrated by Tom Wingfield, and is considered to mirror aspects of Williams' life, as well as that of his overly dramatic mother and his mentally fragile sister.
Set in a dingy St. Louis apartment in the late 1930s, Amanda, a faded southern belle, longs for her past days of glory, while worrying about the future of her shy, disabled daughter, for whom she pressures her son Tom to find a suitor. Tom, who labors at a job in a warehouse to support his mother and sister, longs to escape the banality of his life.
Bruce said he has always wanted to direct one of Tennessee Williams' plays, and was thrilled when he learned the Guild would be producing "The Glass Menagerie."
"Tennessee Williams is a masterful writer," Bruce said. "As he unravels this compelling story, he brilliantly draws an analogy between the fragile glass animal collection presented in the show's title and the delicate character of Laura Wingfield who owns it. It is extremely subtle and masterfully aligned.  I hope that I have directed this play in a way that helps the audience see the beauty in that parallel."
Bruce said Tom's ability to "break the fourth wall" as the narrator and speak directly to the audience is a clever technique used by Williams to fill the audience in quickly on key aspects of the plot, which would otherwise require extensive dialogue to convey.
"There is not an extra, unnecessary word in the entire play," Bruce said. "The play is a masterpiece, and I am a huge fan of his work."
He hopes those who detested analyzing the play in school will set aside those memories and approach the play anew, with a chance to appreciate the drama as it was intended by Williams, live on the stage.
"It should be appreciated solely for its beauty, as intended by the author, not as something to be analyzed so intensely and in an such unappealing manner as to kill the reasons the show was written in the first place: To entertain, to uplift, to thrill, to foster a love of literature and drama, and to make magic," Bruce said. "Come and see our show live on a stage as it was meant to be experienced."
He said he is pleased with the cast.
"Their portrayals of these incredible characters are sensitive and natural without the contamination of the oft over-done line execution that can so easily happen when assembling this type of drama," Bruce said. "Audiences will be captivated by their workmanship and left wondering how the show evaporated before their eyes so quickly."
Brown said playing the complex character of Amanda Wingfield was a bucket list role for her. She said in addition to the extensive dialogue, the role presents other chances for her to push herself as an actress.
"One of my biggest challenges is making Amanda a sympathetic character, which can be difficult," Brown said. "She acts the way she does because events and disappointments in her life have shaped her that way. While she really does love and want the best for her children, her methods of helping them to advance and succeed in life are flawed."
She said the cast is portraying the characters in a real, natural way.
"Even in rehearsal, nothing feels 'staged,'" Brown said. "I think it will be easy for the audience to get caught up in the emotion. This is a drama, and a pretty heavy one at that. It's meant to hit the audience with a lot of feelings."
Hayostek said she loves Tennessee Williams' ability to capture the sincerity and the emotional messiness in his characters.
"He writes discord with such a tenderness and sympathy for the characters that you want them to succeed even as they make the wrong choices," Hayostek said. "I wanted to be a part of these snapshots of life, and get the opportunity to portray one of his complex and relatable characters."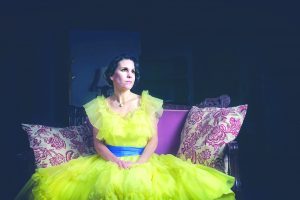 She said the play focuses on relationships, and the way people impact each other's lives with their words and actions.
"Each character is in their own world, struggling with illusion in their own way," Hayostek said. "It's a difficult balance to portray the inner and outer worlds of the characters and how they interact. If we are able to do that, I think the audience will really feel and root for the Wingfields, even as they pull themselves in opposite directions."
She said she hopes audiences leave with an appreciation for the people and relationships in their own lives.
"'The Glass Menagerie' can encourage us to step out of our own private worlds and reach out to the people who mean the most to us in a meaningful way," Hayostek said. "I hope we can inspire that in our patrons."
Culliton said when he first read the script in high school, he was moved by it.
"The tragedy of the Wingfield's situation and the brief glimmer of hope provided by the gentleman caller left an emotional impact on me that I've never forgotten," Culliton said. "It's the kind of story I've always wanted to try my own hand at helping to portray. Perhaps it's cliché to say this, but 'The Glass Menagerie' is one of the most iconic works of American theater."
He said "The Glass Menagerie" is an actor's dream – a pure, character-driven drama which provides room to create their own interpretations.
"However, we still have to capture Tennessee Williams' distinct voice," Culliton said. "He was verbose, he spoke in southern idiosyncrasies, and he often wandered off on seemingly random tangents. All of this is reflected in his writing, so we as performers are tasked with the challenge of creating our own versions of these characters while staying true to the way in which they were written."
He said Jim O'Connor provides him with the challenge of playing a role which is less defined than the others.
"In the first pages of the script, you find wonderfully descriptive blurbs about each member of the Wingfield family, while Jim is simply said to be a 'nice, ordinary young man.' Finding a way to bring some vitality and uniqueness to this plain, simple everyman has been perhaps one of the greatest challenges of my career," Culliton said.
He said the Guild's production of "The Glass Menagerie" gives it an energy it often lacks in amateur productions.
"A lot of times in amateur theater, dramas are played with a certain grand self-importance that can cause them to drag on," Culliton said. "I'd like to think that we're avoiding that in our production. We don't use every line to signal to the audience that they're watching a 'very important drama.' We simply try to have organic conversations with each other and with the audience, as we fill it with an urgency and realism that turns it into a beautiful, tragic, fleeting view of a family's struggles that feels real to the audience."
Schneider said the show is an American theater classic.
"Aside from a look into
troubled life of a great playwright, the audience will hopefully feel a closeness with their family, and maybe a new appreciation for familial bonds," Schneider said. "It is going to pull audiences into this world in a seamless way."
Tickets are $18, and are available by calling 313-561-TKTS or online at playersguildofdearborn.org.