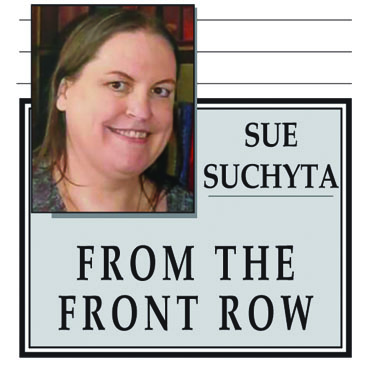 COVID claims playwright Terrence McNally; voice, acting lessons go virtual
In a few short weeks, as the coronavirus turns most aspects of everyday life upside down, people find alternate, creative ways to pursue their interests, often with virtual connections, amid the mounting reports of losses to COVID-19.
TONY AWARD-WINNING PLAYWRIGHT TERRENCE McNALLY DIES OF COVID-19
Playwright Terrence McNally, 81, whose career spanned six decades, died March 24 of complications from COVID-19 in a Florida hospital. He was a lung cancer survivor with chronic obstructive pulmonary disease.
McNally wrote comedies, dramas and the books for musicals for the stage, and his work included screenplays and work for television.
He won Tony Awards for Best Play for "Love! Valour! Compassion!" and "Master Class," and Best Book of a Musical for "Kiss of the Spiderwoman" and "Ragtime." He was nominated for Best Play for "Mothers and Sons," and nominated for Best Book of a Musical for "The Full Monty" and "The Visit."
His play "Frankie and Johnny in the Claire de Lune" recently ran at Trenton's Open Book Theatre Company, and in 2007, the Players Guild of Dearborn produced the musical "The Full Monty."
Krista Schafer Ewbank, artist director for OBTC, and who played the title character Frankie in the play, said McNally wrote many wonderful shows, and she had "Frankie and Johnny" on her list for consideration since she opened the theater.
"One of the things we kept commenting on in rehearsal was how smart of a writer he was, and how even the tiniest details shed light on something," she said. "It's an insight and an invitation to the actor to build more backstory. McNally didn't give all the answers, but he sure posed a lot of really great questions."
Walter Middlebrook, who played Horse in "The Full Monty" at the Players Guild of Dearborn, said playing the character created by McNally was both embarrassing and empowering.
He said he was recruited to play the part, and he accepted the role not realizing that the men's final "costume" left very little to the imagination.
"I still smile about this, because it was that cast chemistry and those rehearsals that led me to actually discover the great story that McNally had written, and was telling through this play," Middlebrook said. "What a great story of humanity, and the frailties and the love that is all of mankind. It is so much more than a bunch of guys taking their clothes off."
Sydney Corbin, who was also in the Guild's production of "The Full Monty," said McNally's death is a great loss to the theater world.
"McNally was a tremendous talent," she said. "It was an honor to be a part of his work, and I met some of my dearest friends during, 'The Full Monty.'"
Leah Cooley, who played Vicki in "The Full Monty," said she loved the role so much, she has played it twice. She said the characters McNally creates are amusing yet down-to-earth.
"His characters are funny, but have a sincerity about them that makes them very human in a way that is understandable to audiences," she said. "There is a multi-dimensional quality about his characters that unfold until you finally see the character in its entirety in a wonderful reveal. Even small characters are memorable and relatable."
VIRTUAL LESSONS LET SINGERS, ACTORS PURSUE THEIR CRAFT
While meeting software is facilitating everything from workplace conferences to medical diagnoses, one novel use in light of coronavirus concerns is for virtual lessons, and thespians are using online tools for remote voice lessons and theatrical coaching.
Voice, acting and piano teacher Adriane Galea of Dearborn said that while she has coached acting online before, one of her biggest concerns was losing income as a result of students not wanting to transition to a virtual lesson.
"I imagine everyone has income concerns right now, but as a person who is solely self-employed, the biggest challenge is how to maintain income stream," she said.
Galea said she is looking into the possibility of hosting a virtual recital.
"I refuse to let my students have one more thing canceled," she said.
She said a positive side effect of teaching her students during the day, instead of in the evening, is that she and her students are more rested and alert during the lesson. She said the sessions are more productive and focused, as well.
Galea said a drawback for vocal music students is the audio delay, which prevents her from playing their music on the piano while they sing along.
"I have found accompaniments, or I have recorded and emailed them something they can use," she said. "But there is simply no substitute for having a live piano player who can follow you, and can start and stop when you need to work on something."
Galea said another advantage of the virtual lessons is continuity and some semblance of the routine they followed before the COVID-19 pandemic necessitated sheltering in place.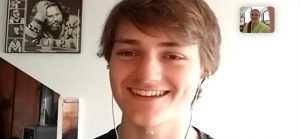 "I think students were a bit nervous to move to virtual lessons, because most of them hate having their parents hear them, but I think they have gotten over it pretty quickly, because they are just happy to be doing something," she said. "I work almost solely with musical theater kids, and they have had all their plays and musicals canceled or postponed, which is the most devastating thing to them."
Galea said the April dates for the American Guild of Music competition have been cancelled as well.
"I have seniors who are trying to keep a positive attitude about it, but I know they're disappointed that high school just might be over for them, and prom and graduation may not happen," she said. "I think they are happy to have something to work on, and grateful to have a lesson scheduled at the same time every week, where they can do something they really love."
Galea said she is offering a free script analysis class for her students, as well.
"The ones who chose to participate have been excited to learn a new skill, which will help them pursue theater," she said. "It gives me something to do and plan for, and I am able to give them something that will make them much better actors, that I would never have had the ability to do for free, given how much time it is taking."
Madison Ganzak of Dearborn Heights, a junior at Wyandotte Roosevelt High School, and one of Galea's voice students, said while it is nice to still have lessons while stuck at home due to COVID-19 concerns, she misses live lessons.
"I miss being with her and standing next to the piano," she said. "It's harder for her to show me mouth placements, or to check to make sure I am doing things correctly, but I have been with her for so long, we know each other, and are getting through it."
Ganzak said she still starts her lesson with warmups and technique work, and is working to make her voice stronger. She said she will eventually perform her vocal selections in competition when the events eventually resume.
"I am happy to have this opportunity, versus canceling my lessons," she said. "Especially with just about everything else in my life being canceled or put on hold."