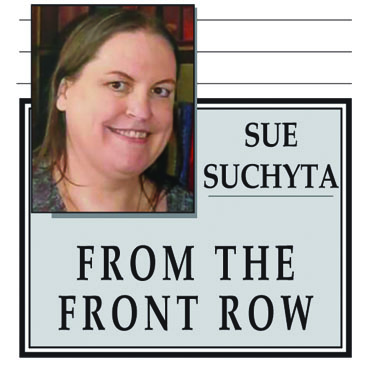 Following its successful online "Miscast Cabaret," in which performers sang songs they could never play on stage, the Players Guild of Dearborn is launching an online Sunday Night Cabaret series.
From Tony Award-winning show tunes, to character parts, both singers and actors, whether or not they are Guild members, are encouraged to go to the theater's website to check out the guidelines to select and prepare a submission entry, at playersguildofdearborn.org/sunday-night-cabaret.
A Tony Winner Cabaret, which will air June 14, will feature songs from Tony Award-winning musicals. June 7 is the submission due date. The submission links for each show are on the PGD website.
"We hope people do a deep dive and find some gems, not that we don't all love 'Hamilton,'" Tom Sparrow of the Players Guild said. "We would also like to see you in an ensemble fit for the Tony red carpet."
Next up is a "Heroes and Villains Cabaret," airing June 21, with a June 14 submission deadline.
"Submissions must be a classic hero or villain," Sparrow said. "It you are asking whether a character fits, send us an email at [email protected]"
The "Dream Roles Cabaret" will air June 28, with a June 14 entry submission date. It may be a role one has played or hopes to play.
"This is the ultimate, dream of dreams, perfectly showcasing your vocal range, would sell your first-born sort of thing," Sparrow said.
A "Teen Cabaret," featuring incoming high school freshmen to recently graduated seniors, will air July 19, with a July 1 submission deadline.
A "Junior Cabaret," for children ages 6 to 13, will air July 26, with a July 1 submission deadline.
A non-musical show, a virtual "Pajama Monologues," will break from the Sunday pattern, and will run on a Wednesday, June 17, with a June 7 submission date. The monologues must be original pieces or those in the public domain, like the works of Shakespeare or Oscar Wilde.
"We are looking forward to all the wonderful singers and dancers in our midst showing off their skills," Sparrow said.
Each show will be broadcast on YouTube, at youtube.com/user/PGofD/, and will be posted for future viewing after its initial debut performance.
Because of royalty regulations, Disney songs cannot be submitted. Costumes are also prohibited, as a condition of the licensing agreement. Logos from a given musical are also prohibited, and may not be displayed.
Horizontal videos are preferred, and recording devices should not be hand-held by the performer. Test runs are highly encouraged.
The Guild may not be able to use all submissions. Performers are urged to polish both their vocal and video products.
Performers may enter all categories for which they are eligible, but the Guild cannot guarantee that someone will be featured in more than one cabaret.
Duets and trios may be submitted, although singers are encouraged to follow the public health guidelines in effect at the time of submission.
Those needing to have the music recorded may reach out to the Guild via email, at [email protected]
The performance list for each cabaret will be posted within two days of the submission window.
SLIPSTREAM THEATRE INITIATIVE VOWS TO INCREASE DIVERSITY
The Slipstream Theatre Initiative team has made a promise to be a part of the change needed to promote diversity and inclusion through its theatrical productions.
During the pandemic shutdown of performance venues, the theater's pride month was sidelined.
Now, with racial inequities and protests adding to the country's turmoil, Slipstream has committed to the change, which it deems critical.
"While Slipstream has worked to be part of the change, we are not proud to acknowledge that we have simply not done enough, and for this we apologize," the theater directors announced in a June 2 press release. "We must do better. Being an ally is an ongoing effort, and we won't always get it right. But we invite, welcome and cherish opportunities to learn more and do and be better."
Slipstream has committed to featuring more people of color in its casts, and will feature more plays written and directed by people of color.
For more information about Slipstream, go to SlipstreamTI.com.