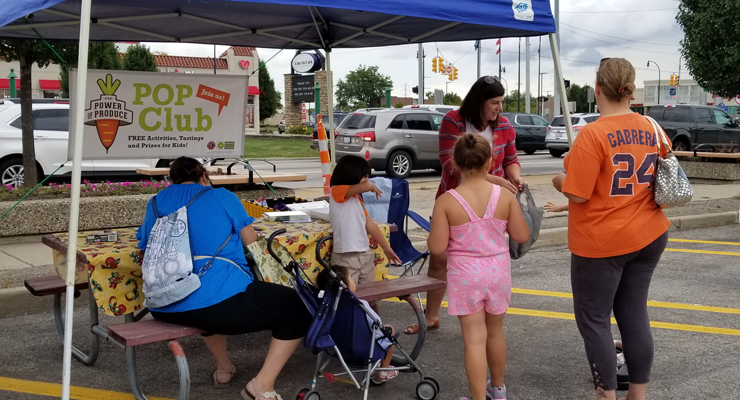 Power of Produce children's program will move online
By SUE SUCHYTA
Sunday Times Newspapers
LINCOLN PARK – The Farmers Market will be limited to three days this season, Aug. 9, Sept. 13 and Oct. 4, founder and treasurer Leslie Lynch-Wilson announced June 2, due to the COVID-19 pandemic.
The Power of Produce program for children will move to an online format.
The Farmers Market is limiting its dates to help ensure the health of the volunteers who work at the Sunday events.
"It will require more volunteers to ensure safety at our markets," Lynch-Wilson said. "We do not have enough volunteers for a weekly market. It pains us to reduce our markets, because so many in our community have a need for fresh, local produce, local specialty foods and the food assistance programs."
The Michigan Department of Agriculture has deemed farmers markets to be essential services, she said, and may open provided they operate within the recommended safety precautions.
Lynch said the pandemic struck when the non-profit group was raising money and searching for sponsors, and while the group has enough to cover its insurance costs, it still needs sponsor funding for its three market days, to purchase equipment and supplies predicated by pandemic precautions.
The children's POP Club will migrate to an online Zoom format, Lynch-Wilson said, from 3 to 4 p.m. June 21 and 28, and July 5, 12, 19 and 26, for 10 families with children 5 to 12 years old. Register at tinyurl.com/y8gupgu3. The program will be expanded to accommodate more families if there is a demand and funding is available.
The POP Club, a nationally recognized program, teaches children to make healthy food choices, and introduces them to the origins of the food they eat. It also focuses on the benefits of eating fruit and vegetables, local food systems and healthy food preparation, through fun activities.
For more information about the Lincoln Park Farmers Market and its programs, contact the group at 313-427-0443, at [email protected], or go to its website, lpfarmersmarket.org.