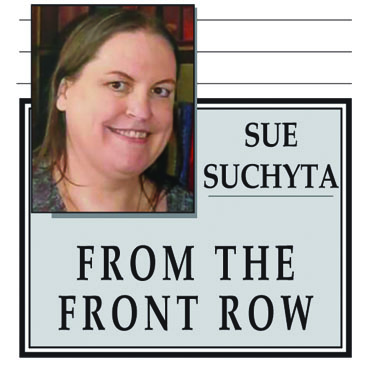 As the pandemic shutters theaters and people protest against the violence directed at black people, actors across the country are re-examining the role racism plays in theatrical productions.
The Slipstream Theatre Initiative has committed to being a part of the change needed to promote diversity and inclusion. (See https://www.downriversundaytimes.com/2020/06/04/players-guild-presents-online-sunday-night-cabarets.)
Opera MODO, a non-profit opera company in Detroit, has also committed to change.
In a recent statement, the group said it will continue to break the systemic practice of casting primarily white people in productions, and it will prioritize diversity in casting and support its black artists at MODO and throughout the opera community.
The group has also committed to increasing diversity in its artistic staff and governing board.
"We will continue to story-tell in a way that is relevant to today's world, and confront the problematic racial history that accompanies Western music," the statement read. "We will continue to provide our audiences with the opportunity to see themselves in our productions by prioritizing inclusion."
The group acknowledges that it "doesn't have all the answers, and are eager to extend this conversation further with artists and audiences."
At Trenton's Open Book Theatre Company, which on June 7 held online recognition awards for its recent season, actor Dan Johnson spoke about the challenge black theater professionals face.
He said that recent events have left him "angry, exhausted and haunted," and called for the dismantling of the systemic oppression that keeps marginalizing, dehumanizing and destroying black people, and that a more inclusive, just and equitable society be built in its place.
He said when the theaters reopen following the pandemic closure, he fears that many theaters will remain "closed" in the sense that they will not be open to black people.
"Far too many theaters across the state, even when they reopen, will still force us to put up with marginalization, discrimination and the soul wearying tedium of constantly fighting to be let into a room, only to once again find ourselves, our stories, our blackness, our humanity sanded, crushed and reframed into yet another two-dimensional character, just human enough for white audiences to connect with and pat themselves on the back for being able to connect with," Johnson said. "And yet so far removed from your actual hearts and minds that when you step off the stage, they can't tell two of us apart from each other in the real world."
He said there is the hope that next time, people won't be so clueless, will tell stories that reflect the lives of people of diverse backgrounds, and, more importantly, they will hire black actors.
Johnson called for the remaking of Michigan theater, where all people can have an equal shot at achieving their "American dream."
"I get that that is scary," he said. "To contemplate that level of change can be terrifying. I get that it is hard, and that it takes work, and how many of us have just stayed quiet, or put up with it, got along, gotten by, just because we wanted the opportunity to work, no matter how racist or tone-deaf or white-framed and white-focused the conditions. We can do better."
Johnson said Michigan theaters can do better if they embrace the belief that real change is possible.
"I know we can, but only if we believe that we can, and only if we let go of our fear, and demand to finally be well and truly included," he said.
Johnson challenged the Michigan theaters that have made "Black Lives Matter" posts on social media to do more, and to do better.
"Ask yourselves, why don't you include more black artists," he said. "Where are the black audiences, and why aren't they coming? Is it because they are not interested, or is it because, in so many ways, we may be excluding them?"
Johnson said change is uncomfortable and confusing. He encouraged the people running Michigan theaters to ask the difficult questions and listen to the answers offered by black theater professionals.
"I promise, we are more than willing to work with you, and along side you," he said. "A post may feel good in the moment, a post may be on the right side of history, but informative alliance-ship in the absence of actual, actionable and transformative change is nothing but cynical appeasement to ultimately maintain the status quo."
Johnson said he is tired of being appeased.
"I love the Michigan theater community," he said. "I love theater, and I love all of you, and I miss it down into my very soul, but, when it comes back – and it will come back – why come back the same as before?"
Johnson called for theaters to make plans now, while the theaters are dark during the pandemic, to make the future of Michigan theater safer, more inclusive, more accepting and more equitable for all.
"Black lives do matter," he said. "Our stories and our talent and our artistry does matter. Now it is time for Michigan theaters to honor that. Change for now, change for the future, change for good."
Krista Schafer Ewbank, founder and artistic director of the Open Book Theatre Company, said she believes the theater community can do better.
"At Open Book, we have always practiced 'color-conscious casting,' with varying degrees of success, but I know that we have a lot to learn," she said. "I welcome those conversations. We need to make theater a place that is safe and welcoming, but also challenging, because that is what theater does best. It brings us together in a room, and it is important for us to learn from each other, to learn from the stories that we share."
Johnson said the great thing is that the goal is achievable.
"I think more people just need to be willing to take that first step," he said. "It means so much."