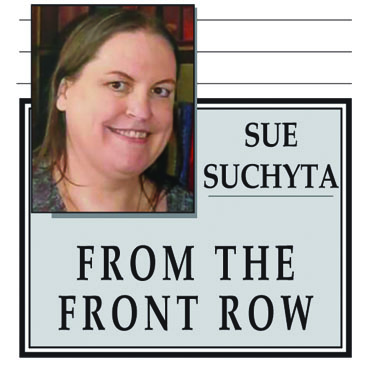 From a star of the stage and screen, to a choreographer who taught high school students the magic of dancing on stage, two Dearborn High School graduates are the 2020 inductees into the Dearborn Theater Hall of Fame: Actor Wayne David Parker and choreographer Jennifer McPherson.
JENNIFER McPHERSON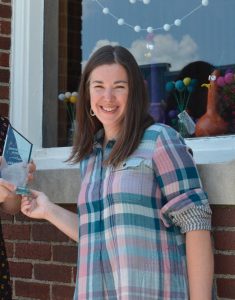 Jennifer McPherson, a 1997 graduate of Dearborn High School, started dancing at the age of 3 and hasn't stopped since.
Her introduction to theater happened as a freshman at DHS, where she appeared in "Bye, Bye, Birdie," "Our Town," "Antigone 96," "Guys and Dolls," "See How They Run," "West Side Story" and student directed works.
While in high school, she was a dance captain and the assistant choreographer for "Guys and Dolls" and "West Side Story."
McPherson joined the International Thespian Society at DHS, and served as an officer.
While still in high school, she performed in several productions with the Players Guild of Dearborn and the West Side Theater Project.
"The Dearborn arts community has always welcomed me, and made me feel right at home," McPherson said.
She attended Eastern Michigan University, where she earned two bachelor's degrees: one in Communications, and one in Children's Literature and Drama, and Theater for the Young.
McPherson, a dance instructor, then took on a new challenge: Choreographing a musical at her high school alma mater, when, in 2001, DHS Theater Director Greg Viscomi asked her to choreograph "42nd Street."
"I had never tackled an entire show, but Greg completely believed in me, so I gave it a shot," she said. "It was a blast, and I found a niche for myself that I didn't know existed."
After simultaneously teaching dance classes and choreographing musicals for several years, McPherson decided to focus of choreography.
"It was a fantastic decision, and I am fortunate to have spent 17 years with Dearborn High Theater as its resident choreographer," she said.
Some of the many DHS musicals she choreographed included "Guys and Dolls," "Damn Yankees" (in 2006 and 2015), "West Side Story" (in 2007 and 2017), "Kiss Me, Kate" (in 2008 and 2018), "Hello, Dolly!" "Grease," "Irving Berlin's White Christmas," "The Music Man," "Disney's Beauty and the Beast," "Monty Python's Spamalot" and "Chicago."
McPherson choreographed "The Fantasticks" for the West Side Theater Project, and "Legally Blonde," "The 25th Annual Putnam County Spelling Bee," "Irving Berlin's White Christmas," "Thoroughly Modern Millie," "School House Rock! Jr.," and "Seussical the Musical! Jr." for the Players Guild of Dearborn.
She was set to choreograph PGD's production of "Anything Goes" when the pandemic darkened stages.
McPherson has earned five Dearborn Area Theater Awards for Outstanding Achievement in Choreography, and DHS has named a student choreography award in her honor.
She is the owner and proprietor of McPherson Local, a Saline store featuring local and regional goods and products.
McPherson and her husband, Zack, have two children, Olivia and Wyatt.
She said being inducted into the Dearborn Theater Hall of Fame is "mind-blowing."
"I am incredibly grateful to the community and honored to be included," McPherson said. "Being acknowledged for what you are passionate about is a crazy, wonderful feeling."
She said she is also proud of the cast members who have brought her choreography to life.
"I am beyond proud of what the students and adults have accomplished," McPherson said. "Sharing dance with them has truly been my pleasure."
WAYNE DAVID PARKER
Dearborn native and 1975 Dearborn High School graduate Wayne David Parker, like McPherson, polished his theatrical craft at DHS and EMU, where he studied theater and drama.
Since then, he has honed his craft on both the stage and screen.
Locally, Parker has appeared onstage, in lead and featured roles at Meadowbrook, Williamston, Purple Rose, Jewish Ensemble, Tipping Point and Waterworks.
Among his notable stage roles are Roat in "Wait Until Dark" at Meadowbrook, Matt Friedman in "Talley's Folly" and Thurston Wheelis in "Greater Tuna" at Williamston, and David O. Selznick in "Moonlight and Magnolias" at the JET.
As a resident artist at the Purple Rose, he performed in the world premiere of five of Jeff Daniels' plays, including "Escanaba in Da Moonlight."
Parker also starred in the world premiere of Lanford Wilson's "Book of Days" at the Purple Rose, playing the lead male role of Len, which was written for him.
The Detroit Free Press nominated Parker twice for his stage work as a supporting actor, and he won the Free Press' Lee Hills Life Achievement Award.
In 2007, he received a Detroit Wilde Award for Best Trio in a Comedy.
His film credits include roles in "Have A Little Faith," "Escanaba in da Moonlight," "Stone" (with Robert DeNiro), "Renaissance Man," "Red Barn" (in which he co-starred with Ernest Borgnine), "Super Sucker," "Frozen Stupid," "Mr. Art Critic," "Quad" and "Needlestick."