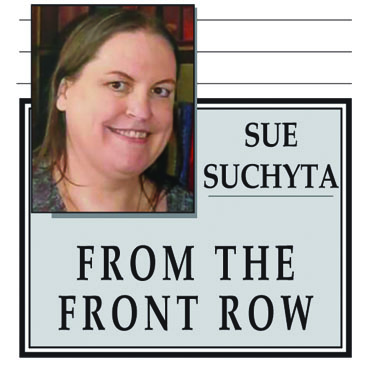 From adversity comes opportunity, as Trenton's Open Book Theatre Company team discovered with its recent addition to its driveway theater program, playwright Sean Paraventi's "2020: The Year They Cancelled Everything."
The show joins the improvisational "Off Book with Open Book" and the satirical "Complete Canon of Post-Apocalyptic Fiction and Film (Abridged)."
The improvisational show encourages audience members to suggest themes, lines and more as the actors make up stories and play improv games for the audience's enjoyment, generating laughter and fun.
Artistic director Krista Schafer Ewbank said the pandemic closure of theaters provided an opportunity for the company to create innovative new ways to present live theater while creating a revenue stream to cover its expenses, which resulted in its outdoor, socially distanced theater offerings in driveways, parks and parking lots.
She said social distancing and safety is a key component, which will continue with the company's newest offering, "The Year They Cancelled Everything."
"Our hosts and audiences keep thanking us for this, and are delighted to have a safe way to gather and laugh together," Ewbank said. "We are not just entertaining them – we are actually bringing them together as a community."
She said family, friends and community groups long for a way to safely gather.
"It's so fun and exciting to live out our mission in this new way," Ewbank said.
The script for its latest show, which opens Sept. 4, was commissioned by OBTC from local actor and playwright Paraventi.
The 30-minute story focuses on Emily, who is upset that both her birthday and graduation celebrations have been cancelled because of the pandemic. When social media trumpets that autumn has been cancelled, Emily, with the help of other characters, all played by one other actor, help her cope with the new normal.
The show features the acting team of Tiaja Sabrie and Ryan Ernst, two Detroit-area actors who live together, which allows them to rehearse and perform without the constraints of social distancing and restriction on physical contact.
Paraventi said he kept the challenges that COVID-19 has placed on people's lives at the forefront when he developed the script.
"2020 has not been the easiest year, and when writing this play, I tried to keep that in mind, reflecting on all we are going through, while providing a fun escape for our audiences," he said. "Laughter is never more important than in times like these, and I think this wonderful cast will provide plenty for you."
OBTC's driveway theater brought a performance to a Woodhaven senior group, which Pam Miller, Senior Coordinator for the city of Woodhaven said was easy to book and enjoy.
"I watched my crowd, and they laughed and had a good time," she said. "Thank you for pursuing your craft and bringing smiles to all of us during a pandemic in a safe and comfortable way."
Ewbank said she hopes to launch a One to One virtual theater series in mid-September, and she is exploring the possibility of creating a window theater experience, where guests would watch a show from the theater's parking lot, in October.
She said the details are still being finessed for those projects, which will be announced soon.
Driveway theater bookings start at $100, with additional charges for performances farther away from Downriver.
For more information, call the Open Book Theatre Company in Trenton at 734-288-7753 or go to openbooktc.com.