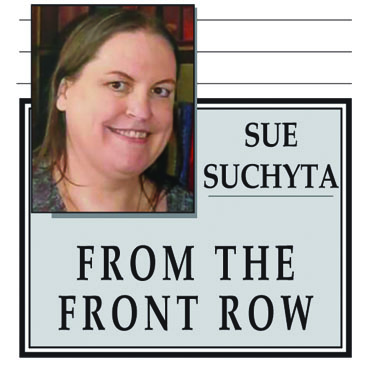 Southgate Community Players will present an online staged dramatic reading of the powerful play "The Laramie Project" Oct.17, which will be online for one day only, as a fundraiser for the community theater.
The access fee is $15, and is available here.
"The Laramie Project," by Moisés Kaufman and members of Tectonic Theater Project, is based on the true story of Matthew Shepard, a gay college student, who was savagely beaten and later died, which drew attention to the lack of hate crime laws in some states, including Wyoming.
Directed by Sydnee Corbin of Southgate and Josie Stec of Wyandotte, the ensemble includes: Allen Park residents Ashley Blevins and Brecken Millner; Dearborn residents Julie Ballantyne Brown, Paul Bruce, James Kirwan and Kyle Tillman; Dearborn Heights residents Sebastian Adams, Amanda Chatila and Cory Shorter; Domingo Guzman of Melvindale; Southgate residents Don Corbin, Sydnee Corbin, Phillip Rauch and Chris Rollet; Dylan Hart of Taylor; Jema McCardell of Trenton; Wyandotte residents Lonnie Curri, Josie Stec and Mike Stec; Jordan McAllister of Detroit; Ashley Gatesy of Westland; and Leah Karagosian of Waterford Township.
Co-Director Corbin said the show is as relevant today as when it was first produced 20 years ago.
"With all of the current social unrest, now seems like the perfect time to reintroduce Matthew's story to the world," she said. "I hope audiences can see that even when something doesn't affect you personally, that doesn't mean it doesn't matter in the grand scheme of things."
Corbin said she has a tremendous cast, who are committed to sharing Shepard's story.
"We all want to remember Matthew's story while we grieve the loss of all people who were not given a chance to defend themselves," she said.
Co-Director Stec said "The Laramie Project" is one of the most unique, powerful and beautiful plays she has ever read.
"It is unflinching and heartbreaking, but also restorative and uplifting," she said. "The writing lends itself to creative staging and casting, so choosing to direct a virtual staged reading of 'Laramie' seemed like a perfect fit."
Stec said that while the play focuses on Matthew Shepard and the LGBTQIA+ community, the message resonates with other marginalized people as well.
"It's been 20 years since 'The Laramie Project' was written, and sadly, far too much has stayed the same," she said. "We need to honestly look at ourselves and society, and address the parts that are rotten. 'The Laramie Project' shouts that sentiment from the rooftops."
Bruce said the show, an emotionally compelling piece, has helped to change the perceptions of many people about the value and dignity the LGBTQIA+ community deserves.
"It singles out that moment when the collective conscience of a people would no longer allow the demonization of this group merely because of who they love," he said. "I hope audiences enjoy the majesty wrought by the brilliant compilation of lives and stories, are moved to tears and are a different person because of having experienced this wonderful piece."
Bruce said the show is especially important now, when factions are flaunting their bigotry.
"A show like this reminds those of us on the right side of history how to remain strong, stand steadfast and live to fight another day," he said. "I can't wait for audiences to see us working in tandem, under these incredibly tricky circumstances, to keep theater alive and vital, while performing a piece so relevant and important."
Brown also said the show tells a story that is important to keep at the forefront.
"It's a horrible story, actually, for what happens when people are afraid of something they don't accept or understand, but it's a story that needs to be told," she said. "I hope that audiences take away compassion and acceptance from this show, and I hope people realize how damaging hate and ignorance can be."
Brown said the show is especially important now, with the hate, ignorance and intolerance present in the world.
"The only way to combat that and be an ally for the LGBTQIA+ community is to speak up, and show support and love, especially at a time when their rights are at risk," she said. "To be silent is to be complicit, and this show is a powerful way for the theater community to educate people."
Gatesy, a member of the LGBTQIA+ community, said she grew up among people who told her that her feelings were "wrong and unnatural," which caused her to suppress a part of herself for way too long.
"Growing up in the church, I can't count how many times I heard phrases like 'hate the sin, love the sinner' or 'I don't agree with their lifestyle,' or 'it's just not right,'" she said. "I don't think the majority of those remarks were borne from a place of hate or ill will, but the effect it had on me was profound."
Gatesy said if SCP's production of "The Laramie Project" helps at least one person see how harmful such attitudes and comments are, the production will have been successful.
"We have the opportunity to change the world just by opening minds and hearts to each other," she said. "This show does a fine job of pointing out how attitudes can define a community and the actions that ensue because of that."
Gatesy said that now, more than ever, is also an important time to support the local theater community.
"With shutdowns from the pandemic, it's hard for local theaters to pay their bills," she said. "Buying a ticket to a virtual production, especially one that was rehearsed and filmed while following social distancing guidelines, is an easy way to help keep theaters afloat, so they are still around after the pandemic subsides."