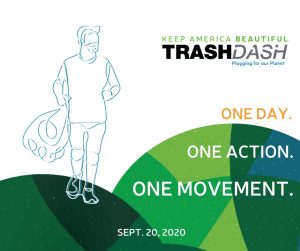 TAYLOR — Northwest Park will host a Cleanup Day from 10 a.m.to noon Sept. 20. Organizers ask volunteers interested in keeping their neighborhood park clean to participate by showing up ready to work – and provide their own facemasks and gloves.
This event, created by Sabrina Wisbiski, is also participating in the Keep America Beautiful TrashDash Plogging for our Planet worldwide effort that same day. Keep America Beautiful is the nation's leading community improvement nonprofit organization and inspires and educates people to take action daily to improve their own community.
"Plogging" will add a different flavor to this event: It is a combination of picking up litter while jogging. Whether you want to jog or walk while collecting debris, the goal is to bring residents together to fight for a cleaner, more sustainable environment.
The group will be will be meeting under Pavillion A at 10 a.m. Bags and gloves will be provided, but volunteers are asked to provide their own if they have them. Buckets, trash grabbers, water bottles, sunscreen, and rain jacket also are recommended. Social distancing will be stressed. Lunch will be provided for volunteers at noon.
Participants in the plogging event are encouraged to track results on Instagram by tagging @KeepAmericaBeautiful and include the following hashtags: #DoBeautifulThings and #TrashDash.
If you are unable to attend and would still like to contribute, go to https://act.kab.org/fundraiser/2874101.
The city invested in Northwest Park last year. It installed a long, winding eight-foot-wide trail that connects all the key entrances to the park with the pool, playscapes and pavilions, basketball courts and parking lot, along with the newer additions in the northern portions of the parkland.
Those include another large pavilion, playscape, outdoor fitness and outdoor games areas. The pathway is lighted. A new high-tech LED message board, similar to the one installed at City Hall, was added on the northeast corner of the park.
Many of the features – concrete ping-pong, foosball and chess tables, picnic tables in the new pavilion and concrete hacky-sack boards – are totally unique to Northwest Park when it comes to Taylor recreational offerings.
Source: City of Taylor