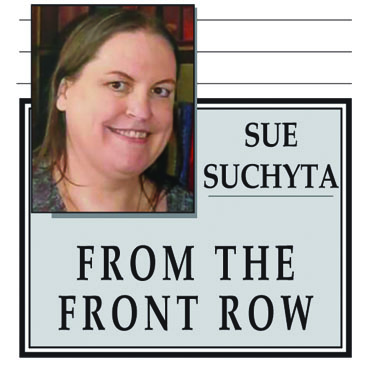 After offering social-distanced outdoor theater during the summer months, Trenton's Open Book Theatre Company is launching a series of one-on-one online theatrical performances to audiences as the weather turns cooler.
Artistic Director Krista Schafer Ewbank said its virtual offering will maintain the key component which delineates theater from film and television: Live performance which builds a relationship with the audience.
"Live performance is the key ingredient that is missing from so many of the virtual theater offerings I have seen," she said. "Open Book audiences tell us they love how intimate our space is, how they feel like a fly on the wall, or part of the action, so, we are taking that intimacy even further with our one-to-one virtual theater series."
Ewbank said OBTC's one-to-one virtual theater series creates an experience between an audience member and a performer, during the 10-minute show, which creates energy between the actor and the watcher via Zoom.
Each audience member is merely asked to be attentive, and will not be expected to speak to the actor, but will be asked to keep themselves unmuted, with active video, so the actor can hear their laughter, gasps or sighs, as well as see the face of the attendee.
"It is the actor's job to speak, and you don't need to verbally respond," Ewbank said. "It is a very personal experience for everyone, and a way for us to get that emotional connection and catharsis that live theater creates."
The first show in the series, "What Matters," is written by Detroit playwright, actor and Kresge Artist Fellow Madelyn Porter, and stars actor Assata Haki of Detroit.
The story centers on a Detroit native's daily walks, which spur memories and send the one-person dialogue into several different and captivating directions as stories are told and emotions are revealed.
"The show is about being positive, the importance of being healthy, and coming together," Haki said. "Everything the character shares, through her monologue, is about peace, love, health and good music. I hope the audience is engaged, follows the storyline and enjoys the show."
Attendee Ashley Lyle said she enjoyed the show's energy, vibrancy and joy, while audience member Kez Settle called it a "breath of fresh air."
"It was nice to watch something local and new, performed by a local actor," Settle said.
Attendee Carrie Jay Sayer said she felt connected with the actor.
"It was very meaningful to share time and space in the here and now," she said. "The message of the material was beautiful and hopeful."
Audience member Jaclynn Cherry said she was engaged the whole time.
"This might be the first Zoom call I didn't look at myself," she said. "It's a great story, with energy and positivity that I think we could all use right now."
Playwright Porter said the key is to establish "positive vibes."
"The show focuses on bringing positive energy in a world of chaos and disorder," she said. "I hope the audience will be motivated to be true to themselves and others."
"What Matters" runs now through Oct. 1 in an online Zoom format.
"The length and format allow for the plays to be very responsive to current events," Ewbank said. "There will be a new show in October, November, January, February and March."
Tickets are $20, with a six-show $100 season ticket. A December event, with a stand-alone ticket price, is also planned.
The second one-on-one virtual theater, set for October, will focus on a social media influencer getting personal with the audience during a makeup tutorial.
The show will be directed by Topher Payne, who is co-writing the script with playwright MX Sotero.
The November show will focus on gratitude, with a January theme of new beginnings, and a February show focused on love.
"We are taking artistic risks, trying new things, to keep theater alive during these times," Ewbank said. "We are paying actors and directors, commissioning playwrights, imagining new ways of doing things and creating connection for our audience members."
She said one-on-one virtual theater promotes an important part of OBTC's mission, which is to build connection through theatrical storytelling.
"We are excited about this new offering," Ewbank said. "It really boils down theater to the basic components: A good story performed live for an audience."
For more detailed information and performance links, go to openbooktc.com.