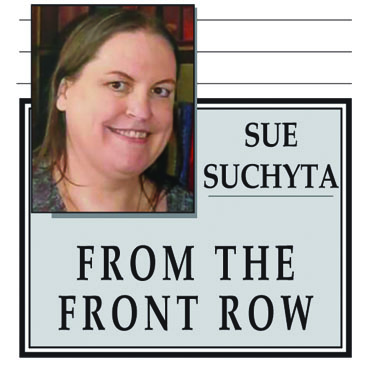 With the pandemic and politics producing everyday frights, the scariness of Halloween might seem redundant, if not for the gusto with which many people approach the haunted holiday.
Actors, by their very nature, relish the costumes, makeup, and challenge of creating spooky scenes. Amid pandemic precautions, new ways to present scary shows are being invented and launched, including Trenton's Open Book Theatre Company production of "Haunted," an imaginative introduction to Window Theater.
OBTC Artistic Director Krista Schafer Ewbank said the show is a fun and safe way to enjoy the Halloween season.
"We love Halloween, and wanted to create a new way to do theater safely in these COVID times," she said.
With actors and audience on opposite sides of the glass, "Haunted" is performed in the lobby window, with attendees watching from the parking lot, either in chairs or from their cars. The actors will wear microphones, and speakers will be located throughout the parking lot.
Those sitting outside are encouraged to dress warmly and bring a blanket.
"Michiganders are used to being outside in October," Ewbank said. "We know how to dress for the weather!"
Ewbank said the "Haunted" actors, husband and wife team Eric and Hannah Niece of Wyandotte, play multiple roles in the show, with puppeteer Elise Pannemann, who wields more than 30 shadow puppets, bringing to life the classic stories "The Raven," "The Legend of Sleepy Hollow" and "Dracula."
Directed and adapted by Sarah Hawkins Rusk, "Haunted" offers two versions: An earlier, family-friendly adaptation of Edgar Allen Poe's "The Raven" and Washington Irving's "The Legend of Sleepy Hollow," and a later, scarier show, adding Bram Stoker's "Dracula," with theatrical blood and gore.
"If you've missed going places and doing things, like most of us have, this is a great way to honor social distancing and have a fun night out," Rusk said. "Window Theatre has pushed us to re-think how theater is done, and I'm very excited to be working with a company that understands that theater needs to change to accommodate this new pandemic reality, but can still bring stories and entertainment to audiences."
She said the shadow puppets add an interesting dimension to the storytelling.
"I was hoping to play with the idea of the things that haunt us, that may or may not be real," Rusk said. "This works well with shadow puppets, because shadows are always around us, whether we acknowledge them or not. All the stories deal with something that may not be what it seems."
Rusk said the process of developing Window Theatre has been a collaborative joy, which Ewbank seconded.
"We are trying new things and testing them out," she said. "We are finding and meeting new challenges every day. It's not easy, but it will be worth it!"
The show runs Oct. 9 through 31, at the OBTC, 1621 West Road, in Trenton.
Tickets for the earlier, family-friendly version of "Haunted," with a run time under 30 minutes, are $15 for a socially distanced seat near the window, or $30 for a car. The later, scarier and longer show, "Extra Haunted," runs $20 a seat, and $40 for a car.
For more information, call 734-288-7753 or go to openbooktc.com.