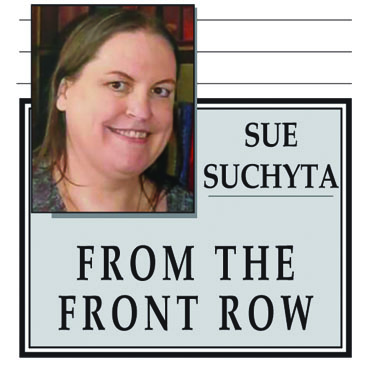 While its theaters may be dark, Wayne State University's Department of Theatre and Dance has reinvented its offerings to reach its audiences digitally, despite the pandemic precautions which keep live performance venues silent.
Thomas Karr, director of Marketing and Audience Engagement for the Magee Allesee Department of Theatre and Dance, said the 2020-21 season is threefold, offering digital content to audiences worldwide, and includes a Productions Series, a Dialogue Series and Studio Hours.
The Productions Series offers streaming and recorded theater performances.
"Our Productions Series is where you'll find the digital experience of viewing fully-realized theatrical productions, similar to what you might experience when attending in-person at the theatre," Karr said. "Anyone can attend these digital performances for free, but we suggest a $10 ticket to help us maintain the high quality you've come to expect from us."
"Pingree's Past," written by Garlia Cornelia and directed by guest artist Gary Anderson, a 2016 Kresge Artist Fellow and Artistic Director of Detroit's Plowshares Theatre Company, is a new play set in current day Detroit.
"Anon(ymous)," written by Naomi Iizuka, is a modern adaptation of Homer's "Odyssey." When a young refugee, Anon, is separated from his mother after they immigrate to the United States, he encounters people, both kind and cruel, during his search. He encounters everything from a sinister one-eyed butcher, beguiling barflies, and workers in a sweatshop, as he navigates a chaotic, changing landscape.
"Healing Through Dance and Drums," a dance experience, looks through the lens of African Diasporic drum and dance, from the past to the present, setting the stage for the future.
"Shakespeare Sings," a theatrical musical experience, was created in collaboration with guest artist and musical theatre composer Scotty Arnold and the graduate Hilberry Company, who perform songs inspired by the renowned works of William Shakespeare, with a fresh perspective for modern audiences.
"Unveiling the Mask" offers student theatrical solo pieces, under the direction of
Billicia Charnelle Hines, which reveal intimate portraits of the actors, which are designed to show the influence of their cultures, family history and their individual experiences.
The musical "Trivøya Gold," with book and lyrics by Alana Jacoby and book and music by Scotty Arnold, is a story of death, nationalism, and Olympic curling. On Trivøya, a small island off the coast of Norway, it is so cold that corpses do not decompose, so those who are ill must leave the small island. The Trivøyan citizens, who want to spend their final days in their own homes, demand independent rule, and are offered it, with one condition: They must win an Olympic gold medal in curling.
The Dialogue Series includes a reading circle, an ongoing dance symposium, a discussion series and podcasts. Karr said all are designed to foster connections and facilitate understand among the global community.
"The new Reading Circle, a virtual book club, engages members in conversations centered around selected works of literature, with a goal of deepening the connection between the performing arts and civic engagement," Karr said. "The Reading Circle will help us build more diverse and inclusive audience relationships, ensuring that our artistic programing speaks to our community."
"Movement Matters: Friday Dance Symposium," led by Assistant Professor "RAS" Michael Courtney, PhD., features students, faculty members and guest artists sharing their research and creative work.
The "Apple Discussion Series," is inspired by the Apple Award, which is funded by the Nederlander family, in honor of its matriarch, Sarah Applebaum Nederlander. It will feature ten or more actors, designers, stage managers, producers and other theatrical professionals, including Broadway professionals.
A new podcast, "Five Minutes to Places," produced and hosted by graduate level theater students, will explore topics in the arts industry, as well as production topics and the theatrical creative process.
Also included in the series is Devon Redmond's video log, which will include interviews with local theater and dance performers and leaders, drawing from the rich variety of creative professionals who make their home in the metro Detroit area.
The third series, Studio Hours, will explore the stage and screen creative process, and will feature design labs, workshops, demonstrations, skill-sharing and guest artist programing.
The production series will be shared via the department's ticketing service, Vimeo, while the Dialogue Series and Studio Hours will be shared on social media.
For more information and links, go to theatreanddanceatwayne.com.